Triathlete Colin Wilson Emerges Victorious on the National Stage
Over this past weekend, one of our very own Cavaliers accomplished a feat so great, it was not only recognized locally or across the state, but was also featured on national headlines. On Saturday, Oct. 13, junior Colin Wilson spent his morning competing in the USA Triathlon Age Group Draft-Legal National Championships in Sarasota, Florida. While there, he competed against roughly 400 of the top amateur runners in the country for various highly prestigious national titles. Runners also competed for the opportunity to represent the United States in the 2019 International Triathlon Union (ITU) Age Group Sprint Triathlon World Championships, which are to be held in Lausanne, Switzerland.
A triathlon is a three-part event that consists of different physical tasks which traditionally include running, swimming and biking. However, the swimming event was compromised by the hazardous Red Tide sweeping across Florida's coastline. As a result, the event was shifted to a duathlon, still consisting of three parts, yet lacking the swimming portion, making it a run-bike-run event. In total, the race was to go as follows: the first leg was a 2.5-kilometer run, the second leg was an 18-kilometer draft-legal bike and the third leg was a 5-kilometer run.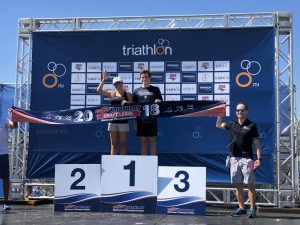 What made this entire event so impressive was the fact that, when it was over, Wilson had not only finished first in his age group but had come in first place overall across all age groups. Dusting the several hundred people racing with him, or better yet, behind him, he finished with an astonishing time of 00:52:07, topping the charts for the entire event.
Aside from his stellar performance on the national stage, the junior is also dominating the field back at home, competing in swimming, track and cross country, unsurprisingly finding great success in each. Furthermore, Wilson lives up to the title of scholar-athlete, currently excelling in the incredibly prestigious International Baccalaureate Program at Gables. With so much on his plate, one may think that certain aspects of Wilson's life may fall off, yet he somehow manages to pull everything together and maintain a full life on and off the track.
Be sure to to congratulate Colin Wilson and wish him the greatest of successes and triumphs, academically and athletically! Below is Wilson's take on his remarkable feat.
---
What sort of training do you put yourself through in order to compete at such a high level?
I will usually train with the cross country team every day after school for about an hour. Then I will go swim for an hour and a half between four and six times a week with a club team (Miami Swimming). On the weekends, I'll usually bike 30-45 miles each day.
How did competing in the triathlon compare to running cross country as you do at school? How was your mentality before and throughout the triathlon?
The triathlon is more competitive than high school cross country just because the triathlon was a nation-wide event while most of our cross country races are in Miami. Throughout the triathlon (rendered duathlon), I came in first through the first transition to get into the bike and everyone in my bike group was 25 or older except for two other kids, so I didn't work at all and was able to draft off of them the entire way. I knew that since I had been first in the first run and I wasn't really pushing that I had a very good chance to win. When we came off the bike and onto the second run I capped the field within the first half mile because I wanted some distance. However, in the last half mile of the race, the closest group of runners cut my lead down from 20 seconds to five seconds.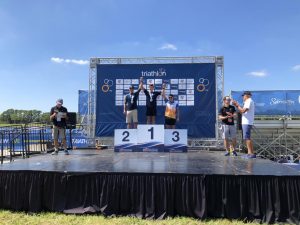 How did you expect to perform, and how did the results match with the expectations?
I expected to perform well because I knew that they cut the swim out of the race, making the run a major factor, and since I'm in the middle of the cross country season, I'd been focusing on running for a while. I won, so of course my results matched my expectations, but my times were faster then I thought they were going to be.
What would you say to someone looking to start up running or to follow in your footsteps? Do you have any advice you'd give someone?
For someone that is going to start running, I would say just start with low mileage and build up every two months so that you are able to improve without burning out. You always have to remember to have fun and so, you should try to make friends, run with groups, and race every once in a while just to keep things interesting.
What are your goals outside of winning events and races like this, whether in the near or far future?

I would like to get top 10 at nationals later this year in the triathlon and then compete at the Pan-American Championships later on.