An Education With a Promise
Hang on for a minute...we're trying to find some more stories you might like.
If LeBron James needed anything else to contribute to his legacy beyond the basketball court, he did so on Aug. 4 when he launched his "I Promise" school for underprivileged children in his hometown of Akron, Ohio. Primarily known for his prowess on the basketball court, King James has taken it upon himself to be more. The basketball superstar has associated himself with several community and charity projects in the past and, in numerous ways, is considered to be a role model in the public eye.
James has expressed his appreciation and love for his hometown several times before. When asked about his childhood, he never ceases to mention the struggles he and his mother underwent together as a poor family of a minority race. As a fourth grader, during a period of indescribable hardships, he was forced to overcome unfathomable obstacles. He moved houses half a dozen times and missed nearly 100 days of school. He lived with his single mom. His father's identity was a mystery.
It was these unforgettable experiences as a child that inspired James to give back to the hometown that gave him everything it had, despite it not being much. When the "I Promise" school opened its doors, LeBron James opened his arms, warmly welcoming 240 at-risk third and fourth graders.
The school, however, is much more than a school; "I Promise" is a joint project of the LeBron James Family Foundation and Akron Public Schools that is worth 8 million dollars. Consequently, there are several appealing perks for attending the school. Students will reap several benefits by graduating from "I Promise," including free uniforms, meals and snacks, transportation, and guaranteed college tuition to the University of Akron.
"The school's launch really shows LeBron is a class act. This is a guy that came from nothing. The fact that he is giving back just goes to show that his legacy is far greater than basketball," freshman Anthony Russo said.
In a professional career that has been nothing short of a once-in-a-generation spectacle, James considers the opening of his school to be the "greatest moment of his life," and he has received national praise because of it. Whether it's the general public, his teammates or the Obama family, James has been universally praised for his selfless contributions to his hometown.
"LeBron James has done it all. He has made it official that he is more than an athlete. He has, in a matter of only a few years, become a national icon and a basketball one," junior Branden Vital said.
For LeBron James, however, "I Promise" is not so much an act of kindness, but an act of responsibility. He states that the "drugs, violence and guns" are everything he went through himself as a child and, given the resources that he has, he feels it is rather a personal obligation than a deed of generosity to build a school in his hometown.
Countless athletes have started their own foundations and charities, but it cannot undermine the impact that "I Promise" will have on local and national levels. Although the school's launch does exhibit an abundance of communal benefits, it instills key values and characteristics into underprivileged children and is an inspirational, living depiction of the American dream.
[powr-instagram-feed id=95bc76d5_1534379290531]
About the Contributors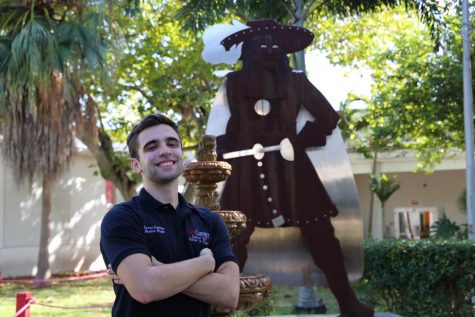 Daniel Toll, Co-Editor-in-Chief
Daniel "Danny" Toll, is a senior in the International Baccalaureate (IB) program at Coral Gables Senior High. In what will unfortunately be his last year...