The Journey of a King
He was just a kid from Akron, Ohio. He was just a kid with ambitious aspirations.  He was just an 18-year-old attending St. Mary High School. But in the 2003 NBA Draft, he became something beyond imagination. It is safe to say that this superstar athlete and face of the sports world has become much greater than anything he could have ever hoped to be.
LeBron James' early life was dominated by basketball. As a freshman in high school, his dedication to the game granted him the opportunity to play at the varsity level, in which he averaged a jaw-dropping 21 points and 6 rebounds per game. His remarkable efforts on the court carried his team to a perfect record at 27-0 and a Division III state title. As if these feats weren't enough, he would follow up his incredible first impression to tally 25.2 points, 7.2 rebounds, 5.8 assists and 3.8 steals per game in his sophomore year and win a second championship in just as many years.
His once-in-a-generation potential as an athlete was definitely a source of national attention on the media and around all sports fans throughout the country. LeBron was unanimously selected to the USA Today All-USA First Team, as well as being the Gatorade National Player of the Year on multiple occasions.
In 2003, LeBron was selected as the first overall pick by his hometown team, the Cleveland Cavaliers, and would go on to win Rookie of the Year, being only the third NBA player ever to have a slash line of 20/5/5 in their rookie campaign. In the years that would follow, he would make several NBA All-Star teams for the Eastern Conference in consecutive years and received All-Star MVP honors.
By 2008, James had become the face of the Cleveland Cavaliers, and the face of the NBA for that matter. In his 2008-2009 season with the Cavs, his defense blossomed to parallel his offensive production, granting him his first of many MVP awards. The following season, he would repeat this feat, winning another MVP award, despite not making it far in the playoffs.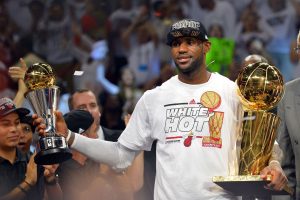 After his second MVP caliber season, James entered unrestricted free agency with the closure of the 2009-2010 season. Although Cleveland did attempt to resign him to a bulky contract, he would ultimately join Chris Bosh and Dwyane Wade in the Miami Heat, which drew a lot of negativity toward James' name. His decision, in the eyes of Cleveland, was a selfish one, as he left for Miami with hopes of winning an NBA championship with a minimized offensive workload by being surrounded by other All-Stars.
James, Wade and Bosh came to be known as "The Big Three" and the city of Miami rejoiced in what would become a dynasty of success in the sport of basketball. However, outside of Miami, the basketball community did not receive this creation of a "superteam" well, creating a rather negative perception of LeBron James. Nevertheless, LeBron and the Heat would go on to win two championships and have four consecutive NBA Finals appearances.
In the 2014 season, the Heat and the Spurs faced off, and the Spurs deliberately stifled any hopes for the Heat to experience a "three-peat" after winning championships in 2012 and in 2013. Frustrated with the loss, LeBron opted out of his contract to rejoin the Cleveland Cavaliers, determined to win a championship for his home city. This move restored the love Cleveland once held for him, but instilled resentment into the heart of Miami. Upon his return, he became a part of another big three consisting of the young athletic guard Kyrie Irving and talented forward Kevin Love.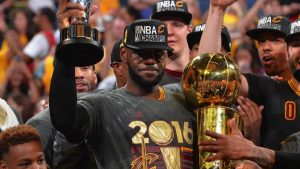 "It was heartbreaking when he left. He meant so much to the city and accomplished so much, but at least he was able to bring a championship to his hometown city," sophomore Jaime Perez said.
It is clear to say that LeBron's return to Cleveland was a welcome one as he has taken them into three straight finals appearances since, in addition to crowning Cleveland with their first ever NBA Championship in the 2015-2016 season. Currently, James and the Cavs are vying for a fourth straight appearance in the NBA Finals as they battle the Boston Celtics in the Eastern Conference Finals.
In what has arguably become his most impressive season yet, LeBron has averaged 27.5 points, 8.6 rebounds and 9.1 assists per game throughout the 2017-2018 season, further making a case on the debate on whether he really is the "Greatest of All Time" (GOAT).
Throughout his 15-year career and into his age 33 season, James has found himself atop many statistical leaderboards, with some more coming in the near future. At this point in his career, LeBron is ranked seventh on the all-time scoring list, ninth in field goals made, third in postseason assists and first in all-time postseason points, steals, field goals, three-pointers and free throws. To go along with these impressive rankings, he has also earned 14 All-Star appearances, 3 NBA Championships, 3 MVP awards, 13 All-NBA First Team nominations and 6 All-Defensive Team nominations.
"What LeBron has been able to do is incredible. He will definitely go down as one of the greats," freshman Jose Gonzalez said.
Especially as LeBron is exiting his prime years of athletic capability, there has been a buzzing controversy in the sports world concerning where LeBron truly ranks all time. Does LeBron deserve to be mentioned in the same breath as basketball legends like Kareem-Abdul Jabbar or Michael Jordan? Until that can be decided for certain, be sure to tune into the NBA Eastern Conference Finals as LeBron attempts to reach yet another NBA Finals with the Cleveland Cavaliers!