The Mighty Hurricanes Blow Away Notre Dame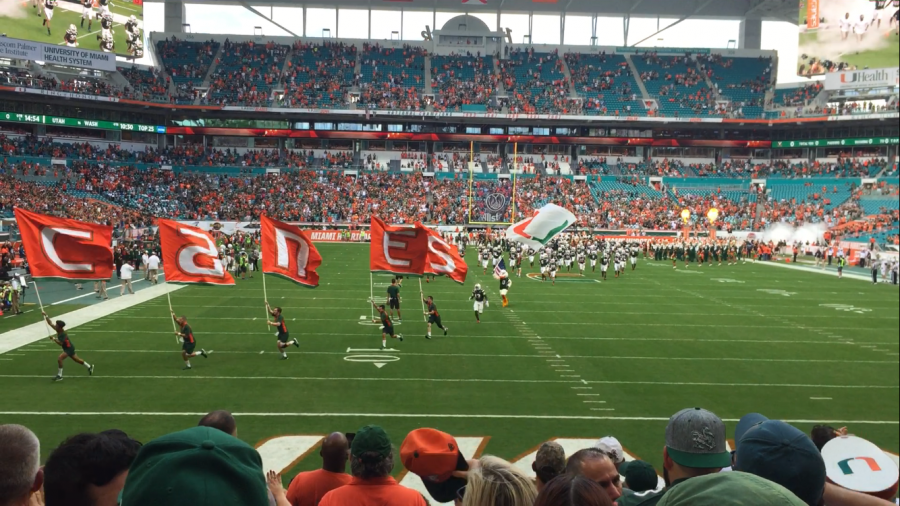 ---
The University of Miami has had an amazing undefeated football season, dominating all of their opponents. One of their greatest accomplishments on the year was winning against the Florida State University Seminoles, finally overcoming the eight years of consecutive losses. The most recent game against the Notre Dame Fighting Irish resulted in a catastrophic loss for Notre Dame, 41-8 in favor of the University of Miami.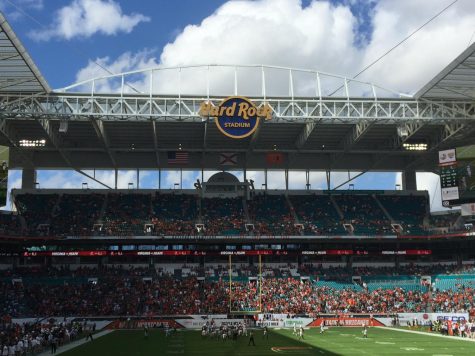 On Nov. 11, the Fighting Irish and Hurricanes met once again in the Hard Rock Stadium after an extremely close game the previous year. They battled for dominance throughout the first quarter of the game. Malik Rosier Jr. , the UM Quarterback made a perfect pass to Braxton Berrios, a UM wide receiver, who was able to get both feet down to make the seven-yard touchdown with just four minutes remaining in the first quarter. Shortly after, Rosier completed a rushing touchdown, leaving the Hurricanes in the lead at 14-0, with total domination over the Fighting Irish.
"The game was very significant because Notre Dame was a top-ranked opponent at number 3, and when UM was able to outperform them, it showed that Miami will once again be contenders and are bring back their game," freshman Neil Toloza said.
During the second quarter, Michael Badgely, a UM kicker, made two field goals, one at 23 yards, and another at 30 yards, scoring six more points for Miami. Freshman Trajan Bandy, a UM defensive back, read the pass from Notre Dame's Quarterback, Ian Book, intercepting it and taking it 65 yards to the house to give the Hurricanes a big halftime lead of 27 points to 0.
"I think it was amazing how well the U played. The atmosphere and home-field advantage really helped propel the Canes to the win," sophomore Murat Serpenguzel said.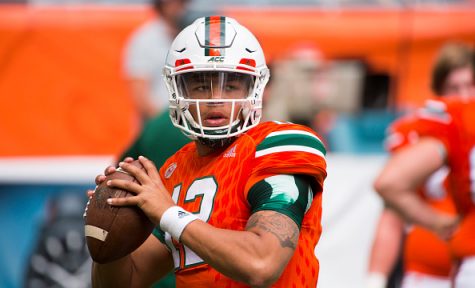 UM's demolition of Notre Dame moved Miami up five spots in the college football ranks. UM now sits at number two with a 9-0 record on all of their season games. The UM Hurricanes are set to play the unranked University of Virginia Cavaliers, on Saturday, Nov. 18 at the Hard Rock Stadium.
About the Contributors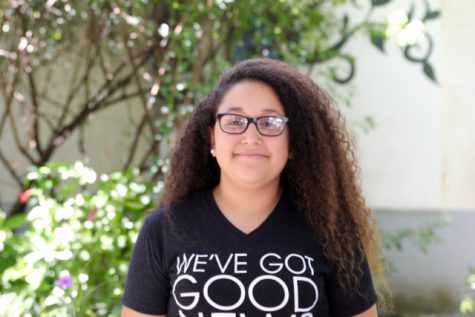 Vanessa Grau, Staff Writer
Vanessa Grau is an International Baccalaureate (IB) freshman who is thrilled to be starting high school at Coral Gables Senior High as a staff writer for...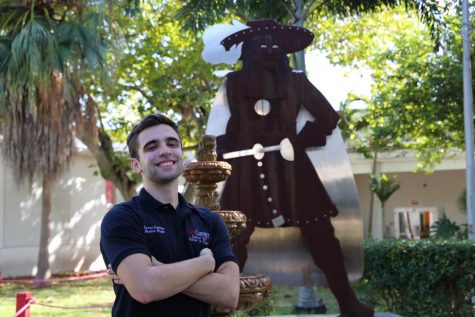 Daniel Toll, Co-Editor-in-Chief
Daniel "Danny" Toll, is a senior in the International Baccalaureate (IB) program at Coral Gables Senior High. In what will unfortunately be his last year...