Kevin Harvick: Revving His Way to South Florida

On Sunday, Nov. 5, NASCAR racer Kevin Harvick  defied all odds and accomplished a remarkable feat. The NASCAR playoffs, hosted at the Texas Motor Speedway, showcased 40 racers, each contending for a position in the Nov. 19 Championship 4 race at the Homestead-Miami Speedway.
Kevin Harvick achieved the unthinkable at the AAA Texas 5oo race, denying the sense of invincibility universally felt for Martin Truex Jr. on the racetrack. With only ten laps remaining in the race, Harvick passed Truex, pulling away his second victory of the season by the nearest of margins, 1.580 seconds.  By triumphantly beating this year's unrivaled champion of the Monster Energy NASCAR Cup Series' 1.5-mile intermediate speedways, Harvick clinched a spot for himself at the Championship 4 race in Homestead, Florida, where he won the first title contested in 2014 under an elimination format. Sporting a No. 4 Stewart-Haas Racing Ford, Harvick won his first Texas victory, and in turn, ended Truex's winning streak on intermediate tracks at four.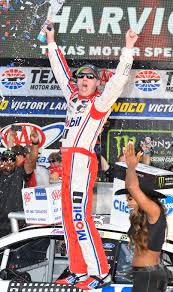 "It's good to be in Victory Lane here in Texas," Harvick said. "I knew I had a really good car. I knew I had to do something different. I started driving a whole lot deeper in Turn 1 — a whole lot deeper."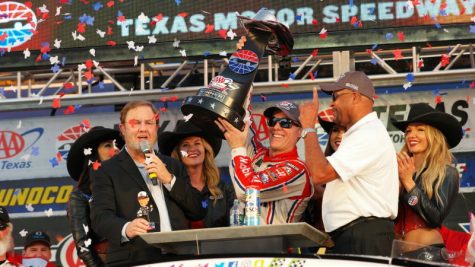 Despite his forfeiting the lead to Harvick in Texas, Truex nevertheless clinched a berth at Homestead on the basis of points scored, departing from Texas with a 57-point lead over fifth-place finisher Brad Keseolowski, who now sits on fourth place in the overall standings.
"Although I personally like Truex more than Harvick, that shouldn't take away from the truly incredible performance that Harvick displayed," freshman Jose Gonzalez said.
Throughout the entirety of the race, Harvick found himself playing catch-up, never maintaining a constant position in the leaderboards. After a Lap 289 restart, Harvick passed Kasey Kahne to grasp fourth place, then Joey Lagano and Denny Hamlin to attain second place by the 307th lap. The only obstacle left to be cleared for Harvick was to track down Truex. On Lap 314, Harvick dramatically closed in on Truex while he was stuck in a knot of lapped cars and was unable to gain any further ground on Harvick. Pursuing him for the next ten laps, Harvick finally overcame and surpassed Truex on Lap 325.
"I feel like professional racing is a really underrated sport and the exhilaration and excitement of this race goes to show how action-packed racing can be," sophomore Alexander Sutton said.
As the competing racers eye on the Championship 4 race on Nov. 19 , Kevin Harvick and Martin Truex Jr. are preparing themselves for an intense high-stakes rematch in the upcoming phase of the NASCAR playoffs.
About the Contributor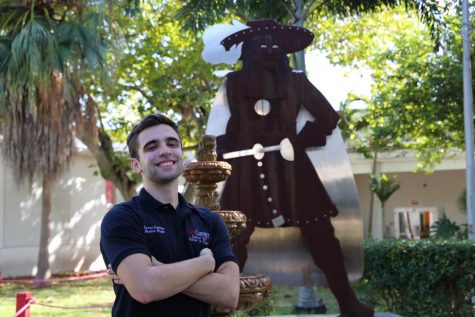 Daniel Toll, Co-Editor-in-Chief
Daniel "Danny" Toll, is a senior in the International Baccalaureate (IB) program at Coral Gables Senior High. In what will unfortunately be his last year...