Athlete of the Week: Nicholas Poveda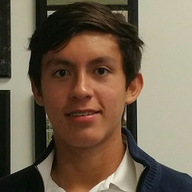 This week's athlete of the week is junior Nicholas Poveda, who helped lead the Boys Soccer Team against Coral Park (1-0) and tie Miami Beach (2-2) last week by scoring 1 goal and 1 assist.
Q: What is your name? What grade level and academy are you in?
A: My name is Nicholas Poveda and I am a junior in the IB program.
Q: How did you get into soccer and what motivated you to get into it?
A: Soccer is one of my favorite sports and I watch the World Cup, European Champion League, and my dad used to play all the time.
Q: How long have you been playing soccer?
A: I have been playing for over 10 or 12 years; I started when I was 3 or 4 and it has been competitive since then.
Q: Do you play club soccer?
A: Yeah, I play in Coral Gables Toros.
Q: Do you play and other sports?
A: I used to play basketball and do track and field, but as soccer got more competitive, I had to leave those sports.
Q: Are you aiming to get a scholarship for soccer?
A: Yeah – I'm looking to various D1 schools and excellent D3 schools.
Q: Do you plan on seeing yourself playing soccer in college or professionally?
A: Yes! I see myself playing in college soccer. Not professionally, because I have to be more dedicated, but college soccer is still very good.
Q: What colleges are you looking at right now?
A: I'll give you a list: University of Chicago, Columbia, Princeton, and I'd say Duke.
Q: Any tips for anyone that is thinking about trying out for the team next year?
A: Stay motivated, stay dedicated, and play as much as you can!