Yard House Happy Hour
Our Rating: A
Everyone has had days where they are extremely starved after school, but have no idea where to eat and do not have enough money to afford a full meal from restaurants nearby. Luckily, right across from our campus, there is a restaurant that offers amazing meals for an affordable price. Yard House is a restaurant chain all across America that is mainly known for its sports bar section, but what some may not know is that they have a happy hour menu which lasts from 3:00 p.m. until 6:00 p.m. This is ideal for us students since school ends at 2:20 p.m., meaning we only have to wait for about 40 minutes before ordering.
Yard House started gaining popularity after many kids posted about it on their Snapchat stories. People noticed how delicious the food looked and began going there themselves and bringing friends along to try it out. Although it has gained popularity, some students still are not aware of this deal.
"I did not even know about Yard House until one of my friends took me with them. Now I go like once a month," sophomore Javier Miguez said.
What makes Yard House ideal is the fact that it is very accessible. Due to the fact that it is located in Merrick Park, it takes no longer than 10 minutes to walk from the exit of the school that leads to Le Jeune. You are able to go with several friends due to their spacious booths and tables. Their service is also something that adds to the experience. As soon as you sit down, there is a waiter at your table in no time. The food takes a bit longer, but the quality is much better than any fast food restaurant, which makes it worth the wait.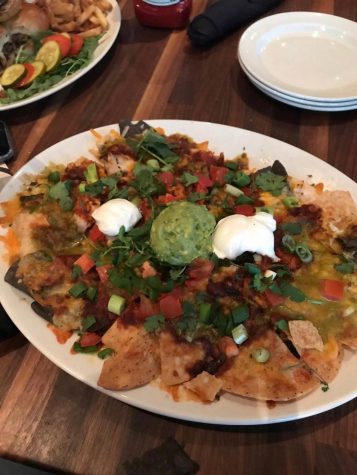 The special includes a great variety of appetizers including boneless wings, poke nachos, ahi sashimi, spinach cheese dip, queso dip, chicken nachos, chicken lettuce wraps, fried chicken tenders, classic slider, onion ring tower, Wisconsin fried cheese curds, fried calamari, moo she egg rolls, fried mac and cheese and pork lumpia. My personal favorite is the chicken nachos for many reasons. It is only $6 for an enormous plate that leaves you feeling satisfied. It comes with blue and yellow corn chips, topped with chicken, beans, cheese, cilantro, tomatoes, sour cream and guacamole. You can share it with one or two people and still have enough for yourself.
"I think it is a great idea for students who are hungry and on a budget. My favorite appetizer is the sliders," sophomore Marianpaola Chacon said.
The classic sliders are the most popular among these options. This plate includes three mini cheeseburgers, a side of fries and a small salad. If you are more on the picky side and are afraid of trying something new, the chicken tenders and fries are also a classic, enjoyable meal you can order.
They also have an assortment of drinks, but the only ones available to minors are juices and sodas like lemonade or Coca Cola. You can also receive complimentary water.
All things considered, Yard House allows students to dine for an affordable price that no other restaurant nearby compares to. They excel in every aspect of the dining experience with their pricing, wait time, customer service and overall atmosphere.