Far Cry 4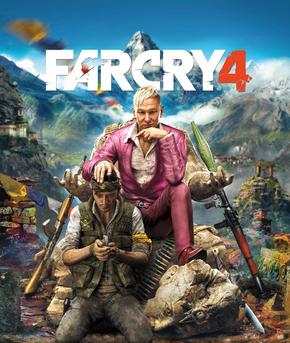 Game Title: Far Cry 4
Genre: First-person shooter, action-adventure
ESRB Rating: M
Developer: Ubisoft Montreal
Platforms: Microsoft Windows, PlayStation 3, PlayStation 4, Xbox 360, Xbox One
Release Date: Nov. 18, 2014
Our Rating: A
Far Cry 4, the newest installment of Ubisoft's Far Cry series, takes the player Ajay Ghale to a mythical country, Kyrat, somewhere on India's northern border. Ghale is traveling to Kyrat to spread the ashes of his deceased mother when he gets caught in the middle of a civil war between The Imperial Army, which is ruled by Pagan Mim (You can probably guess that the is the bad guy.), and The Golden Path, a rebellious group formerly led by Ajay Ghale's  father, Mohan Ghale, who is also dead. The group is now run by Mohans second-in-command, Sabal, and the rebellion's first woman leader, Amita. Throughout the game you have to defeat Pagan's three governors, De Pleur, Noore, and Yuma, until you finally confront Pagan.
Far Cry 4 not only has a thrilling campaign, it also contains a somewhat underrated multiplayer in which you are put in an arena to fight to the death against other players, or infinite amounts of NPC's, (non playable characters).
"I thoroughly enjoy the Far Cry series, I think it has always been well structured and with a nice flowing story, so when Far Cry 4 was announced I knew that a great game was in the making, and in truth it was a great game; it was everything that it was shaping up to be and I can honestly say I was not disappointed," freshman William Breslin said.
Fans of Ubisofts similar Assassin's Creed series will enjoy the same concept but a new modern feel to the game, with more advanced weaponry and a massive map to use them on. Hopefully, this year's installment will do just as well as 2012's award winning Far Cry 3.