The Class of 2023 Celebrates Their Last Four Years Together at Graduation
Coming into high school as timid freshmen and leaving as independent, young adults, Coral Gables Senior High became a home for the Class of 2023, a place where students grew, learned and conquered. Following four years of trials and tribulations, seniors celebrated their achievements at the Watsco Center at the University of Miami on May 30, officially marking the 73rd graduating class of Coral Gables Senior High. Marching in at 9 a.m., the class took proud strides into the center alongside their peers to commemorate a new chapter in their lives.
As Mistress of Ceremony Isabella Morales welcomed all into the building, she recognized each student, parent and administrative staff had come for the same reason: to honor and praise the growing graduates.
"I was chosen for mistress of ceremonies because of how closely I work with Mrs. Suarez. She said that she was looking for someone who she trusted and knew could adjust to any last minute changes. So when she asked me to do it, I was of course extremely honored and excited to prepare for it," senior Isabella Morales said.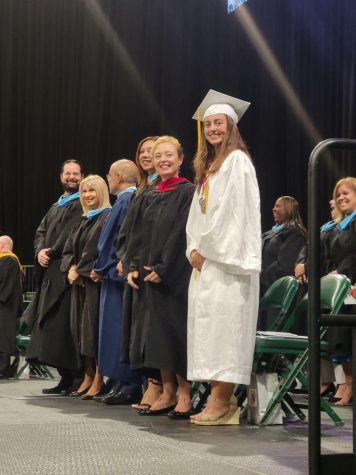 She welcomes Principal Tony Ullivari who introduces the departmental chairs and program directors who sat on the very stage the Class of 2023 was soon to walk. Mentioning familiar faces, the graduates recognized the prestigious people, ranging from Gables administrative staff to representatives from local secondary schools. Following their applause, Ullivari invites District 6 Board Chair of Miami-Dade County Public Schools Mari Tere Rojas for her speech.
Rojas began by showing gratitude to the people that have attributed to the successes of the graduating class. She recognizes parents that have made monumental sacrifices and have allowed the class to reach all their accomplishments. Rojas continues to salute M-DCPS directors and leaders. Finally, she praises Gables staff for their "exemplary leadership" and for giving students the confidence to become "independent, critical thinkers".
As she continues her address, Rojas faces the graduates. Allowing them to reminisce, she reminds them of the moments when they once toddled into kindergarten, proving the maturity they have put on 12 years later. Throughout their adolescence, she recognizes they have built character and commitment to serving others. As she looks through the crowd, she acknowledges she is in the presence of future innovators and role models.
"I was nowhere near the same person I was when I first started at Gables. I didn't know who I was up until at least junior year where I started to feel confident with myself. I've watched myself become involved, independent, confident and strong. I became someone I think little me would look up to," senior Teresita Deltoro said.
Tony Ullivari followed by welcoming Superintendent Dr. Jose L. Dotres who shares a few words. He advices graduates that the road may be rocky but that each obstacle will become an opportunity to shape them. He exits the stage with his last valuable advice.
"Be bold. Be courageous. Be your best. If by chance, opportunity does not knock, build the door, open the door and make the future brighter for all of us," Dr. Dotres said.
Dotres hands the microphone to troupe singers Haley Fabing-Gonzalez, Jose Sanchez, Melissa Requeny, Lia Alongi, Kayla Castro and Jamar Howard who sang "You Will Be Found" from Dear Evan Hansen, a song that emphasizes camaraderie and finding the light during dark times.
"It was heartbreaking. Every practice we had together we were emotional, because we knew once we performed that song, it would be our last time performing together," junior Haley Fabing-Gonzalez said.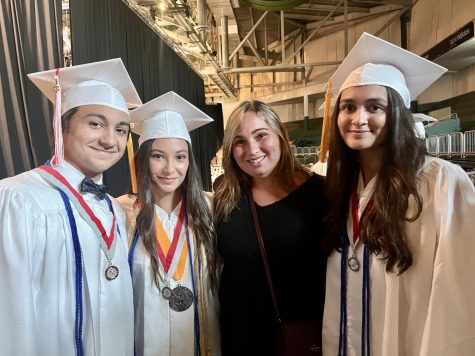 Graduate Carla Nuñez was then invited on stage to deliver her prepared student speech. She commences by sharing the similar journey they each experienced. Acknowledging the dark times that was the two-year-long COVID-19 interruption, she also recalls the bright moments like practicing a sport on the field, racing for a spot at the pavillion during lunch and even receiving a parking decal. Nunez shares that each moment, from the highs to the lows, shaped them into strong, young adults.
Given another moment to speak, Ullivari begins his principal's address. He praises the class on all their overcoming. As a collective, approximately 98% of Gables's Class of 2023 graduated. From those who graduated, many will attain higher education at schools such as Yale University, University of Florida and McGill University. Following the audience's celebratory applause, Ullivari announces that he looks forward to watching all the great each senior will bring out into the world. Finally, he quotes the famous words the students have heard every morning throughout their four years, "Go Cavs!"
"They were a unique class. They missed mostly their first two years of high school. Freshman year was cut short. During sophomore year, a lot of them stayed virtual. They've really only had two years together with their classmates. I know, as I indicated in my speech, it took a lot to persevere, but they were determined. They were able to accomplish every thing they had to, actually graduating with the highest graduation rate in the history of Gables," Ullivari said.
Called one-by-one, Ullivari then presents each graduate with their diploma, taking a picture to memorialize the special event. Finalizing the role call, the graduates sat and were order to move their tassel, commemorating the outstanding four years they have spent together. As tears were shed and laughs were had, the Watsco Center was then filled with the harmonies of the Alma Mater.
"It was not until I walked in a line with my academy back into my seat that it really hit me. From our faces on the screen to the parents and families looking down at us, it really struck me that I was graduating. It was all over," senior Teresita Deltoro said.
Leave a Comment
Your donation will support the student journalists of Coral Gables Senior High School. Your contribution will help us cover our annual website hosting costs.
About the Contributor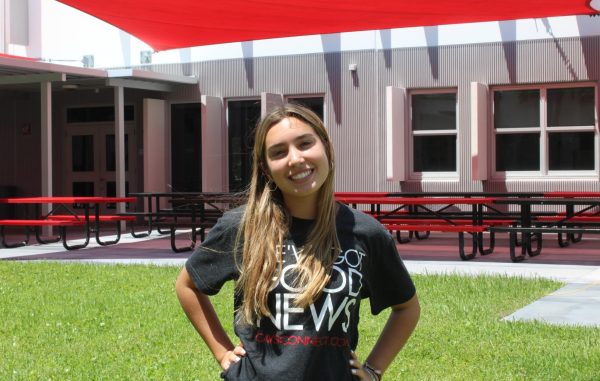 Angelina Morffi, CavsConnect Co-Editor-in-Chief
Junior Angelina Morffi has spent her past two years embodying the term, "school spirit," and it remains on the top of her agenda for her third year at...