Iran's 43-Year Long War on Women
After a 22-year-old Iranian Kurdish woman, Mahsa Amini, died in Iranian police detention following her violation of the nation's strict dress code, a wave of rage against hijab laws and police brutality has surged. Her death has come to represent what many believe is the current injustice women are fronting. Crowds have chanted "Woman, Life, Freedom!"  throughout the nation with the belief that freedom for women means freedom for all.
Since the 1979 revolution, Iranian women have been a significant part of public outcries. However, since the death of Amini, they have gone ever further, organizing rallies for eight weeks in protest of the 43 years of denigration the women who came before them have undergone. Strikes and boycotts are two of the protesters' more popular methods. Threats to the regime's economic foundation have become more and more targeted as the movement progressed.
Additionally, Iranian authorities have attempted to encourage women to marry earlier and have more children in order to grow the national population. Limiting abortions and access to birth control, the Iranian government has imposed its religious beliefs by establishing pro-natalist policies in the nation. A population law passed in November of last year, restricting women's reach to safe abortion, outlawing sterilization and prohibiting the provision of contraception in the public health care system unless a woman's health was in danger.
"
We have witnessed strong schoolgirls and college students take charge in recent weeks by raising their scarves, marching through the streets, and ejecting officials. However, the crackdown led to widespread detentions and, according to reports, the deaths of hundreds of individuals, including girls. As citizens that have the right to protest here in the United States, we should stand next to them and fight for Iranian women's basic rights,
— Senior Sofia Bronstien
"It's like a war out there if you really think about the social and economic injustice that women face in Iran, despite of them being ahead of their time before the 1979 revolution. However, as Americans, we have the chance to support Iranians in their fierce determination to bring this brutal regime to an end, since we have the right to protest here in America, as opposed to Iran, where citizens have been taken into prison, tortured and even murdered for voicing the injustice that they have been facing for so many years," senior Allan Kaplan said.
Furthermore, Iran's legal system follows typical social roles, keeping uniformity within households around the nation. According to the Civil Code, a husband is allowed to decide where a woman will live and whether they are allowed to work at a particular job if he believes it goes against his own family values. According to the Passports Law, a woman requires her husband's consent before applying for a passport and leaving the nation.
Starting 43 years ago and continuing today, women in Iran are lit up in anger, using their voices and actions to make a change within their society and government. Following in Amini's footsteps, women have acted in defiance, removing their hijabs and fighting for a voice. Women have no plans of stopping until action is taken.
"Iranian women and girls are protesting discriminatory laws and demanding sweeping reforms to secure their fundamental freedoms. The world should pay attention, as should the Iranian government," junior Ava Volman said.
Leave a Comment
Your donation will support the student journalists of Coral Gables Senior High School. Your contribution will help us cover our annual website hosting costs.
About the Contributors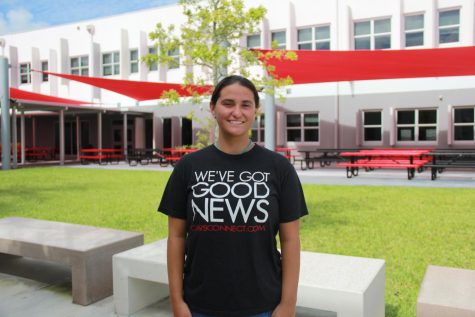 Jacqueline Rodero, CavsConnect Staff Writer
Jacqueline Rodero is a senior in the International Baccalaureate program. This is her second year as a CavsConnect staff writer. As she closes her time...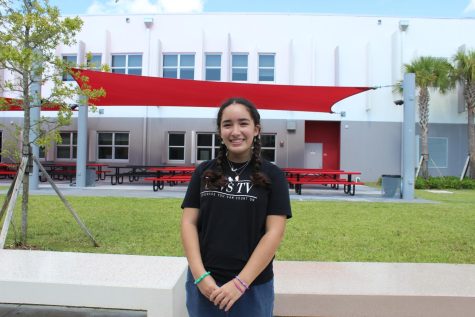 Sofia Felan, CavsTV Staff
Sofia Felan is a junior in the International Baccalaureate program at Coral Gables Senior High. This is her second year with CavsTV drawing featured images,...