Hurricane Florence Heads Towards the East Coast
Hang on for a minute...we're trying to find some more stories you might like.
[powr-twitter-feed id=d2282b2c_1537024821912]
Hurricane Florence began on Aug. 30 as a tropical wave circling around the Atlantic Ocean, and was declared a tropical storm one day later.  Over the next two weeks, the once-harmless storm rapidly picked up speed and strength, reaching high wind speeds of 130 miles per hour (mph). On Sep. 5, Hurricane Florence, with a direct trajectory towards the United States, was declared a category four hurricane.
The hurricane currently has a diameter of 400 miles – approximately four times the size of the state of Ohio. Additionally, wind speeds upon making landfall are expected to top 110 mph. Florence is estimated to hit with 40 inches of rainfall and an approximate of 13 feet of storm surge.
The hurricane is projected to hit the coastal cities of Folk, VA; Wilmington, NC; Raleigh, NC and Charlotte, NC most directly. More than a million inhabitants are forced to choose between staying home and taking their chances with a category four hurricane or packing up their belongings and quickly evacuating.  Over five million people live in the areas that are under hurricane warnings or watches, mainly in the Carolinas and Virginia. Additionally, an estimated 1,500 international and domestic flights have been canceled.
"I hope everyone that was injured recovers and can come back home safely," freshman Melissa Ventura said.
The only reprieve for those unable to escape Florence's path is that it has been losing steam as it moves away from the warm ocean waters. The hurricane, formerly a category four, is now at a category two. However, it has maintained a top wind speed of 90 mph and still had the potential to do a great amount of damage to Virginia and the Carolinas.
South Carolina Governor Henry McMaster has given the residents of his state updates on the progression of Hurricane Florence throughout the past two weeks. He has declared a state of emergency and urged citizens to evacuate from the life-threatening situation while they still can, emphasizing that those who stay are taking a huge risk.
"I believe it's one of the most dangerous hurricanes that has occurred. There has been a wide-ranging amount of flooding as people try their best to avoid being impacted from this hurricane" freshman Nataly Leiva said.
Public shelters have already been opened to help those in need in affected states. Three shelters with an estimated capacity of 1,139 have already opened in Wake County, NC. The state of Maryland also sent a helicopter with a rescue team to North Carolina and has opened shelters to provide aid to people traveling north to avoid the hurricane. These preliminary disaster relief methods are meant to reduce the amount of struggle that typically follows a major hurricane and help citizens of the east coast stay safe.

About the Contributor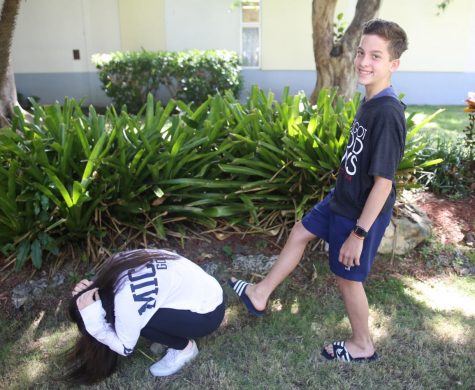 Mark Snyder, Staff Writer
Mark Snyder "Marcos" is a freshman in the  International Baccalaureate (IB) program at Coral Gables Senior High. Snyder was born in DC but later moved...