IB Freshmen Attend Cav Camp
Maria Estrada- Spanish Editor and Cameryn Padron- Photographer
June 14, 2015
June 8 marked the beginning of a new chapter for the class of 2019. As the eager incoming International Baccalauarate (IB) freshmen walked through the doors of Diner 9 ("New Cafeteria"), they were surprised by the recently revolutionized Cav Camp. As the campers arrived, they were split into 16 distinct groups, each corresponding to a unique era. Here, Small Group Leaders (SGLs) cordially greeted them and showered them with treats that corresponded to their era; for instance, the ¨Nifty Fifties¨ recieved a variety of props classic of the 1950's, such as cat-eye sunglasses and scarves. The students then headed to their homerooms where they were finally introduced to the concept behind this year's Cav Camp: to create a time capsule.
As the groups shifted from teacher to teacher, they were able to explore the vast opportunities that Gables offered and work in groups to hopefully achieve victory. The distinct groups all faced the same challenge, to create a time capsule that incorporated items from both their corresponding era as well as from the present. Students had to additionally go above and beyond in order to create an entertaining video and skit to perform at the conclusion of Cav Camp. These components were then judged based on quality and creativity by Gables alumni. In the end, "the 2000's" earned victory and were awarded the right to bury their time capsule in the school patio so that they will dig it up when they graduate in 2019.
"Cav Camp was an amazing experience, not only because I was part of the winning team, but because I was really able to connect with my future classmates. I feel like I really got to know Gables and I cannot wait for school to begin," freshman Nicole Verdesoto said.
Aside from abundant competition, Cav Camp also featured activities that aimed to spread the incoming freshmen's enthusiasm to attend Gables. The small group leaders truly went above and beyond to exude Cavalier pride and show the freshmen what it meant to be a true Cavalier. With various bonding activities, the freshman were able to become more integrated as a class.  Cav Camp concluded with an interactive game day where the students were also able to enjoy complementary  "ChillN" ice cream and Domino's Pizza.
"I consider this event a great success. I was able to really get to know my future teachers and friends, all while having a great time," freshman Cristian Ochoa said.
All in all, thanks to the hard work and dedication of teachers and student volunteers, Cav Camp was an immense success.
About the Contributor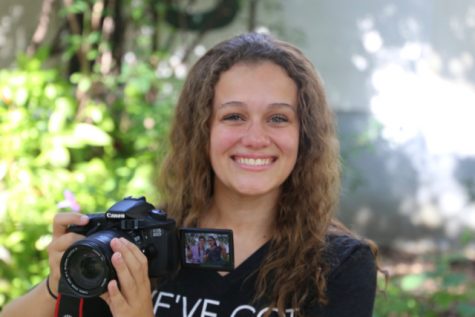 Cameryn Padron, Multimedia Editor
Cameryn Padron is a senior in the IB program. Cameryn is starting her fourth year working for Cavsconnect and her second year as the new Multimedia editor....