Corea del Norte Envía Mensaje a Trump Amenazando con Disparar Misiles
Corea del Norte dice que podría lanzar un misil balístico intercontinental "en cualquier momento", incluso cuando Pyongyang pareció ofrecer a Donald Trump una avenida para futuras conversaciones. Las tensiones en la península coreana han aumentado considerablemente desde que el líder Kim Jong dijo en su mensaje de año nuevo que el país estaba cerca de probar un misil balístico intercontinental (ICBM), capaz de entregar un arma nuclear a los Estados Unidos.
En una declaración, un portavoz del canciller de Corea del Norte dijo que "Estados Unidos es totalmente culpable" por el desarrollo de su programa de misiles. China y Corea del Sur denunciaron el lunes la amenaza de misiles de Corea del Norte, y advirtieron que una prueba podría llevar a nuevas sanciones. "Si Corea del Norte no hace caso de nuestra advertencia y lanza un ICBM, se enfrentará a sanciones más poderosas y exhaustivas y la presión de la comunidad internacional", dijo el portavoz del Ministerio de Defensa surcoreano, Moon Sang-gyun. Hasta ahora, las severas sanciones internacionales no han impedido que Pyongyang desarrolle su programa nuclear.
"Yo creo que todo lo que esta pasando con Corea del Norte es muy peligroso porque esta poniendo en riesgo a todos los Estados Unidos. Espero que el gobierno americano pueda resolver este problema antes de que pase algo grave de lo que luego nos lamentemos, " dijo el estudiante de onceno grado, Orlando Cruz.
Tras la aparente amenaza nuclear de Pyongyang en el discurso del año nuevo, Trump twitteó que "Corea del Norte acaba de afirmar que está en las etapas finales de desarrollar un arma nuclear capaz de llegar a partes de los Estados Unidos. Corea del Norte ha afirmado haber llevado a cabo cuatro pruebas nucleares exitosas, fortaleciendo su mano en cualquier negociación futura.
Bruce Bennett, analista de defensa de Rand Corporation, dijo la semana pasada que, a pesar del progreso aparente de Corea del Norte, todavía no tiene suficiente tecnología de misiles y cohetes para lanzar un arma nuclear. Estados Unidos ha estado trabajando con Corea del Sur para desplegar el sistema de defensa de área de alta altitud terminal (THAAD) en ese país, pero el futuro del programa está en duda bajo LA administración de Donald Trump.
About the Contributor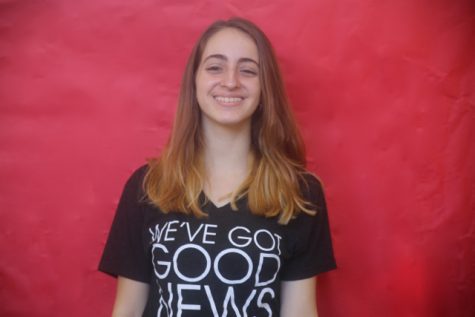 Veronica De Varona, Staff Writer
Veronica De Varona is a junior in the Visual and Performing Arts Academy at Coral Gables Senior High. Veronica was born in Havana, Cuba from a big and...