CavMan and CavBoy Make Waves at Gables
At Coral Gables Senior High, school spirit has always been a conquered feat. Housing countless spirited cavaliers, senior Armando Camejo has stepped up as this year's CavMan. Altering the annual Gables tradition, this year Camejo was joined by freshman, Rafael Hanono, the school's first ever CavBoy.  
As CavMan and CavBoy, the pair are responsible for representing Gables's ever-growing spirited and loud student body. Taking time to show up to school events and provoke the Gables roar, Camejo and Hanono wave the Gables flag, dawning the signature hats and capes. Whether it be at a pep rally or a football game, the duo lead chants and put a smile on students' faces, igniting the flame of every Cavalier in attendance.
"So, like, everybody at the beginning of the school year was saying, 'Oh, who's Cav Man?' 'Who's Cav Man?' And then they started saying, 'Armando, you should be Cav Man!' So I was like, you know what? I should be CavMan, " senior Armando Camejo said.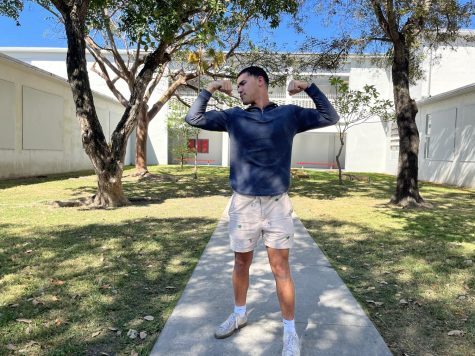 For Camejo, what started as a suggestion from friends and family soon created traction. Camejo's outgoing personality and abundance of cheer made him impossible to miss. He was finally approached by Gables dance teacher, Ms. Diaz, and jumped at the opportunity. Making his debut at the 2022-2023 school year's first Alma Mater Pep Rally, Camejo's influence shook the stands. His Gables pride only confirmed to his fellow Cavaliers and staff like Ms. Diaz that he was best fit.`
Apart from his duties as CavMan, Camejo keeps himself well rounded with both academic and athletic engagements. As member and manager of the Gables basketball team, Camejo gets the opportunity to practice and promote the sport he loves. He is also involved as Secretary of the Health Information Project , where he gets to be a mentor for underclassmen, informing them about common health issues among students. 
Similar to Camejo, Hanono made his CavBoy debut during the first pep rally of the 2022-2023 school year. Doing his part in amping up the crowd, Hanono's ability to direct the student body struck many. His excitement and intensity made him a perfect candidate for CavBoy in the eyes of supervisors, Ms. Diaz and Ms. Sanchez.
"I watched them in action with the crowd and with people and thought they would motivate their energy. I basically tested them in the first pep rally just to see if they had what it took. It was basically on a short term basis but clearly, they had what it took," Ms. Diaz said.
Being just a freshman, high school can seem scary, especially with four years of uncertainty right ahead. However for Hanono, it seems as though his high school experience is not like many others. Being able to surround himself with Camejo and his fellow seniors, they have taken Hanono under their wing and have helped him navigate throughout the school, from serving as friendly faces to providing guidance.
"Being Cav Boy has made high school less intimidating since I have friends who can help me when I need it, and because teachers now sometimes recognize me, so it just does not seem as scary," freshman Rafael Hanono said.
With the pair on opposite ends of the high school experience, their partnership provides all students with a sense of representation during school events. Together, Camejo and Hanono keep the heart of the Cavaliers beating, one school event at a time.
Leave a Comment
Your donation will support the student journalists of Coral Gables Senior High School. Your contribution will help us cover our annual website hosting costs.
About the Contributor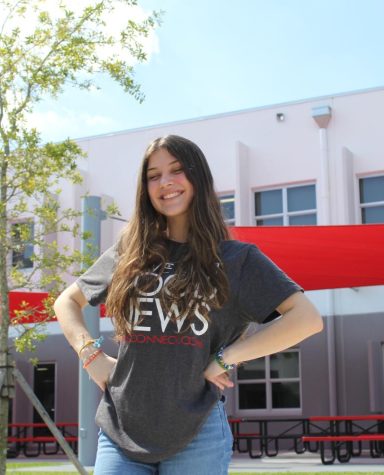 Lorena Acevedo, CavsConnect Staff Writer
Lorena Acevedo is a junior in the Design Education and Hospitality program at Coral Gables Senior High. Entering her second year in CavsConnect, she hopes...