Meet the New Language Arts Department Head, Mrs. Vazquezbello
From a young age, Mrs.Vazquezbello was always compelled by the profession of education. However, she initially did not picture herself teaching high school students. While in college, she used to work at an after-school program taking care of younger children; she soon realized that as much as she loved kids, her teaching style and personality did not match with this particular age group and therefore sought to teach an older audience. 
In 1999, soon after college, Vazquezbello began her journey at Coral Gables Senior High as an intern and shortly after as a substitute. A year later, she was officially hired as a Gables teacher, and from that point on everything moved pretty quickly. Most teachers tend to work their way up to teach Advanced Placement classes but this was not the case for Vazquezbello. 
Four months into teaching, Ms. Machado –the English department head at that time– walked into Vazquezbello's class and told her that she had to take over all of her AP classes, a statement which came as a complete shock to her. It turned out that Ms. Machado had been offered the opportunity to open a new high school by the name of Felix Varela, and therefore would not be returning after the winter break. 
Vazquezbello recalls this year as "the scariest year of her life" as she had to come back from winter break fully equipped to teach AP classes. Despite the initial shock, she did not shy away from this challenge and instead embraced it. 
Twenty two years later, Vazquezbello still finds herself teaching the AP English Language and Composition course, yet she would not want to have it any other way. Her love for the English language and writing is as strong as it was on the first day of her teaching career. 
When asked what her favorite part of being a teacher is, Vazquezbello did not hesitate to say the planning portion of the job. As an organized and goal-oriented person, Vazquezbello enjoys creating and developing lesson plans. To her, there is nothing more rewarding than seeing her students understand a lesson she took time in both preparing and teaching. 
Despite her passion for teaching, Vazquezbello was quick to note how much she dislikes grading, and referred to the process as her "bad place" in between giggles. Being a person who likes to be on top of everything, grading is that one aspect that she has yet to master. However, this seemingly small weakness is overshadowed by all of her strengths as both a teacher and individual. Vazquezbello goes out of her way to make sure her students feel that they can count on her for anything they may need. 
"I love Mrs.Vazquezbello; she is a super caring individual who is always there for her students. The best part about her class was her sense of humor; she teaches English in a way that is both fun and easy to understand," senior Sara Rabell said. 
Just recently, Vazquezbello received a similar "curveball"–this time, it was not Ms. Machado who walked into her class, but instead a Zoom call from Dr. Diaz. Following the departure of Mrs.Torres, the English department found itself with a vacancy for the department head position and therefore Dr. Diaz promptly asked Mrs. Vazquezbello if she was up for another challenge. 
"For a long time I had a lot of other commitments and family, and quite honestly I did not have the time. Now that I do have a little more time, I did not want to say no. I said to myself 'might as well try it' because I know I will always strive to do my best," Vazquezbello said. 
For this upcoming school year, Vazquezbello's main goal as both an English teacher and department head is to provide students, parents and her colleagues with a sense of comfort during these uncertain times. Given the fact that everyone is very apprehensive with both distance learning and the new virtual platform, Vazquezbello aims to ease some of the stress that students might be facing with this drastic and sudden change. There is no doubt in her mind that with the help of her fellow teachers, she will try to make this transition as smooth as possible. 
"Even before being selected to be department head, I have always felt that the Language Arts department is very close-knit. Even though we are all in our different rooms, doing our different things, there is always someone there to help. If I have ever had to displace my class or needed material for a new book I am teaching, everyone is always willing to lend a hand. Although I see this sense of community everywhere at Gables, I see it in particular in my department," Vazquezbello said. 
One cannot say they have attended Gables if they have not had this stellar individual as a teacher; there is no need to worry as Vazquezbello's journey at Gables is far from over– she jokes that "she will not be retiring anytime soon." 
Throughout her teaching career, Vazquezbello has risen and succeeded at every unexpected situation thrown her way. It is without a doubt that she will excel as department head and any other endeavor she chooses to pursue. 
About the Contributor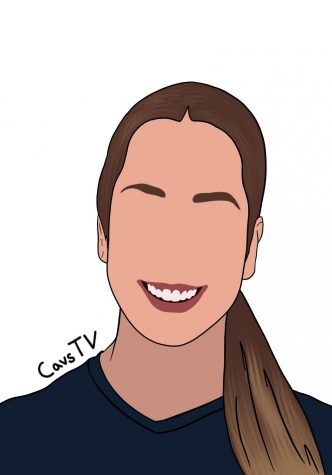 Natalie Abrahantes, CavsTV Co-Editor-in-Chief
Natalie Abrahantes is a senior in the International Baccalaureate (IB) program at Coral Gables Senior High. In her last year at Gables, she is extremely...