Speech & Debate: Public Speaking Never Felt So Good
Do you love new experiences and arguing higher-level topics with others? Speech and Debate may be the right club for you! While most schools have a debate class, Gables has a club instead. It creates a unique dynamic where students motivate and help each other to do the best they can at competitions.
Students are always excited to go up against other schools and debate about controversial topics in today's society. Competitions can often get heated, which, while making it more interesting, allows competitors to see things in a new perspective. Another great outcome from these competitions is that even the most shy people are able to come out more confidently to speak in front of large audiences, a skill that is important throughout life.
"
Debate is a really fun way to develop public speaking skills. You use what you learn for the rest of your life and getting to develop the skills through competition provides an opportunity to see how you've improved. When I placed it was validation for all the hard work that I've put into being a great debater."
— junior Paula Hernandez
However, a great deal of commitment is necessary to be a part of this club. Competition days can be long and stressful, spanning up to 11 hours. In the Public Forum section, lots of preparation and research is necessary. Two speeches must be written, one for the topic and one against the topic. In the Speech section, a speech must be memorized and performed, often lasting nearly 10 minutes. Although this may seem like a lot, once you arrive on competition day, everything seems worth it.
"Speech and debate is an amazing club which allows many students to break barriers with the fear of public speaking as well as allow students to voice their opinions and themselves through many aspects," senior Tatiana Taylor said.
Students work tirelessly to win prizes at competitions and you can always find them around school helping each other perfect their speeches. Although they don't often win awards, they are never apathetic and only become more motivated to work harder. While most schools have teachers to train the students for the competitions, students here at Gables depend on each other, thereby creating a close relationship among all club members. For more information about future meetings be sure to subscribe to the club on Remind101 (@cgdebate).
About the Contributor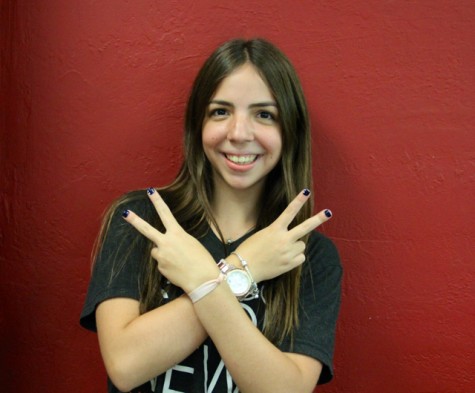 Olivia Pelaez, Reviews Editor
Olivia Pelaez is a senior in the IB Program at Gables. She loves the CavsConnect family and is excited to be an editor for the site. She is a part of...