Easy Eats for Every Day Lunches
Making the time to make delicious lunches before school can sometimes be so difficult that skipping lunch seem like the better option. Luckily for all Gables students, here are some quick lunch ideas that will make sure that you have something to eat every day of the week!
Lunching on Seconds: Make lunch easier by simply eating leftovers! It's not only an easy way to make sure you've eaten a full and nutritious meal, but a great way to avoid wasting food. So instead of wolfing down a plate of seconds during dinner, try and save some food for the next day's lunch. This not only helps you save money, but also time in the morning.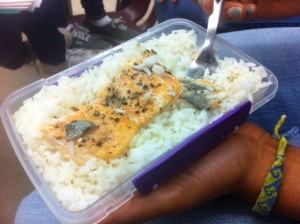 Put it in Bread: There is no going wrong with bread! It might seem like a boring option, but sandwiches can actually make for delicious lunches when you avoid the basic ingredients. Remember, there are more options than plain ham and cheese; chicken is just one of the many other options. Try not to limit yourself, and add leftovers to your sandwich for a quick and easy way to add flavor and get a filling meal.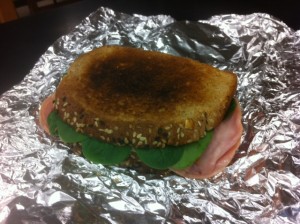 Mariam Ahumada
Sandwiches have an endless variety of combinations, all which can make a great and filling lunch.
"For a quick meal I usually make a ham and cheese sandwich with a small fruit cup with grapes, strawberries, oranges and apples," junior Kimberly Molina said.
Salad Add-On: Eating healthy may become difficult when there is little time to prepare, but a healthy lunch does not always have to be a nightmare. A salad is always a great alternative to fatty foods, and it's also very easy to make. If you want more than just lettuce and croutons, try adding more to your salad than just plain dressing. Raisins, avocado, red onion, tomatoes, and croutons all serve as great add-on for salad, and they help make salad more than just a healthy alternative. Just remember: we are a peanut free school here at Gables, so avoid any type of nut while thinking of ways to ameliorate your meal.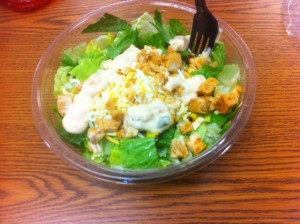 That's a Wrap: Want to avoid the everyday sandwich? Then simply swap the bread for a tortilla! It's an easy and great way to vary your lunches. Chicken, ham, and even vegetables are great foods to eat in a wrap and with so many sauces and cheeses, the options are endless.
Lunch is a very important meal, especially since your body uses up a lot of energy throughout the day. So try something new, and keep your body healthy and active!