Over 60 Schools Confirmed for Upcoming College Fair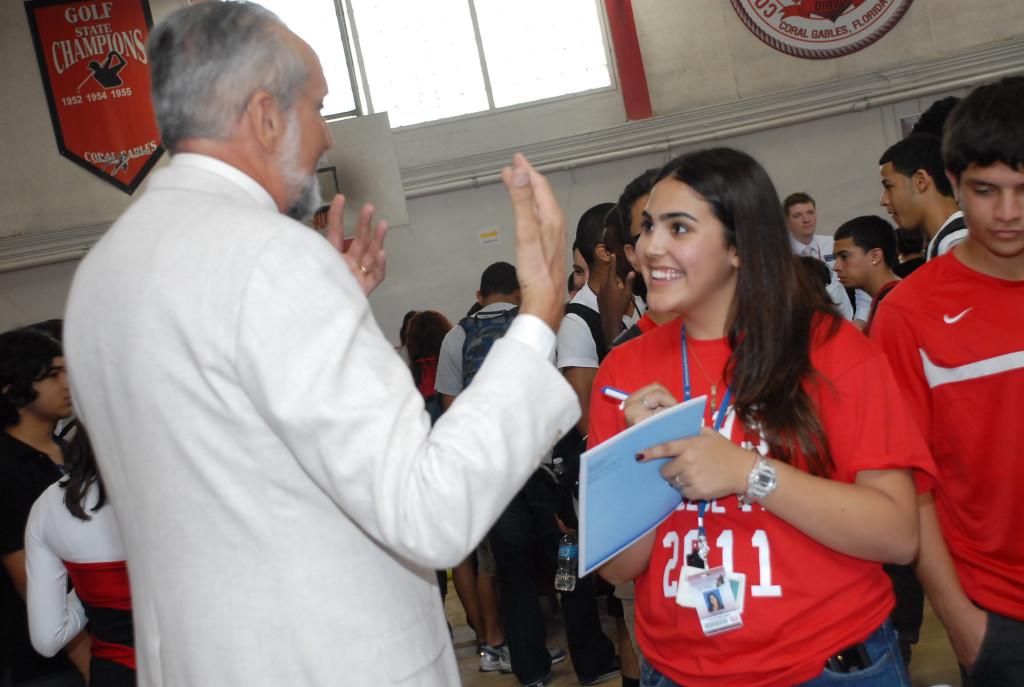 The annual held college fair is an amazing opportunity for students to visit with different college representatives, all under one roof. Students have the advantage of asking all the questions they please, rather than searching through the immense Internet outlet for the very same questions that may remain unanswered.
Senior Konstantin Petrenko took a part of last year's event, and felt his time there was invaluable.
"By attending the college fair I know where I want to apply to this year. It helped to reinforce knowledge I knew prior to attending and informed me on information that I wouldn't have gotten without participating. Anyone who can should jump at the chance to attend, it was well worth it."
This year, the College Fair will take place on Thursday, October 11, 2012. To date, over 60 schools are confirmed to take part in this prestigious event.
Juniors and seniors can get their tickets in front of the new building on Monday (10/8), Tuesday (10/9), and Wednesday (10/10) before school from 6:45-7:10AM and during lunch from 10:30AM-12:50PM. All students will need to have a ticket to enter the college fair and be in their school uniform.
*Juniors: Please see your English teacher for more information on your important role in creating questions to ask the reps at this year's college fair.
Last year tickets ran out so make sure to come and sign up for your ticket early to guarantee your spot.  Once the juniors and seniors have their tickets, sophomores will be considered if there is space available.
Below you will find  the list of colleges and universities that have been confirmed so far, and more are being added every day. Don't miss out on this amazing event, Gables!
Amherst College (MA)
Auburn University (AL) *
Barnard College (NY)
Barry University (FL)
Berry College (GA)
Bethune Cookman College (FL)
Brandeis University (MA)
Carlos Albizu University (FL)
Catholic University of America (DC)
Colgate University (NY)
Cornell University (NY)
Dickinson College (PA)
Edison State College (FL)
Florida Atlantic University (FL)
Florida Dept. of Education
Florida Gulf Coast University (FL)
Florida International University (FL)
Franklin & Marshall College (PA)
Grinnell College (IA)
Harvard University (MA)
Haverford College (PA)
Ithaca College (NY)
Loyola University (Chicago) (IL)
Lynn University (FL)
Miami Dade College (FL)
Mount Holyoke College (MA)  *
New College of Florida (FL)
New World School of The Arts (FL)
New York Institute of Technology (NY)
Nova Southeastern (FL)
Penn State University (PA)
Pomona College (CA)
Rollins College (FL)
Rutgers (NJ)
Sarah Lawrence College (NY)
Seton Hall University (NJ)
Spring Hill (AL)
St. Peter's College (NJ)
St. Joseph's College (NY)
St. Thomas University (FL)
Stetson University (FL)
Suffolk University (MA)
Syracuse University (NY)
Tulane University (LA)
University of Alabama (AL)
University of Central Florida (FL)
University of Colorado – Boulder (CO)
University of Connecticut (CT)
University of Delaware (DE)
University of Florida (FL)  *
University of Massachusetts, Amherst (MA)
University of Miami (FL)
University of New Haven (CT)
University of New Mexico (NM)
University of North Carolina-Chapel Hill (NC)
University of North Florida
University of South Florida (FL)
University of Vermont (VT)
US Air Force Academy (CO)
US Merchant Marine Academy (NY)
US Naval Academy (MD)
Vanderbilt University (TN)
Wake Forest University (NC)
Warren Wilson College (NC)
About the Contributor
Patricia Passwaters, Editor in Chief
Patty Passwaters is a senior in the Communication, Arts, Film and Digital Media Academy at Coral Gables Senior High School. Ever since freshman year she...