68th Annual Junior Orange Bowl Parade
The Junior Orange Bowl parade has been a tradition enjoyed by many in the city of Coral Gables, dating back to 1948. At first, it was intended to attract tourism to the region and show support for their local Miami Hurricanes, but it has since evolved into a family tradition where people of all ages come to partake in the fun.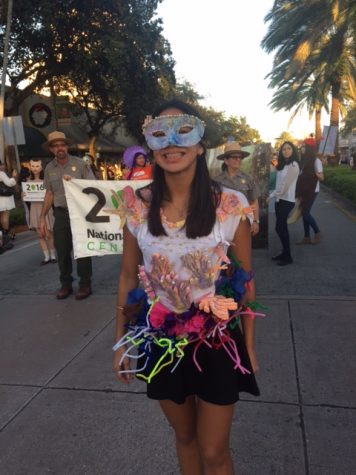 The holiday tradition of the Junior Orange Bowl parade continued this Sunday, Nov. 27 on Miracle Mile. The theme of this year's parade was "Holiday on the Mile", highlighting the importance of the annual celebration. As expected from past events, there were many spirited parade-goers who enjoyed various floats and musical numbers.
Many students who attend Gables participated in the event, either directly walking in the parade or coming to view the many floats. Junior Geisel Dieguez represented the Coral Gables Museum in the event, dressing as a manatee to raise awareness for Florida's National Parks.
"The parade brought the Coral Gables community together and allowed the Coral Gables Museum to give volunteers the opportunity of making their own costume to strut along Miracle Mile," junior Geisel Dieguez said.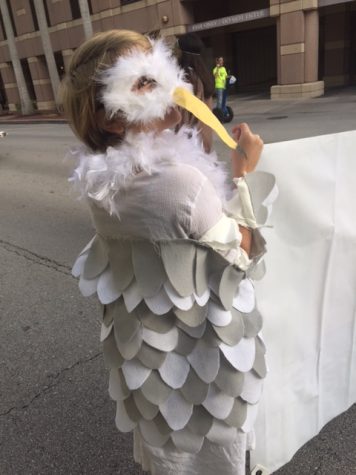 The Coral Gables Museum had an exhibit named, "This Land is Your Land" to celebrate the 100th anniversary of our National Parks. During the parade, students were dressed as staples from each park, whether it be a Mangrove from Biscayne National Park or a Panther from Big Cypress National Park. Other fan favorites included the Crocodile and Alligator and one of Gables' own Andres Velasco, who wore scuba diving attire.
"It felt rewarding being in the parade and being able to not only represent the Museum but also the National Parks and seeing how everyone's hard work helped our vision come together. [It was] executed well and looked amazing," sophomore Andres Velasco said.
The Coral Gables Museum was one of many local businesses who participated in the event, showcasing the spirit the city has for the annual parade. From pageant queens to Bently the Bear, there was a myriad of floats and contestants who walked the parade, allowing everyone who served as an onlooker to be entertained.