Cavalier Basketball Team Takes on States
After coming in contact with COVID-19, the Cavaliers varsity basketball team was forced to forfeit the end of their 2020-2021 season after winning the district championship a week prior. However, as they were standing by, another team who had exposed them, namely Christopher Columbus High, was allowed to finish their season. The student body of Coral Gables High School fought valiantly against this hypocrisy for the team using social media to rally support for the team to continue their season. After negative COVID-19 tests and negotiating with the Florida High School Athletic Association, they were able to finish their season and participate in the boys basketball state tournament.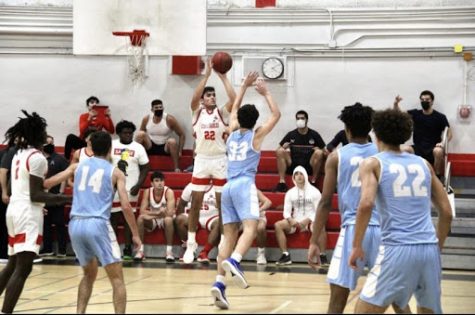 Their first playoff game in the tournament was on Feb. 26 at the gables gym against the Palmetto Panthers. They had a lot riding on this game since it determined whether their season would officially end or not. It was a rough four quarters for the team but the Cavaliers prevailed with a total score of 82-72. The player of the game, junior Romulo Delgado, almost scored one quarter of their points with a total of 21 points on the night. Delgado also held an impressive feat in the game, making 100 percent of his shots from the three point line, all four of his attempts.
"Honestly, I did not know I received player of the game against Palmetto and to be honest it really is no't the personal achievement for why I play the game. I am trying to win, our team is trying to win. Yeah, I did play my heart out and it is cool to see I got the award but it is a team effort and I do not think I would have been able to do it without my team getting me open, coming together to win the game," junior Rome Delgado said.
The following day, the team went head to head against their rivals, the Columbus Explorers. Throughout their entire season, they were able to best their rivals every time, but now it all came down to this one game. Each quarter was more intense than the last, but unfortunately, when time ran out, the game ended in the Explorers favor with a score of 67-52. Although they lost, the team went home with their heads held high knowing they gave it their all.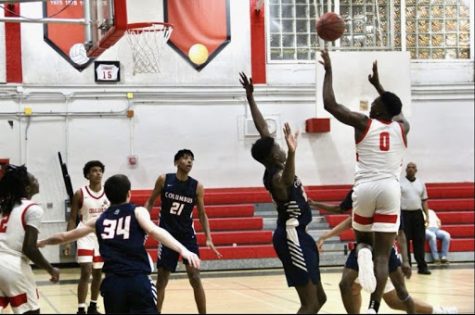 "Although many of us students were not able to attend the games due to the Coronavirus, our team was able to achieve great things and I think they will come back even stronger next year," senior Kevin Acre said.
Overall, the Cavaliers varsity basketball team had a phenomenal season, especially during these uncertain times. It was off to a rough start in the beginning with a total of 4 losses, but then on Jan. 13, they turned it around and had a winning streak of 9 games. This led them to an overall score of 15 wins and 5 losses, which landed them the 45th team overall in Florida and 11th in the district.