Omicron Variant Spreads Beyond South Africa
Originating in South Africa, the Omicron variant, the latest COVID-19 variant, has spread into neighboring and overseas nations. This new strand has been deemed as a threat by the World Health Organization due to its high number of mutations and unknown nature.
According to preliminary evidence, the various possible mutations of the Omicron variant give it the capability of having a higher transmission rate and vaccine resistance. The severity of this variant is not yet clear when compared to others such as the Delta variant.
"The COVID-19 variant Omicron scares me to a point that my vaccine may not work against it and I may be hospitalized. That's not what scares me the most, my parents may catch it worse than me because their immune system is weaker than mine. My friends too can lose people due to this and others may not care and take it seriously," sophomore Eduardo Meonez said.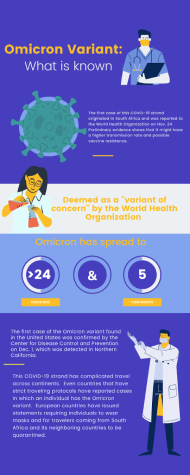 In the majority of the South African provinces, cases of this variant have increased. Since this new COVID-19 strand stimulates S gene target failure, one of the target genes for the Polymerase Chain Reaction COVID-19 exam, it has sped up the process of detecting the variant. Some PCR makers have issued statements declaring that their tests are not affected by this variant since the S gene is not solely used to detect COVID-19.
The Omicron was first reported to the WHO on Nov. 24, but the first confirmed infection came from a specimen that was collected on Nov. 9, 2021. Since its first infection in South Africa, Omicron has spread to more than two dozen countries across five continents and has generated travel complications.
Even countries that have strict border and traveling protocols, such as Canada and Australia, have reported cases of the variant. Japan and Israel have closed their borders completely to all foreign travelers in order to prevent the spread into their country. European nations are enforcing a ten-day quarantine for anyone arriving from South Africa and some of its neighboring countries.
"I think this new variant's ability to spread faster may prove dangerous for our recovering communities, as we may have to implement newer protocols to prevent the further spread of this mutation and further," freshman Daniel Pozo said.
The United Kingdom's government issued a mask mandate for public transport, shops and schools. They also stated that those who are exposed to Omicron will have to be isolated for ten days as well, and travelers have to take PCR exams and isolate until they receive their negative results.
Although most of the information about the Omnicron variant is based on preliminary evidence, the WHO has started to conduct studies around the world to assess the "transmissibility, severity of infection, performance of vaccines and diagnostic tests and the effectiveness of treatments". The first Omicron case in the United States was confirmed by the California Department of Public Health on Wednesday, Dec. 1.