Venecia en Gables: Arte en cada esquina
---
A finales del mes de abril, la construcción del proyecto de paisaje urbano entre la avenida Miracle Mile y Giralda terminó de construirse. Como celebración del nuevo diseño de estas calles, se organizó una exposición artística que dará color a la ciudad de Coral Gables, así como alentar al público a formar parte de este ambiente donde los peatones son más que bienvenidos. Está exhibición, llamada Venice in The Gables, consta de columnas en forma de postes de amarre de 8 pies de altura con únicos diseños y patrones que hacen alusión a Venecia, la famosa ciudad italiana.
Tan rápido como se cortó el listón de inauguración del paisaje urbano, los organizadores de Venice in The Gables comenzarón a invitar a artistas locales a mostrar sus diferentes ideas y diseños para darle vida a estas columnas con su originalidad y creatividad. Aunque 100 artistas aplicarón y mostrarón sus diferentes ideas, solo 30 fueron seleccionados para el trabajo.  Los creadores de las bellas estatuillas trabajaron en sus respectivas obras por un mes aproximadamente en el estudio de Terranova, antes de ser mostradas al público.
"Me parece que es una actividad muy interesante, pues los artistas al ser elegidos, tienen la grandiosa oportunidad de representar por medio de su arte una de las ciudades más hermosas de Europa," nos compartió senior, Santiago Romero.
Diferentes compañias e instituciones como lo son la Universidad de Miami (UM) y El Banco de Florida (BAC),  eligieron algunos de los diseños para patrocinarlos. Cada patrocinador tuvo que pagar con honorarios a los artistas, además del costo que iba desde 2500 hasta 3500.
La exposición fue finalmente revelada a los ojos del público el 18 de mayo con una fiesta en el museo de Coral Gables, donde se explicó el significado de cada obra según su artista. Más tarde, los postes fueron trasladados a diferentes puntos a lo largo de la parte central de Coral Gables, donde permanecen expuestos para que los peatones interactuen con ellos al tomarse fotografías o simplemente al caminar por las calles para observarlos. Esta exhibición estará expuesta de forma limitada, pues terminará en el mes de septiembre.
En septiembre, cuando la exposición llegue a su fin, las obras serán subastadas en un evento caritativo a beneficio de la Fundación Comunal de Coral Gables, donde lo recaudado será utilizado para continuar con la implmentación de arte en la ciudad. Cada poste podrá ser comprado por 3500 dolares aproximadamente, además de que podrá ser patrocinada por otras compañias que esten interesadas.
"Creo que esta actividad es muy importante artisticamente hablando, pues además de ser una buena forma para recaudar dinero para la comunidad, tambien logra darle vida a las calles de Coral Gables," dijo junior Alessandro Barros.
Aunque está no es la primera vez que hacen este tipo de iniciativas en la ciudad, podemos decir que esta es una de las más bellas. Sin duda alguna, el recorrer las calles de Gables para observarlos debe de estar en tu lista de cosas que hacer este verano.
About the Contributor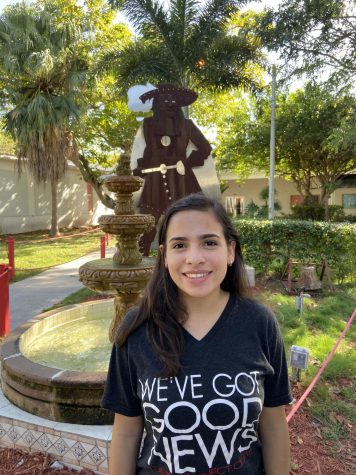 Jimena Romero, Staff Writer
Jimena Romero is a dedicated senior enrolled in the International Baccalaureate career-related program. She is now starting her third year as a CavsConnect...