Seniors en su noche: Prom
Cuando hablamos de las diferentes actividades a las que los seniors pueden asistir y son partícipes, pero sin duda alguna un evento que resalta por su belleza, glamour y armonía es Prom. Una noche que quedará por siempre en el recuerdo de cada uno de los estudiantes. Así fue como los estudiantes de doce grado de nuestra escuela fueron provistos con esta hermosa actividad la cual se efectuó el pasado sábado 14 de Abril en el JW Marriot ubicado en 1109 Brickell Ave, Miami, Fl.
El cielo estaba resplandeciente como los estaban nuestros seniors, vestidos con únicos atuendos que resplandecían junto a la luna. A las 7:00 de la noche el salón de baile abrió sus puertas, pero por supuesto cada uno de los estudiantes fue verificado utilizando su invitación e identificación escolar y así como chequeados para mantener la seguridad y la felicidad de todos.
El tema de este año fue un simple salón de baile, que resaltaba la belleza de la simplicidad. Las mesas estaban centradas alrededor de la pista de baile, con diferentes tipos de arreglos florales en su centro: orquídeas y rosas blancas respectivamente. Una excelente música y un buffet espectacular. Sin más todo estaba listo, la belleza de el lugar y la organización era palpable, todo estaba en el lugar indicado.
"La comida estuvo increíble aunque el dj estuvo mejor," dijo senior Verónica de Varona.
Habían dos secciones donde los estudiantes podían tomarse fotos con sus compañeros y profesores, al igual que una cabina de fotos instantaneas para que ese momento quedase plasmado en la eternidad. La decoración fue íncreible y la música fenomenal
Todo en la noche era baile y risas hasta que el señor Costa, principal de nuestra escuela, subió al escenario a anunciar el rey la reina de el baile. Los ganadores fueron Alyssa Lamadriz y Alain Guerra como reina y rey respectivamente. Alain no se encontraba en el salón de baile, pero al llegar la corona se le fue entregada. Sin embargo, Alyssa subió muy sonriente a por su tiara y nos deleitó con unos excelentes pasos de baile.
"Fue una manera grandiosa para sellar la noche, "dijo senior Alejandro Hernández.
Todos los estudiantes de la escuela Coral Gables Senior High School y en especial los estudiantes de 12 grado, estamos más que agradecidos con el consejo de la escuela y todos aquellos que hacen posibles que eventos como estos pasen de un sueño a realidad.
About the Writer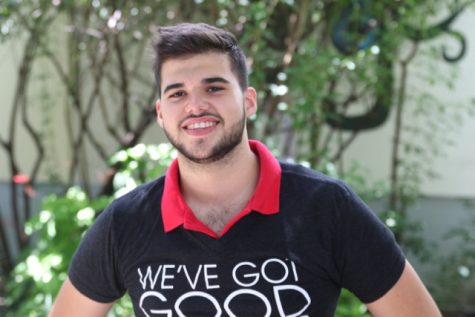 Orestes Garcia, Staff Writer
Orestes Garcia is a rising senior in the Health, Public Service and Law Academy at Coral Gables Senior High. Orestes is a humble and cooperative guy, who...