Florida Gators Tackle New Season
As the season approaches, the University of Florida's Gators are ready to get off to a strong start when they play their first game on Sept. 2. They have high expectations for their season and believe that this year's recruiting class will prove to be a substantial addition to the team. They have a composite ranking of No. 9 across four major recruiting sites, placing the Gators on this year's Preseason Top 25. The Gators' upcoming season, however, definitely has some competition. They are scheduled to play  Tennessee, LSU, Georgia and Florida State, all of which are also Top 25 teams.
The first game of the season will be played versus the University of Michigan Wolverines at the AT&T Stadium in Arlington, Texas. It is the Gators' first opportunity to demonstrate their improvement and show the public, and even more so, their rivals that they can be a strong and capable team. Gators' head coach, Jim McElwain, feels confident about this game and made one final passing comment about the game to encourage the team.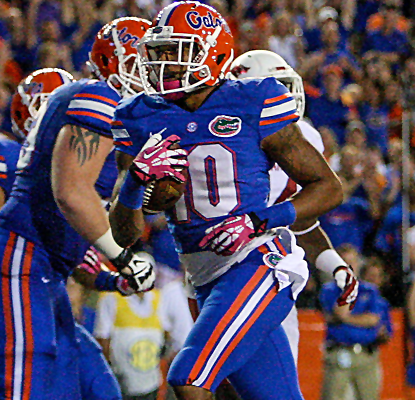 "We're headed to Dallas here in a couple weeks to go beat the heck out of Michigan," McElwain said.
The Gators are the fifth-highest ranked team in the Southeastern Conference (SEC) to open the season and this is their highest Associated Press (AP) ranking since 2013. One of their main focuses for this season is obtaining their third consecutive SEC East Championship under coach Jim McElwain. The public has high expectations, especially following the AP announcement that senior defensive back, Duke Dawson, and junior kicker, Eddy Pineiro, were named Preseason Second Team All-American selections. The recruitment class and the current members of the team make the Gators a competent and intimidating opponent and a possible top team for this season. Coach McElwain believes that if the team concentrates on improving every day, the result will be surprising.
"Any opportunity you have to go out and play, any opportunity you have to go out and compete, it shouldn't matter. The opponent is faceless. You're really competing against yourself," McElwain said.
Even though the Gators have chances of performing remarkably well this season, it won't be an easy task. According to the AP Poll, the Florida Gators are ranked No.16 while their first opponent of the season, the University of Michigan Wolverines, are ranked No. 11. Without a doubt, it will be a competitive season, but the Gators look to make something happen with an experienced and reinforced team.