Gables hosted its first pep rally of the year on Sept. 20 inside the gymnasium during eighth period, with the theme being Red Out. To be given an entrance ticket, students had to show their spirit with red clothes, accessories and posters. As a way for the school to allow students to express their Gables pride and support the collaboration between the Gablettes and Cheerleaders, both those who organized and attended the event did so in high spirits.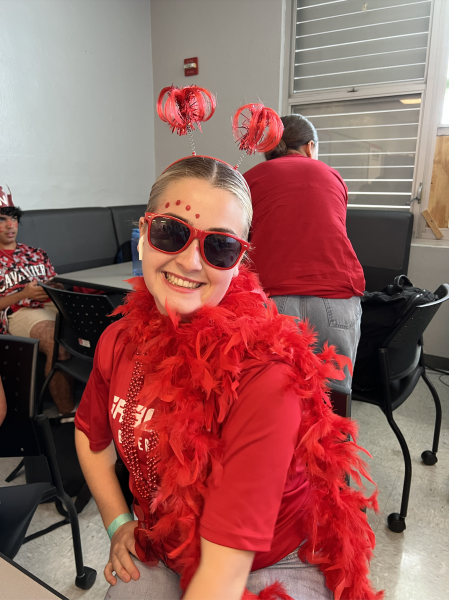 Cavaliers showed their spirit all around the school, from red articles of clothing, to face paint and wigs. Students could be seen dripping in red from head to toe, as they waited, excited, for the teachers to bring tickets to classes. As they waited for their outfits to get judged, excitement and nervousness rose in a fight for wristbands. While some Cavaliers planned their outfits for weeks, matching outfits and hair, others rushed the night before the anticipated day.
"I planned my outfit with my friends a week ago when we all hung out on the weekend. I went to Party City this weekend to get everything. I got my tutu, and I wore my friend's glasses," freshman Camille Chevalier said.
"I planned my whole outfit in the morning. I put on a red sweater and added red Croc charms to my shoes, and when I got to school, one of my friends did my face paint," freshman Emily Garcell said.
"Aside from helping my brother pick out his outfit, I spent a lot of time working on my own. First, I went to the Dollar Store to buy a headband, pipe cleaners and yarn, putting them together to make a headband saying '26, my graduating year. Then, I painted my jeans red and wore a red shirt. Finally, I wore cowboy boots as Cavalier boots," sophomore Lua Lara said.
"I woke up half an hour early to learn how to braid my hair with ribbons, and I came to school half an hour early to get ready with my friends. I went to the store to buy face paint and…matched with all of my friends," freshman Daniella Steffen said.
As one of the key moments in the first pep rally, the Cheerleaders and Gablettes' collaboration, the second in Gables' times, made history. With elaborate movements and a combination of their talent, the dance executed had the audience eager to see the next move. Both groups of dancers had hours of rehearsals to ensure their performance would meet their standard of being a standout routine.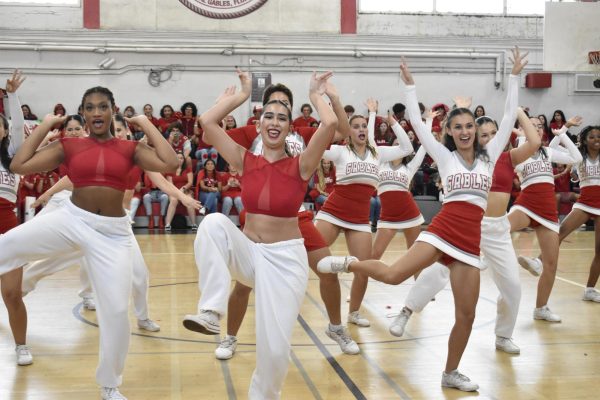 "Since last year, the Gablettes and Cheerleaders have been working together for the first pep rally, so that requires planning between both programs, the dance and the cheer. We met up about four times to practice together and learn choreography. The routine was created by the Gablette captains and was taught to the Cheerleaders," cheerleading coach Ms. Noval said.
"The preparation was really fun, I enjoyed working with the cheerleaders, it was definitely worth all the hard work, and it was a lot of fun performing. We practiced a few times, but it came out really nice…It was all worth it," freshman Yolanda Gomez said.
"There were many after school rehearsals for both the cheerleaders and Gablettes to ensure they'd have a good performance for the school year's first pep rally. This is the second year of the tradition where Gablettes and Cheerleaders collaborate for the first pep rally of the school year," Gablettes coach Ms. Diaz said.
"As a cheerleader, I have to be able to show my school pride at the pep rally. I have to practice my dances, and this is the first year we [worked] with the Gablettes, so I was really excited to work with other dancers instead of just cheerleaders," sophomore Bianca Giordano said.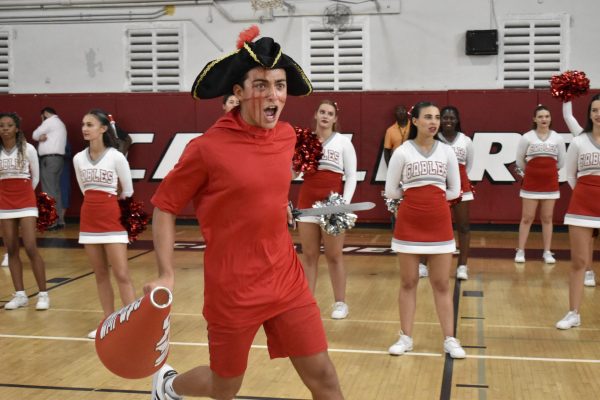 The pep rally, with its numerous activities, games and events, brought great responsibilities upon student volunteers. As entertainers and leaders of the show, both the Masters of Ceremonies and CavMan and his sidekick, CavBoy, had to prepare in every way possible.
"To rehearse for the pep rally, I always ask to see what the script is and then I base myself off of that. Also, I would pray and take some deep breaths before running out and going crazy for the crowd. It's not my first year doing this, so I knew how to act accordingly….Thanks to Ms. Diaz, I was able to have a great time, and the crowd also had a great time," CavBoy, sophomore Rafael Hanono said.
"I had to figure out ways to hype the school up and create a loud environment to show Gables' pride. Before we started the rally, there were a lot of nerves, but it was just Lorenzo [Londono] and I hyping each other up and realizing what a special moment it was to host a pep rally for our school. During the pep rally, I remember a lot of adrenaline [and] what a special feeling it is to receive encouraging cheers from all the students. I also enjoyed observing the emotions during the games and how passionate many of the volunteers were," Master of Ceremony, senior Adrian Guerrero said.
What did you think of the Red-Out pep rally?
Sorry, there was an error loading this poll.
The first pep rally of the year was a thrilling event for Cavaliers, especially for those new to the school and its culture of spirit or simply those who had never attended a pep rally. Out of the three annual pep rallies, each event is a chance for students to come together in a colored theme. 
"I was excited to go to the pep rally because coming from middle school, this is my first pep rally. I made sure to put a lot of effort into what I wore because to get into the pep rally, you had to have a wristband. I had a lot of fun at the pep rally and can't wait for the upcoming ones," freshman Antonella Oliveira said.
"I went to my first pep rally today with my friend and didn't know what to expect. It was a lot of fun seeing the Cav Man and all the activities they had during the pep rally. Next time, I hope I can participate in the games and want to make a poster," freshman Lea Perez said.
After cheering throughout the show and watching the hard work of the Cheerleaders and Gablettes, the pep rally closed off with the signing of Gables' Alma Mater. Through loud cheers and entertaining games, Cavaliers showcased their school pride, all united under the same red hue. Students across Gables were inspired to start planning their outfits for the next pep rally in hopes of getting in and showing their spirit again.
A Look Back at Cavalier Spirit in 2022-2023 Pep Rallies!
With their decorative posters, students team up to represent Gables in an effort to stand out from the crowd.

For the first time in Gables history, the Gablettes collaborated with the cheerleaders, using both groups' talents to create a wowing performance.

Cavaliers honored Breast Cancer Awareness while showcasing Gables pride by participating in a series of games and activities, such as tug of war

After weeks of preparation, the Gablettes surprised the student body with a routine that would not be forgotten.