Cavaliers Hold Their Very Own Rodeo
For the first time ever, Coral Gables held its very own pep rally rodeo during 8th period. As it also corresponded to the spirt week's "Western Day," the theme of the pep rally encouraged students to dress up in full western gear. Cowboy hats, cactuses, and western style dresses were just some of the many accessories seen at the rodeo. The pep rally's masters of ceremony, seniors Karina Williams and Javier Fernandez, also dressed up for the occasion, as Fernandez came out on stage dressed as a cow.
The pep rally began with the introduction of Andy Garcia, who is joining our CavMan, Patrick Quintana, as the new Hype Man. Commenting on this honor, senior Andy Garcia said, "It honestly felt amazing [to be introduced as the new hype man]. I love the feeling I get when I'm dancing on stage, but I was also excited to experience being the actual Hype Man."
Included in the pep rally were performances from the cheerleaders, SWA, and the Gablettes. Although this pep rally was different compared to the many Gables has had, it was a hit among the students, a fact seen through their clothing that signified the rise in school spirit.
"As a cactus, I felt very secure the whole day," junior Alexander Duran said. "I had a coat of spiked armor that could ward off any feasting birds or other desert hunters. When they said Wednesday was 'Western Day,' everyone else immediately started talking about cowboy boots and hats. For me, for some reason, cacti came to mind, and I just went with it."
One of the many activities from the pep rally included picking students out from the crowd to participate in a western-style runway competition where they were able to show off their costume. The top three students from this competition were then challenged with trying to shake and twerk ping pong balls out of a box attached to their waist.
"The catwalk portion was fun, and when they brought out the ping pong balls I knew it was over because a white boy like me can't shake it that well," senior Daniel Spatz said, in response to his runway experience on stage.
Students were also able to interact in the pep rally through a game where they were asked to cheer for the teacher (from a selection of Ms. Marmesh, Coach Wisser, Ms. Zuniga or Mr. Costa) they would most like to see get pied in the face. In response to being one of these teachers, Ms. Zuniga explained, "I don't like to get dirty so I was very nervous about getting pied in the face, but I did it in the spirit of homecoming week."
During this game, the auditorium roared for Mr. Costa to get a big pie in the face. Unfortunately for the teachers involved, and our participating principal, none of them left the stage without having had some pie smashed into their face. When asked about his thoughts on the principal getting pied, Freshman David Cardenas said, "I thought it was hilarious, and I thought it was a nice way to show the student body that the principal does care and that he is not afraid to have fun with [the students]."
Also, as this year's CavCrash was cancelled due to a lack of participation, the underclassmen homecoming court and the top 3 contestants for king and queen were announced in the last few minutes of the pep rally. Derya Tansel, one of the top 3 contestants for homecoming queen, said, "It was definitely interesting finding out how many people know me. I didn't realize how much of an impact I had made until my classmates, Darlene and Rachel, made these campaign shirts for me."
Finally, complying with tradition and concluding in the same way as all pep rallies, everyone's right index finger was extended to the Alma Mater on the wall as students sang along. Although this may be one of the last pep rallies of the year, the excitement of the crowd showed that this pep rally was certainly not the least.
*The homecoming court for the 2013-2014 school year consists of:
Freshmen Prince & Princess –  John Smithies and Sofia Quevedo
Sophomore Prince & Princess – Joshua Zambrano and Karla Santoyo
Junior Prince & Princess – Charalampos Politis and Kayla White
Senior King Top 3 Contestants – Javi Fernandez, Mathew Gonzalez, and Daniel Moran
Senior Queen Top 3 Contestants – Alexis Mendez, Deyra Tansel, and Tatiana Real
**The homecoming game was also won the next day with a score of 47-0 against Coral Park.
Leave a Comment
Your donation will support the student journalists of Coral Gables Senior High School. Your contribution will help us cover our annual website hosting costs.
About the Contributor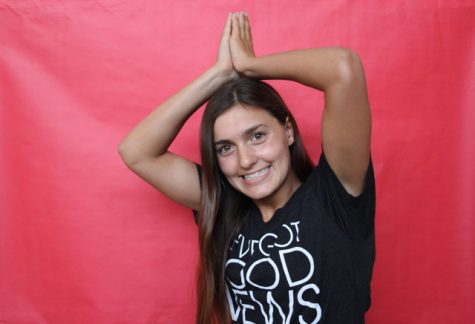 Hannah Cordes, Staff Writer
Hannah Cordes is a sporty IB senior in CavsConnect that loves everything there is to love about Gables. Whether it is dressing up for a pep rally or going...