Gables Welcomes New Coral Lab
Among the various changes happening here at Coral Gables Senior High, one of the most unexpected additions was the start of a brand new coral lab. The lab was established during the summer and founded by junior Hanna Payne as part of her IB CAS project. Plans for the coral lab include growing live coral and, as time goes by, adding fish and other organisms.
"I wanted to start something at the school that would continue even after I left. I wanted to show others the importance of our reefs," responded Payne, when asked what her purpose was for the coral lab.
Corals are living marine animals that live in colonies known as coral reefs. These reefs mainly grow in tropical areas, such as the Florida Keys. As the population of coral diminishes throughout the years due to climate changes and human intervention, less and less people will be able to experience the sight of these great reefs.
Before beginning this project, Hanna and a few teachers from the science department (including Mr. Molina, Ms. Fraga, and Mrs. De la Vega) had to convince the administration to allow it. It turned out to be an easier job than they thought, as the administration thought a coral lab was a great idea.
"The coral lab is an immeasurably valuable addition to our science department. Not only is it an amazing teaching and learning tool for IB students to work hands on with the tanks and coral, but is also an ongoing project that can be maintained by future students who come through the school. We hope it will also be used as a teaching tool for local elementary schools to learn about coral reef conservation and the effect of evasive species in our communities," stated Ms. Fraga, when asked about her thoughts on the project.
Although the coral lab is new to Gables, the idea isn't new to other schools. Palmer Trinity was the first school to start a coral lab, and helped Gables obtain the right equipment to be able to support a population of coral. The name of the tanks are frag tanks, and they have special LED lights that simulate day and night within the tanks.
Aside from new projects beginning in the school, Payne hopes that these kinds of projects will spread into middle schools around the area. She said, "People get interested very fast as it is not something everybody does."
Corals are very delicate animals, and it is important to watch out for them. Although coral reefs make up for less than 1% of the marine environment, it is home to over 25% of marine life in our oceans. This lab will give the students an opportunity to learn more about the ocean life and also help them conduct research for scientific purposes.
When asked about her thoughts on the new addition to the school, junior Catherine Cordes responded, "It should, hopefully, give more opportunities to people that are interested in marine biology, and also give them more opportunities to learn about the coral and marine life."
The coral lab tank will be hands on, which will give student the opportunities to learn more about the importance of coral reefs to the Earth. It is important for people to understand these environmental issues and how to protect our diminishing coral reefs.
In the long run, this project is going to help get the word out to protect our coral reefs and hopefully help students and teachers be aware that there is a whole other ecosystem down there that needs protection. By next year, the goals for the coral lab is that they will be able to donate coral to reef conservation organizations, in which those organizations will eventually move the coral into the ocean.
Leave a Comment
Your donation will support the student journalists of Coral Gables Senior High School. Your contribution will help us cover our annual website hosting costs.
About the Contributor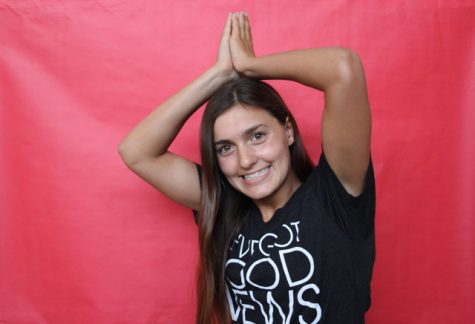 Hannah Cordes, Staff Writer
Hannah Cordes is a sporty IB senior in CavsConnect that loves everything there is to love about Gables. Whether it is dressing up for a pep rally or going...