With costumes underway and imagination booming, four days of dress-up took over Coral Gables Senior High before Halloween, a yearly tradition. This "Spirit Week" marks the pride and originality on campus, giving students just under a week to put on their best accessories, impersonate their favorite characters and throwback to their favorite eras. From Oct. 23-26, during which Spirit Week transpired, Cavaliers communicated their creativity through fashion and spirit.
Superheroes vs. Villains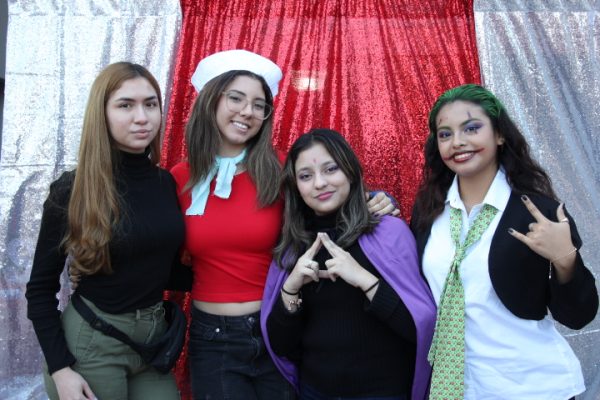 On the first day of Spirit Week, Cavaliers came dressed head to toe with competitiveness and creativity. Sporting everything from makeup, hair dye and costumes, students around campus were easily recognized from familiar favorites. From every universe – Marvel, Detective Comics, television series and iconic movies – students embodied new and known personalities, pairing them with their physical aspects.
While some chose full-body costumes, others used everyday-wear items in specific colors to create make-shift yet effective outfits. Up-cycling items found in the back of their closets, Cavaliers showed determination to participate in the unsaid contest to stand out. On the other hand, some students steered towards a more simple approach, dressing with a T-shirt or hoodie that displayed popular superheroes or villains. Among the most prevalent figures stood Spider-Man, as the recent release of his third animated film still held dominance over students' interests.
"I dressed up as the Joker because I had the costume already and I like the face paint. I thought I was really funny to wear it to school. I think it was interesting to see my friends and people who were with my friends dressed up as people who I'd seen online, but next year I would love to see teachers dress up," sophomore Ian Ballart said.
Substituting masks with makeup, Cavaliers demonstrated an artistry unseen before. From intricate designs around the eyes to copycat villain makeup, all types of looks were shown. Innovative spirit was exhibited as students put final touches on their outfits, with everything from tinfoil to headbands.
Barbie vs. Ken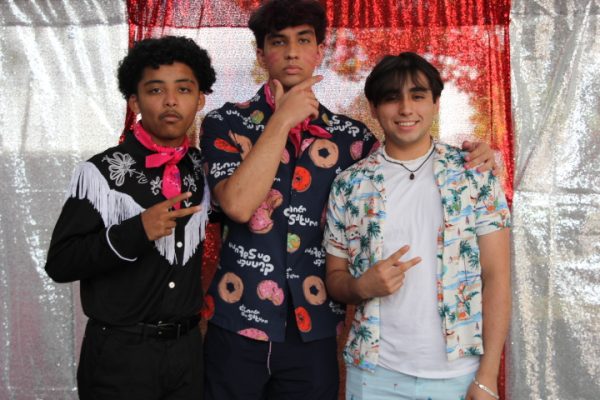 As soon as the Barbie movie hit the box office, viewers went wild for its elaborate costumes, unthinkable sets and feminist representation. This spirit traveled all the way to Gables, where pink covered the halls on Tuesday. All Cavaliers carried a bit of the color with them, through small touches like pink shirts or socks or even more basic, in-theme costumes identical to those in the movie.
With Barbie and Ken's renowned fashion choices as inspiration, students sported fringe, sequins and a fan-favorite: pink bandanas. Around campus, Ken's cowboy jacket was a well-liked and well-worn choice, while other students stuck to wearing Barbie movie merchandise, including shirts and hoodies with the classic logo. Another creative choice was the "I am Kenough" shirt that, along with internet memes and its songs, was a well-known slogan.
"I thought people would just wear pink shirts and other accessories, but they actually went out and did costumes from the movie, like the different types of Barbie and even Ken's clothes. It was cool to see that they put an effort to show up to school dressed up and put imagination into their work," sophomore Sofia Abril said.
Through the Eras
From George Washington to Soulja Boy, Cavaliers represented any and every era on the third day of Spirit Week. Looking around campus, students could almost believe they were in colonial times, the roaring 20s or even the iconic 90s. Students most commonly put on baggy jeans, oversized shirts and backward caps, while reminiscing on a trend that never really went out of style.
"My inspiration for Through the Decades was the song "Low" by Flo Rida. I had originally gotten the idea because my AP Human Geography teacher had played the song for an activity that we had, and it had also been with me throughout my childhood. The idea immediately popped into my head and I knew no one else would have the outfit. Since it was a clubbing and streetwear outfit, it was fun to take pictures with all the others that had a similar style for the era," sophomore Gabriella Arango said.
While Cavaliers combined patterns and textures to imitate outfits seen in each time period, they glanced and guessed around the halls, placing their classmates in a certain era. With the current newfound interest in the "2000s aesthetic" of bangles, sunglasses and low-rise jeans, pieces worn today in honor of the decade were brought back to life. One of the most fashionable looks was the 70's hippie look, with an abundance of maxi skirts, peace signs and flower crowns.
Color Wars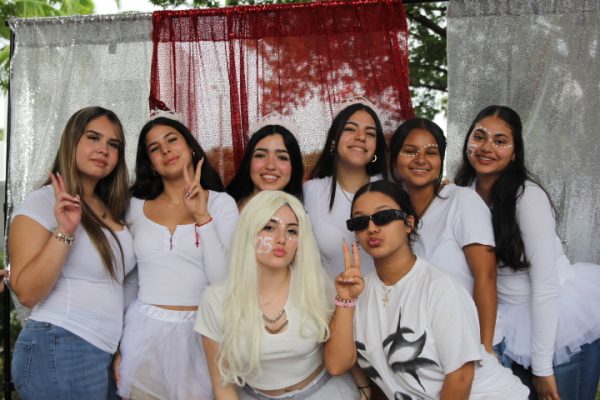 As upperclassmen rejoiced in their status, underclassmen exuded pride of their own, each grade wearing their distinctive color. A blend covered the school; different grades interacted with each other, as their colors blurred together from a distance.
Seniors sported Gables' iconic hue, as red popped throughout the halls with spirit shirts, wigs and tutus. Their younger counterpart, the freshmen, enjoyed their first spirit week, dressed in grey and accessorizing with silver jewelry and face paint. Juniors dressed head to toe in white, wearing white crowns, tutus and headbands, while sophomores shared similar accessories in black, adding bandanas to the mix.
"It was one day where everyone actually followed the rules, since each grade had their colors. It was fun to see the "competition" between seniors, sophomores and all the grades. I loved my outfit and I'm glad we [the sophomores] got the color black. Everyone was matching in some way so it was very cute," sophomore Paz Chico said. 
With the coveted fall dance, Homecoming, on Oct. 27, students thought outside of the box from Monday to Thursday, as they prepared for the party that awaited them. The next day, at 8 p.m., students would have one last time to dress up, this time, formally.
Past Spirit Week Themes
Nerds vs. Jocks

During the 2022-2023 school year, Cavaliers started off their Spirit Week with a new theme: Nerds vs. Jocks. This cliché of high school drama was a humorous and well-liked approach at Gables, as students picked a side and dressed the part. Students either leaned towards whatever clique they identified as or ironically dressed up as the opposite.

Memes and Characters

To celebrate the second day of Spirit Week in the 2022-2023 school year, Cavaliers had the chance to recreate viral Internet memes, whether they be Vine classics or recent favorites. Additionally, students dressed up as characters from books, movies or TV shows that their classmates recognized around campus. Known figures like those of Harry Potter, SpiderMan and Scooby Doo were seen throughout Gables.

Twins and Duos

For the third day of last year's Spirit Week, students had the opportunity to match outfits, putting their minds together to find a costume they would duplicate. If they wanted to, Cavaliers took on the other path and complimented each others's outfits by being a duo. Students looked to TV series and movies that coined some of the most iconic pairs to recreate them and bring them to life in Gables' halls.