Being at the height of the music industry in the 1970s, from funk, disco and rock & roll, the decade introduced global musicians and bands such as The Beatles, David Bowie and Elton John. Inspiring a young trumpet Cavalier to take music to the next level, alumnus Jeff Oster reflects the rich musical diversity in his own contemporary jazz.
Frequently moving across the U.S., Mr. Oster came down to South Florida in 1970, not knowing he would stay in a city and be part of the Ponce De Leon Junior High Band and Orchestra. With Ponce and Coral Gables Senior High often collaborating, Mr. Oster transferred to Gables and spend his next three years under Band and Orchestra Director William 'Uncle Willie' LeDue, who brought out the potential of all his students through the "Cavaliers Band of Distinction."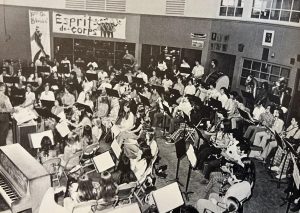 "Music led me to many good feelings about being a musician. We went to Europe in my sophomore year, marched throughout five countries in 15 days, and performed a concert under the Eiffel Tower. All that stuff is impactful; you remember things like that, especially being a high schooler at the time," Mr. Oster said.
Being considered one of the best bands in Florida at the time, trumpet lead player Mr. Oster and his teammates frequently traveled to Daytona Beach for in-state band competitions. Marching into the Orange Bowl during half-time shows for parades or Miracle Mile, Mr. Oster and his bandmates found music a source of bringing others into the excitement of grooving.
After graduating in 1975, Mr. Oster went to the University of Miami and began playing the trumpet professionally, ranging from three-piece rock bands in North Miami Beach to playing the flugelhorn in rhythm and blues bands. Wanting to take a step into the unknown, Mr. Oster flew to Los Angeles, Calif. in 1979 to pursue becoming a full-time musician.
"Pretty shortly after I moved to California, I joined a band that played in the casino lounges in Atlantic City, Las Vegas and Lake Tahoe. So, I started to go on the road and for the next 10 years in California, I was in different bands and different orchestras. Basically, I felt like I was becoming more and more of an accomplished professional musician," Mr. Oster said.
Wanting to move away from the scene of playing for weddings, bar mitzvahs and other quick gigs, Mr. Oster decided to pursue his aspiration in another form, writing music.
Carrying a few dollars with him, due to the struggles of being a full-time musician and picking up other daytime jobs such as selling supplies and working in construction, Mr. Oster found his gateway to continue climbing the music ladder by being a limousine driver.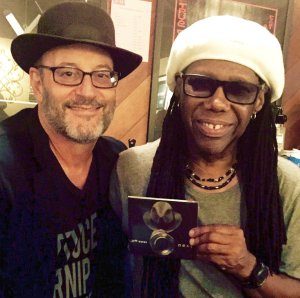 "I drove limousines for many years in Los Angeles because that can sort of come and go. During this time, I used to drive some celebrities and musicians, and I would pitch my songs by playing my music in the car. One of the celebrities who I did it with was Mel Tellis, and he was the one who introduced me to ASCAP, which was one of the songwriter guilds that you would get royalties from," Mr. Oster said.
After driving around the city for many years, Mr. Oster ended his career as a full-time club musician in 1987 and began delving into financial planning, to save enough money to hire the musicians he wanted to play and have his original music featured.
Saving money until 2003, Mr. Oster returned to his music by purchasing a studio and writing instrumental horn music. Connecting himself with Will Ackerman, Mr. Oster created his original music produced under Windham Records, home of such artist George Winston and his quiet, acoustic music.
"George Winston who recently passed away was emblematic of the acoustic music, and I was a trumpet player that really resonated with his music. I spent years at my house from the 1970s to the early 2000s playing along with Will Ackerman's records. So, when I had enough money, I reached out the Ackerman and he produced my first record in 2005," Mr. Oster said.
With his full album, Released, winning the 2005 Album of the Year and Best Contemporary Instrumental Albums at the NewAgeReporter Lifestyle Music Awards, Mr. Oster continued his success by working with Ackerman on his second album TRUE, winning the 2007 NAR Album of the Year and the 7th Annual Independent Music Awards' Best New Age Song in 2008.
"I think Jeff has become a very confident player and composer over the years we've known each other for a couple of decades. I consider him a dear friend beyond our relationship in the musical world. He knows what my production goals are, and over this time he really is a producer too when we're working together. I plan on having him credited on albums as co-producer in future albums," Mr. Ackerman said. 
Producing eight other albums, being in the successful band Flow and winning various awards over the course of the decade through his own label, Retso Records, Mr. Oster worked with his long friends Ackerman and Tom Eaton in July 2021 to record the album Brothers. Performing his part with the flugelhorn and trumpet, the album was nominated for the 64th Grammy Awards for Best New Age Album.
"After years and years of talking to other people who vote in the Grammy's, sharing my music with them, listening to the music they have created and involving myself in their events, I was overwhelmingly proud of my work and now I have the opportunity to experiment with more and play more music as my life continues forward," Mr. Oster said.
Being recognized by the Friends of Gables High and into the Hall of Fame on Nov. 3, Mr. Oster looks forward to rekindling his Cavalier roots by visiting the campus, the students and the place where it all began.
"I wrote the nomination application for Jeff to get into the Gables Hall of Fame. Jeff was an excellent player in high school. He and another friend of ours, Charles McFarland were the three amigos. Jeff had a dream to make music as an adult and throughout his life, and despite having to deal with life as we all do, he always managed to keep that dream alive. At this point of his life, he has made it happen which I have the utmost respect for him," Class of 1975 alum Mark Castellano said.
From entering into the musical world unrecognized, Mr. Oster exemplifies the means of working tirelessly to make his dream come true. Now having released and submitted his new down-tempo Lofi album, hØwling lØØn, for the 66th Grammy Awards, Mr. Oster shares his inspiration towards upcoming musical artists.
"As surprising and gratifying for me to be inducted into the Gables Hall of Fame, it's also very rewarding to have it happen. I know that so much of the inspiration came from my time in the Gables High band, and from the director William LeDue. The fact that my journey has led me to this kind of recognition from the place that was so important to me is a full-circle feeling for me. I feel very gratified to share my story with people who might go on greater things in their lives. I'm very proud to be a Cavalier and a graduate of Gables," Mr. Oster said.