After 13 years of being an educator and inspiration at Coral Gables Senior High, Mrs. Melissa Gonzalez has been recognized for her outstanding efforts. Receiving the Yale Educator Award, she was nominated by one of her previous students, Maria Jose Cestero, who is currently attending Yale University. The constant encouragement and guidance Mrs. Gonzalez has given to her students has made her worthy of the award, exemplifying the impact she has on her students.
The Yale Educator Recognition Program's mission is to show appreciation for educators from around the world who have consistently supported and inspired their students to achieve at high levels. In the process of nominations each year, students are invited to recommend their high school educators, and the Yale admissions office selects those who are believed to be eligible. Among the 385 nominees selected to possibly receive the award across 43 states and 28 countries, only 80 teachers and 32 counselors were chosen to win the high honor, with Mrs. Gonzalez being one of them. 
Mrs. Gonzalez was eligible for the award because of the support and inspiration she had given her students, specifically Cestero, who jumped at the opportunity to acknowledge her former English teacher and advisor. The teacher-student duo became acquainted in Cestero's first year in Highlights where they established a bond which ultimately led to this award.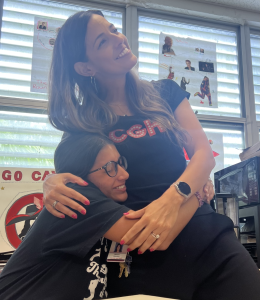 Having shared a special connection, Cestero, who moved from Puerto Rico to Miami during her freshman year, was initially lost as she wandered the hallways of Gables. It was not until her sophomore year that she discovered the publication, highlights, while in her search to find ways to become involved at Gables. As a staff writer for the publication, she met Mrs. Gonzalez, and as time progressed, so did her drive and motivation. Even during COVID-19, highlights still found a way to publish stories and keep their publication afloat. Though difficult, in honor of their hard work that year, two of their magazines were awarded the Florida Scholastic Press Association Sunshine State Standout Award.
"During my sophomore year, highlights was on Zoom, and the first day that I introduced myself, I said my name was Maria Jose. Usually, I just say my name is Maria, because it's much simpler. Everyone else in the Zoom started to call me Maria, except Mrs. Gonzalez. She brought attention to the fact that my name was Maria Jose, not just Maria. I was so surprised, and now looking back on that, I think that situation is so representative of who she is. She's so caring, and she's so passionate about what she does, which is why I thought she was the perfect nominee for this award," Cestero said.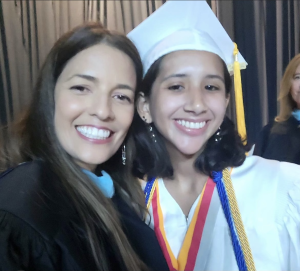 During her junior year, Cestero was chosen to be the opinion editor of highlights, and her bond with Mrs. Gonzalez grew stronger. Experiencing her last year at Gables as the editor-in-chief for highlights, Cestero was guided through it all with the help of Mrs. Gonzalez. From the management of the publication to her college applications, Mrs. Gonzalez became the stability that Cestero needed during her senior year. 
"I tried to advise and guide her through the highlights process, but in doing that, we ended up connecting and getting to know each other really well. We just clicked. Many of my students leave an impact on me, but specifically Maria [Cestero] has left me with something to always remember. She even reminds me of myself when I was younger, and I can see myself entirely in her. She's just so dedicated and so sure of herself, and it makes her a truly special student. I'm so happy that I was able to make an impact on her during her little time at Gables, and I know she is going to continue to be a huge success in whatever she pursues in the future," Mrs. Gonzalez said. 
View this post on Instagram
Even with Cestero going away to Yale Univeristy, experiencing life in a way she never has before, she and Mrs. Gonzalez have managed to continue conversations about everyday life while also reminiscing about their nostalgic moments together. Sending her essay submission for the award to the person who helped her most, Mrs. Gonzalez realized the long-lasting impact that she had made on Cestero's future life. When writing her essay to nominate Mrs. Gonzalez, Cestero was determined to portray the qualities that made her stand out as not only a teacher but as a person.
"During my junior and senior year, I solely ate lunch with Mrs. Gonzalez, which is something that's not typically done in high schools. Usually, lunch is your escape from the classroom, but me, I would always go to Mrs. Gonzalez's class to eat with her and talk with her. She took the time to sit down with me, give me advice, and tell me stories from her past, which really made me feel comfortable with her compared to my other teachers. She was someone I could go to for support and encouragement when I needed it, and she played such a big role in my high school career," Cestero said.
Mrs. Gonzalez holds a special place in the hearts of all her students, but especially Cestero's. Nominating her for the Yale Educator award was Cestero's small way of saying "thank you". Although Cestero knows that she can never repay her for helping her become the woman that she is today, she intends to keep trying. The influence Mrs. Gonzalez has had on her life is momentous, for without it, her dream of Yale may never have become a reality.
"Being able to work for highlights really pushed me to work harder and accomplish more than I ever thought I was capable of. Knowing that I had Mrs. Gonzalez's support motivated me to continue improving the publication and pursue my love of journalism. Without her, I would have never gained confidence as a writer, let alone be attending Yale. Because of Mrs. Gonzalez and her demand for journalistic integrity, I was able to further improve my writing, and that is what got me into so many prestigious colleges," Cestero said.