A widespread American highschool tradition, Homecoming has left a mark on Coral Gables Senior High yet again, returning with a cozy theme. On Friday, Oct. 27, Miami-Dade County Public Schools had a district wide development day, where students had a day off from school. Gables, however, did not rest, as it was setting up for its Homecoming dance that night. At 8 p.m. on the Riviera school entrance, lines of Cavaliers and approved guests stood anticipating the night of fun set "Under the Stars". Students danced the night away in the embellished courtyard until 11 p.m., enjoying fan favorite songs and sweet and savory treats.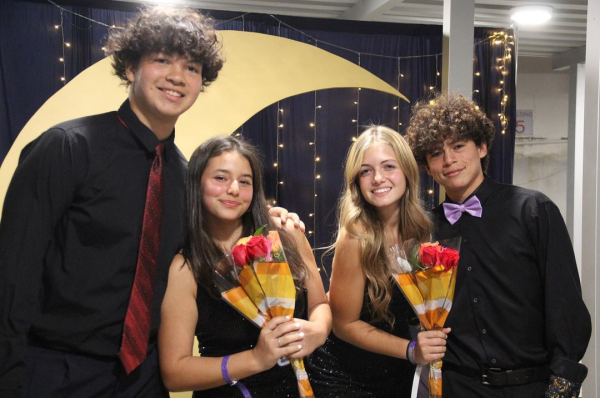 Upon entering the premises, students checked in with administration and received wristbands. These had two tickets attached to one end, each used for food at the two food trucks present at the event. As students made their way closer to the dance floor, they were encouraged to vote for Homecoming Court using a Google Forms on the laptops at the voting station.
The set up of the night was aligned with the theme "Under the Stars", highlighting stars, planets, moons and comets with varying details. To allude to this free-flowing theme, homemade clouds were composed of cotton fluff and lights, placed around the dance floor, alongside decorative lights lining the borders of the hallways. A designated photo booth was placed nearby, where a massive wooden background of a crescent moon added a shimmer to people's memorable night, captured in everlasting photographs.
"The school looked very classy and pretty because of the theme, so it was a nice environment to be in. There was upbeat music so people got hyped up and kept the dancing going," sophomore Olivia Lacouture said.
Students sang aloud and danced passionately on the dance floor, located in the courtyard of the 6000 pavilion. Here, a large tent covered the area, under which a disk jockey booth played energetic music which blasted into the night sky. Around the tented area, high top tables were placed, where students put their purses and other belongings down while they socialized and danced throughout the night.
"Some of us students in Activities worked on eligibility, while others focused on making the ballots. Student Council was really involved in Homecoming, and we checked who was allowed to attend the event and who paid. Senior class board also helped to set up the theme of 'Under the Stars'," senior Santiago Giraldo said.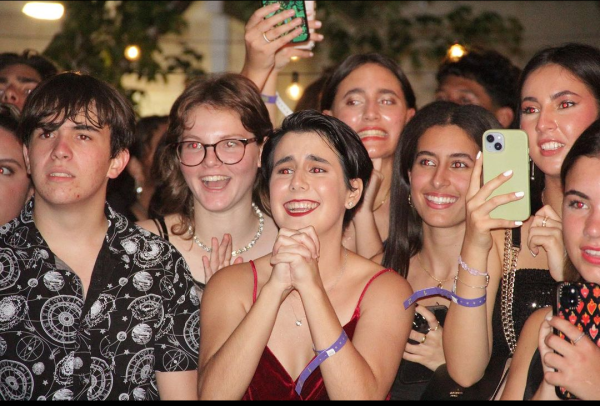 On the dance floor, the smell of sweat paired with the palpable energy melded perfectly with the constant camera flashes. Eventually, the long-awaited moment had arrived with the announcement of Homecoming king and queen. Votes had been counted by Activities members through online forms, and while the competition was tight, a clear pair of winners earned their crowns. As students eagerly formed a clustered semicircle around the DJ booth, the announcement was made.
Receiving the honor of Homecoming King, senior Santiago Giraldo was crowned, followed by senior Amalia Garrido, who was named Homecoming Queen. The two were widely congratulated, with a sense of déjà vu taking over from the pairs' win last year as Homecoming Prince and Princess.
"Last year Amalia and I didn't run together, but this year we coordinated it so it would be more of a group thing, since we were really committed to it. The campaigning was super fun and easy, so I was really excited for it. It felt like I was an incumbent, and it was really successful. I was able to gather a lot of support and everyone was so sweet. I also got a crown this year, so I loved that," senior Santiago Giraldo said.
As the night went on, students were so caught up in dancing that the need to rehydrate skyrocketed. They made their way to the water station throughout the three hour event, where Activities members served iced water to their peers. Apart from administration and student volunteers, there were also the photographers from publications taking photos the whole night, ensuring all-encompassing coverage for later look-backs. Both Cavaliers and a professional photographer from Fox-Mar Studios helped make the night picturesque.
"When you're part of Student Activities you're working for the improvement of all of the events for the building – you plan them, you execute them. By having a group of underclassmen understand what it takes to put on an event, it shows them how they can properly execute something. In addition, when it's their turn to be a spectator, I think they learn to appreciate more the difficulty it is to put things together," Activities director Mrs. Suarez said.
Hungry Cavaliers were able to get food from two different trucks, one of which was the 3-0-Slide food truck, serving chicken tenders, sliders and fries. The other was a Santo Dulce dessert truck, offering ice cream and churros for students to bring their night to an even sweeter level. To get their food, students had to tear off the two tickets on the end of their wristbands and give them to the food truck workers.
As the crowd slowly settled down, Homecoming officially came to an end at 11 p.m., with students heading home, an end of school dismissal unlike any other. Cavaliers started off the first day of their long weekend before Halloween on a good note, being able to further savor the next two days ahead of them. As teachers, faculty and several Activities students assisted in bringing the event to a close by disassembling decorations, Homecoming was over, a short-lived but lively night under the stars.
"The DJ played some great music and I danced most of the night. My feet were killing me at the end of the night but it was definitely worth it. The food, especially the churros with ice cream, were so delicious; I would love to see that at more events… It was an amazing night with all my friends and I can't wait to find out next years homecoming theme," junior Tiffany Beh said.