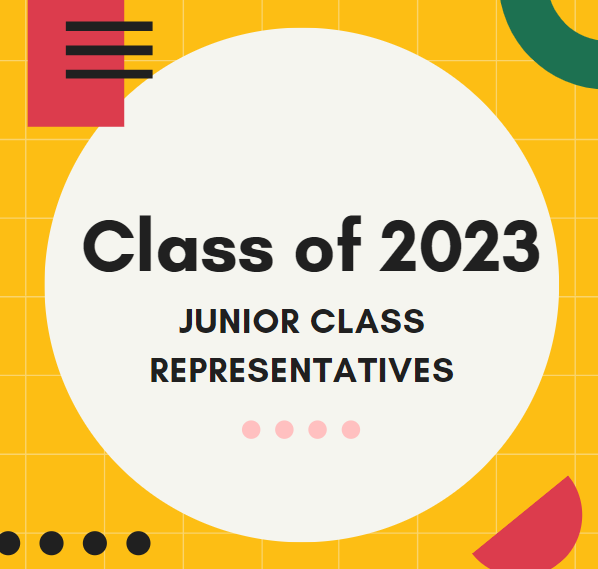 Meet the Candidates: Junior Class Election Results
The Class of 2023 class government positions have been decided. These individuals have either stepped up or were chosen to represent the rising junior student body. Their job will not be easy, as they may be faced with the challenges of working for the greater good of the class during a pandemic and virtual learning. With that said, these representatives are ready for the channel and have the junior class's complete faith in their plans.
---
President: Lucia Chico
Running unopposed for the presidency, Lucia Chico is eager to be a part of student government. Chico is currently a member of CavsConnect and is looking forward to working hard for the junior class. With this office, Chico hopes to make sure that every student can feel heard. To make this happen, Chico would like to come up with a system for all students to voice their concerns. She plans that the system will inform her of the opinion of the masses within the junior class, allowing her to make decisions based off of the student body's wishes. Chico believes she is a great communicator, which will allow her to be the best class president that she can be.
"Coral Gables Senior High, as a school community, has offered me so much and I really just want to give back," sophomore Lucia Chico said.
Vice President: Christy Conception
Vice President Christy Concepcion also ran unopposed to gain this position. Concepcion is a driven individual who hopes to assume this leadership role head-on. One of her main goals is to boost overall student morale, as the pandemic has taken a toll on everyone. Her exposure to the rigorous International Baccalaureate program will help her deal with the responsibilities of being vice president of the class of 2023.
Secretary: Ariana Alvarez
The class secretary is another CavsConnect member, Ariana Alvarez. Like every other representative on this list, Alvarez ran unopposed. However, she is not new to the job of student representation. She has served as class treasurer for the past two years, meaning her experience can be a great source of contribution. Alvarez hopes to make college resources and visitation opportunities after the COVID-19 pandemic. With her experience, her goals may be easier achieved as Alvarez has gained many connections with students and administrators.
"I love working in groups with others and hearing other people's ideas and integrating them with my own to create an even better idea," sophomore Ariana Alvarez said.
Treasurer: Carla Nunez
Finally, the treasurer for the junior class of 2023 will be Carla Nunez. Nunez's love for Gables and its diverse sophomore class prompted her to run for this position. Like the other representatives, she hopes to bring voices to the class of 2023, especially during this pandemic. Nunez also has the goal of creating the best experiences for the class with the resources given to her. Like Alvarez, Nunez has experience in student leadership and finances, as she is the treasurer for Key Club. Additionally, her organizational skills will help keep the junior class government in check to be the best they can be.
---
These four individuals will be the class of 2023 junior class representatives. Each of them has great goals in mind and plans to achieve them. Some are bringing experience while others are bringing leadership, organization and communication skills, meaning that these combinations of minds and spirits can only result in great things.