Meet the Candidates: Student Council Elections
Since Monday, Feb. 8, candidates running for both student body and class positions have spread their campaign flyers all over social media. This year, while there is not as many people competing for their positions, it is still crucial to get to know the candidates before submitting your ballot.
When voting, there is often some confusion: what is the difference between class officials and student council officials? Class officials make up the student government board for each individual grade or class. These officials are elected only by the students of their grade level and deal with the issues or events that concern their independent class. Student council officials, however, are elected by the whole student body and work to make the entire school a better place for everyone.
Candidates for Student Council President:
Melanie Estrada
Rising senior Melanie Estrada has wanted to get involved in the Coral Gables Senior High community from the moment she stepped foot in Gables. She is currently one of the International Baccalaureate Honor Society Presidents, Student Council Treasurer and Vice President of the English Honor Society. Estrada feels strongly that being a part of Student Activities and CavsConnect allowed her to gain the experience needed for the position of student council president, as well as provide her with opportunities to improve her leadership skills. With plans to make next year as memorable as she can for everyone, Estrada feels that her teamwork and event-planning skills will be useful for such a year.
Regarding what she wishes to accomplish for Gables if she wins, Estrada has a couple things in mind. It has always been her dream to be student council president and if given the opportunity, she is excited to plan memorable activities for all Cavaliers. Estrada believes that students should vote for her not only because she is extremely dedicated and has plenty of ideas, but because she is prepared to work hard to make the upcoming school year as fantastic as she can.
"Vote for Melanie and we will make some memories together," junior Melanie Estrada said.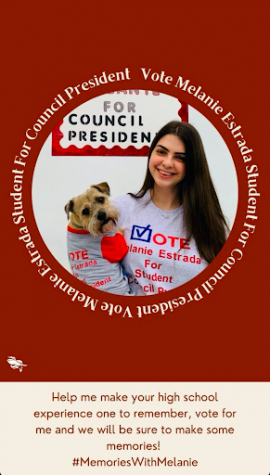 Jose Fernandez
Given that next year's COVID-19 situation is still uncertain, rising senior Jose Fernandez is running a campaign based on his character rather than what he thinks could become empty promises. Fernandez has focused on letting the student body know that he is ready to take the role of president with flexibility and diligence. He believes that he is a candidate well-rounded enough to efficiently handle the obstacles that next year may present. Fernandez's main goal for the next year is to listen to what the student body has to say, not just fix what he personally might see wrong at school.
In 2019, Fernandez established the Andrea Jaime Medical Leaders club, wanting to give other medically inclined students equal opportunities to explore the nuances of the field. In Student Activities, Fernandez served as secretary of academics for two years, where he helped set up any activities that are meant to reward students for their outstanding academics. Because of his scientific interests, Fernandez has been on the Gables Earth board for two years, helping to run the school's recycling program along with tutoring chemistry for three years. Besides all of these other activities, he is a member of both the International Baccalaureate Honor Society and the National Honor Society.
"I want to make Gables what the student body thinks it should be. I'm a serious candidate with a tremendous work ethic and I'm ready to help Gables rekindle the flame it lost this unfortunate school year. Don't play, vote Jose!" junior Jose Fernandez said.
Candidates for Student Council Secretary:
Jana Faour
Inspired by her older sister who is a Gables alumna, Jana Faour was excited to join the Cavalier family when she began her high school journey. Prior to the pandemic, Faour had yet to experience a dull day on campus, stating that even on the stressful days, she could still smile at Gables. Her goal for the upcoming year is to make campus as normal and as safe as possible. She is also dedicated to helping underclassmen discover all the opportunities that Gables has to offer.
Faour is a part of IBHS, AJML and the NHS board. She has also served on the Gables Earth and PACE boards for two years. Faour is a member of these clubs because she feels that they create environments that encourage equity, something that she plans to push forward at Gables if she wins this position. She has also been an editor for CavsConnect for two years, which she says allows her to pursue her love of journalism while also dancing away with the Gablettes.
"I want to help Gables become as lively as it was before, and promote equal opportunities for everyone on the campus. Vote Jana Faour for Student Council Secretary and I'll represent you, twenty-Faour seven," junior Jana Faour said.
Linet Carballea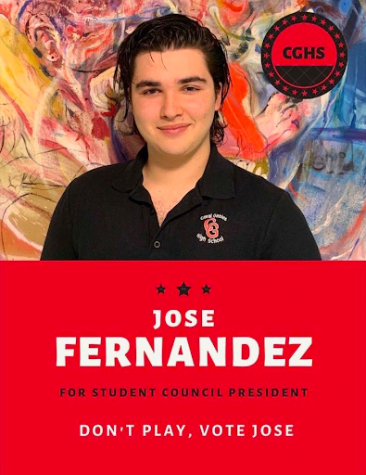 Linet Carballea, another candidate for secretary, truly believes that she can do whatever she sets her mind to. Carballea is ambitious and passionate about helping others, qualities that she thinks are essential for such a position. During her campaign, Carballea has focused on encouraging students to vote for her if they believe in her goal to help others.
When asked of her involvement in school, Carballea recalls being a part of Gables Earth as a freshman and picking up trash around the school, as well as participating in community service projects with NHS, IBHS and Key Club. Linet has also worked with the Engineering Club to build robots for competitions.
"Vote for me if you feel my determination to devote myself to helping others," sophomore Linet Carballea said.
Amanda Perez
Junior Amanda Perez hopes to create school spirit and a healthy school environment that everyone can happily be a part of. Perez was inspired to run for secretary to help make next year as memorable as she can, given that this year was so unexpected due to the pandemic. Perez also enjoys helping others and is ready to listen to what students have to say.
Currently a member of CavsTV, Perez has worked with CavsConnect for two years. She feels that these experiences have allowed her to interact with more people, as well as foster her school spirit and participation on campus. Having to speak to other students of all grade levels because of these classes has allowed Perez to get out of her comfort zone and help others. Amanda is also part of Bhangra, the Indian Dance Club at Gables.
"Vote Amanda Perez for secretary so together we can make next year a memorable one," junior Amanda Perez said.
---
Elections will be held on Tuesday, February 16th from 7:30 a.m until the end of third lunch on Teams. Until then, all of these candidates will continue to campaign as diligently as they have been. Who will get your vote?