Alumnus Olivier Larrauri Returns to Judge Mr. Coral Gables
With the return of the Mr. Coral Gables pageant this past Thursday, Dec. 19, former Gables students returned to relive their experience as Cavaliers for one night. Instead of being up on the stage with the contestants, alumnus Olivier Larrauri took to the judge's table for his second consecutive year.
During his time at Gables, Larrauri was involved in Student Activities, where he served as the co-chairman of the Student Safety Committee. Unfortunately, this position no longer exists, but the former committee used to put on assemblies about sensitive, but necessary, topics of conversation such as drinking and driving and the dangers of teenage smoking.
After he graduated, Larrauri enrolled in Miami-Dade College, where he was able to finish his degree in a year and a half, compared to the general two years the program takes to complete. He then moved on to the University of Florida to study finance, which proved to be an asset in his future career. He began working with the retail of medical devices and now serves as the Senior Territory Manager of the South Florida and Bahamas chapter of his company's medical device finance department.
"Oli was my student in my first year teaching at Gables, and he was always very cheerful, helpful and positive. I am glad to have taught such a wonderful person,"  Student Activities Director Mrs. Suarez said.
Throughout his adulthood, he continued to help Gables whenever necessary. His daughters also found a home in the Gables community, as they both took part in last year's mini Gablette program, where they learned dance side-by-side with the Gablettes. Being a long-time friend of dance teacher and Gablette coach Ms. Diaz, he has attended several Gablette Revue shows and Fall Frolics shows in support of the arts at Gables. When the opportunity arose to be a judge for Mr. Coral Gables, for Larrauri, it was an immediate yes.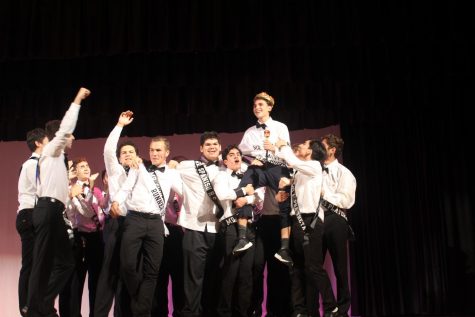 Since it had been a while since he attended a Mr. Coral Gables Pageant, Larrauri did not know what to expect to unfold before him. Beauty pageants have never been part of mainstream media, much less male beauty pageants. After witnessing the amazing talents of last year's contestants, he left the school thrilled. He found a renewed sense of hope in the future generation, as so many of the students on the stage excelled both in and out of school. To him, the accomplishments of the students, especially those interviewed by the judges during the pageant, were beyond belief. He felt extremely honored to have been invited to be a part of the showcase.
With his experiences from last year in mind, Larrauri only had high hopes for his second year of judging the contest. This year's 25 contestants wowed the crowd with their talents and splendor, and he took notice of it. One of the most heartwarming aspects of this year's show was the evident bond that had formed between the "competitors". He saw that the boys worked hard to learn the dances and the end result of a unified team as they stepped out of their comfort zone together was nice to see.
"As I look back on this year and the prior year, I cannot help but be impressed by the caliber of the contestants. It makes me proud to know that Coral Gables Senior High School is turning out such stand-up young men. It's a testament to the school's administration and educators," alumnus Olivier Larrauri said.
In the end, Larrauri was elated to crown the winner—Mr. Model United Nations, senior Alexander Sutton, remarking that his political impersonations were "spot-on" and the act itself "knocked it out of the park."
His experience judging these past two years of Mr. Coral Gables has brought back nostalgia from his own high school days, encouraging him to come back to his roots at Gables once again. The time he spends at Gables not only reminds him of the good days of his past, but inspires his hope for this world's future within its students.  Like many of Gables' alumni, Larrauri welcomes any time he can spend at his alma mater, and the Cavalier family loves to have him.
The CavsConnect staff encourages comments and conversation on all of our content. We reserve the right to remove comments that are vulgar, rude, hurtful, or unrelated to the topic.