Get Hyped for the Cheer Captains: Beatriz Cruz and Mariam Galdo
As fans occupy the bleachers at Coral Gables Senior High, two particular individuals are ensuring that the Cavalier spirit is at an all-time high. Waving their pom-poms at the crowd, cheerleading co-captains Beatriz Cruz and Mariam Galdo are leading by example and hyping up their teammates for the 2022-2023 school year.
Beatriz Cruz
Sporting her cheerleading uniform since her freshman year, Cruz recalls the many times she cheered on her fellow Cavaliers. Looking for active ways to get involved at Gables, Cruz explored different venues at the annual club fair, and she immediately fell in love with cheerleading.
Attending practices regularly, Cruz found an accepting group of individuals that managed to generate positive vibes everywhere she went. Finding her comfort zone within Gables, Cruz was determined to live out her cheerleading aspirations the rest of high school.
"When I was chosen to be captain of the team, I obviously felt extremely excited and proud of myself because I was able to accomplish that goal of mine. Personally, cheer is the place where I can let go and have fun with my friends while also working on myself to become a better cheerleader," senior Beatriz Cruz said.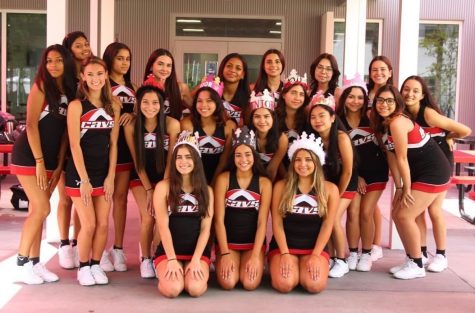 Holding a important position on the cheerleading team, Cruz always makes her best effort to guide her peers by calling out cheers during an event, leading practices or coordinating practices with head cheer coach Ms. Noval. Aside from her duties as co-captain, Cruz is a flyer, soaring sky-high to excite the crowd at any given moment.
"Beatriz is very dedicated to her position and a strong leader. You can always count on her to make everyone feel good and want to give their all," junior Santiago Giraldo said.
Besides being a student-athlete, Cruz also participates in numerous clubs across campus, such as the National Honor Society, Key Club and the International Baccalaureate Executive Council. Maintaining a healthy balance between school and extracurriculars, Cruz is always willing to make sacrifices to enjoy both cheerleading and her academic life.
Mariam Galdo
Galdo also strolls confidently in to her role as this year's cheer captain. Discovering her inner passion at a young age, Galdo is eager to conduct dazzling performances for all Cavaliers to witness.
Beginning her journey at Ponce De Leon Middle School, Galdo found a second family in her cheer team, looking to them as a source of encouragement to follow her aspirations and make her goals a reality. Having no prior experience, Galdo quickly learned new chants and styles of dances from both coaches and teammates.
"
Cheerleading provided me with an outlet, especially during my junior year. It became a place for me to work hard, meet new people, and simply escape the world. Whether I had a bad day at school, or I was just down about something, I knew I would be surrounded by positive energy and encouraging people when I went to practice,
— senior Mariam Galdo
Carrying this mentality into Gables, she tried out for the cheerleading team and secured a spot her freshman year. An active member of the squad, Galdo met the requirements for cheer captain by remaining vocal and attending all the team's competitions whenever available. Although the road to the top involved a lengthy application submitted to Ms. Noval, she managed to be among the two most-qualified candidates for the job.
"There are no words to express how thrilled I was to be chosen as cheer captain. I cried, jumped, and screamed. The sense of accomplishment and excitement I felt was incredible," senior Mariam Galdo said.
As for her responsibilities as cheer captain, Galdo's main focus is to convey a positive attitude towards the team and lift them up. Despite her tight schedule, Galdo finds it extremely beneficial to be working alongside an equally committed individual who helps to balance the role of caption and her studies. 
Led by strong characters, the cheerleading team is primed to bring home trophies this school year. For both cheer captains, it is an opportunity to showcase their true selves and bring the Cavalier family together. 
The CavsConnect staff encourages comments and conversation on all of our content. We reserve the right to remove comments that are vulgar, rude, hurtful, or unrelated to the topic.