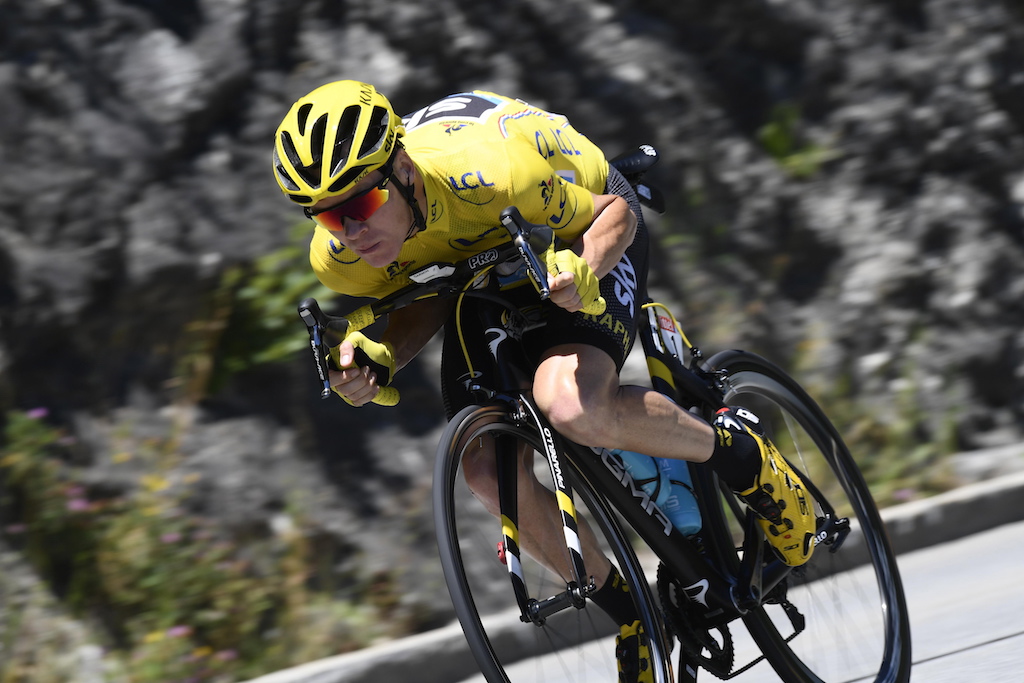 Offside / Presse Sports
The Sky is the Limit: Chris Froome Wins Fourth Tour de France Title
July 28, 2017
On Sunday, July 23, Chris Froome of Team Sky, pedaled his way into the history books by winning his fourth Tour de France title in the last five years. By accomplishing such a remarkable feat, Froome further separates himself from the majority of cyclists and creates a convincing argument as to why he deserves to be referred to as one of the greatest cyclists ever. In the history of cycling, only four riders have won more titles- Miguel Indurain, Bernard Hinault, Eddy Merckx, and Jacques Anquetil. He also joins Louison Bobet, Indurain, Merckx, and Anquetil by becoming only the fifth rider ever to win three consecutive titles.
"Froome has, without a doubt, had an amazing career and with this last performance he continues to prove it," sophomore Kevin Monjarrez said.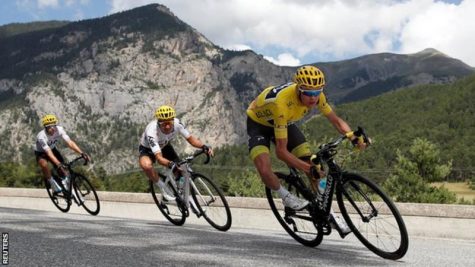 As dominant as Froome is and has been in recent memory, his fourth yellow jersey did not come easily. For the first time in his career, he was forced to give up the yellow jersey after holding it during the Tour. He took the jersey from Sky teammate Geraint Thomas on Stage 5, but could not keep up on the steep ramp into Peyragudes in the final stretch on Stage 12, passing it to Fabio Aru.
However, as he has proven numerous times in the past, Froome was at his best in the Tour's third and final week. He reclaimed the yellow jersey for good on Stage 14 when Aru got caught too deep in the peloton before the uphill finish in Rodez and was able to maintain his composure and pace on the major Alpine climbs of Stage 17 and 18.
From Stages 12 to 20, Froome had at least two riders within 30 seconds of him and still managed to become the seventh rider ever to win the Tour without compiling a single stage win. Nonetheless, he pulled through with a win- a win that might go down as his most impressive because it was also his narrowest margin of victory. Froome, at 32 years of age, has reached the typical mark where riders should be on the decline.
"Honestly, at this point in his career, he's been successful enough to go down as a great even if his age wears him down a little in the near future," sophomore Alejandro Vento said.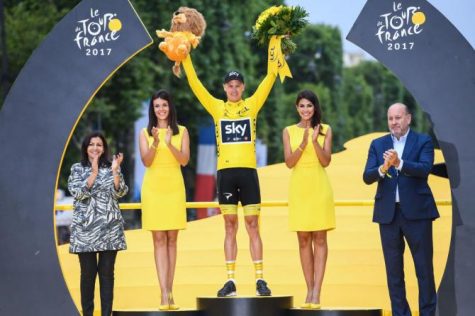 It is difficult to predict how long Froome will continue to be successful as the years pass by. Rigoberto Uran, finishing in second place, seemingly had a career renaissance. Romain Bardet, third, is predicted to be dominant in the coming years if he improves his time trialing abilities. Despite the possibilities of the future, Froome is still not to be ruled out of topping the podium in the 2018 Tour. In 2016, he proved he can win in practically any way possible. In 2015, he defied the odds and won his second title when the whole world seemed to be against him. Considering the feats he has accomplished and the challenges he has overcome, it is arguable to say that Chris Froome has emerged to be one of the world's top cyclists. And still, at 32, he has got some cycling left in him and is showing no signs of slowing down.