Spanish "Clásico" Ends in Tie
December 5, 2016
To all soccer fans, it is clear that the "Clásico," or the game where Real Madrid faces off against Barça, is one of the most important games in the season. Barça, six points behind Real in the Spanish Soccer League, really needed this win to get back in the race for the title. However, Real Madrid would benefit from either a tie or a win, as that would allow them to keep Barça at bay. After a rather lackluster first half, the second half kept everyone on the edge of their seats at all times. The game ended at 1-1, with Real Madrid scoring in the last minute, to save a loss.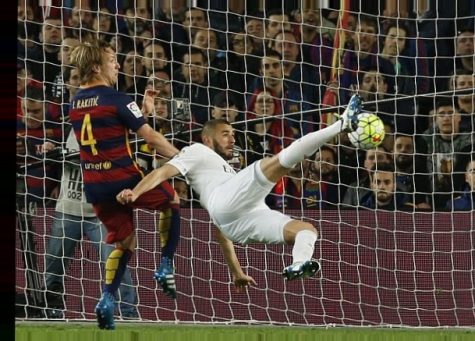 "Barça should've won that game. They could've made it 2-0 and Real wouldn't have been able to tie it," sophomore Brian Arias said.
The first half was a fairly even battle with little opportunities for either side. However, Real Madrid was a little bit more comfortable with the ball. They came closer to scoring than Barça, but that really is not saying much, as neither team really came close. There were a lot of controversial moments, but the referees were still able to stay in control of the game. For the most part, the first half was rather uneventful and viewers had to wait until the second half for the game to get interesting.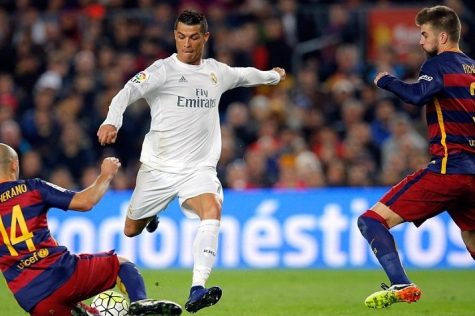 After halftime, Barça came out of the locker room with a different attitude. They were getting more chances and closer to Real Madrid's goal. Then, in the 53rd minute, Real Madrid committed a foul that would end in a goal for Barça. A cross into the Real Madrid area was headed in by Luis Suarez making the score 1-0. In the minutes after the goal, Barça had several chances to end the match by making the score 2-0, but they didn't use them, and Real Madrid took advantage of that. In the 90th minute, when everything seemed lost for Real, Barça commited a foul that would cost them the win. A cross came in, and Sergio Ramos headed it in to make the game 1-1.
"Real played great, but the tie was well deserved. Barça also played a good game," sophomore Marco Barrios said.
The Spanish "Clásico" is always a fun thing to watch and usually ends in a close match. The tie complicates things for Barça as they continue to be six points away from Madrid. The tie helps Real Madrid, continuing their 33 game undefeated streak and giving them a comfortable lead in the Spanish Soccer League tournament. However, there is still a lot of season left and nothing is definite. Barça and Madrid will have another chance to win a "Clásico" on April 23.