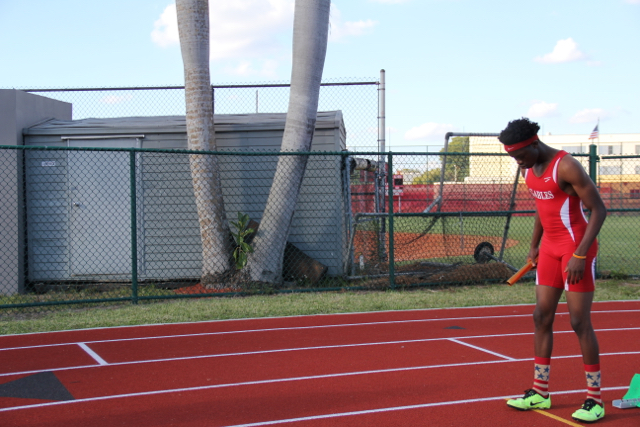 Track: Preseason Quad Meet
The track and field team got a taste of what this year is going to be like in their preseason quad meet this past Thursday, Feb. 11. Although it did not count towards their record for the regular season, Gables made sure to give it all they had as it was their first meet of the year.
"Our expectations for the team are to become better as a team, and for out athletes to break their own personal records. We want reach our goals to win a district title and work out way to States," Coach McNatte said.
At the meet, both the boys and girls worked hard to win their events. Sofia Gonzalez helped the girls' 4×800-meter team get first place,  and still managed to get second place in the girls' 100-meter and fourth place in the 200-meter individually. As for the boys, Amir Rasul got first place, Yeltsin Mora got third place, and Antwan Walker got fourth place in the boys' 400-meter run event. Jordan Shepard got second and Benito Salved got third place in the 300-meter hurdles. The boys also got second place in the 4×800-meter relay and the 4×100-meter relay. For the long jump event, Gilbert Frierson took first place, Antwan Walker got second place, and Yeltson Mora got fourth place.
Other schools that were at the quad included Ransom Everglades, Pine Crest and Calvary Christian. Since it was a practice meet, the players and runners got to try out new events that theyn't usually c doompete in. Another thing that changed this year was the coaching staff. New to the team is Coach McNatte, who has already started practicing with the team and is helping them excel in their events.
"It was different having to go out of my comfort zone and trying a new event, but since I tried the new event I realized that I'm not really meant for longer distances since I am a sprinter. It was cool to try something new," junior Gabriela Vega said.
Make sure to keep up with the track team as they develop throughout the year. The next meet that the track and field team will be competing at is at the Booker T. Quad on Thursday, Feb. 25 at Booker T. Washington High School.