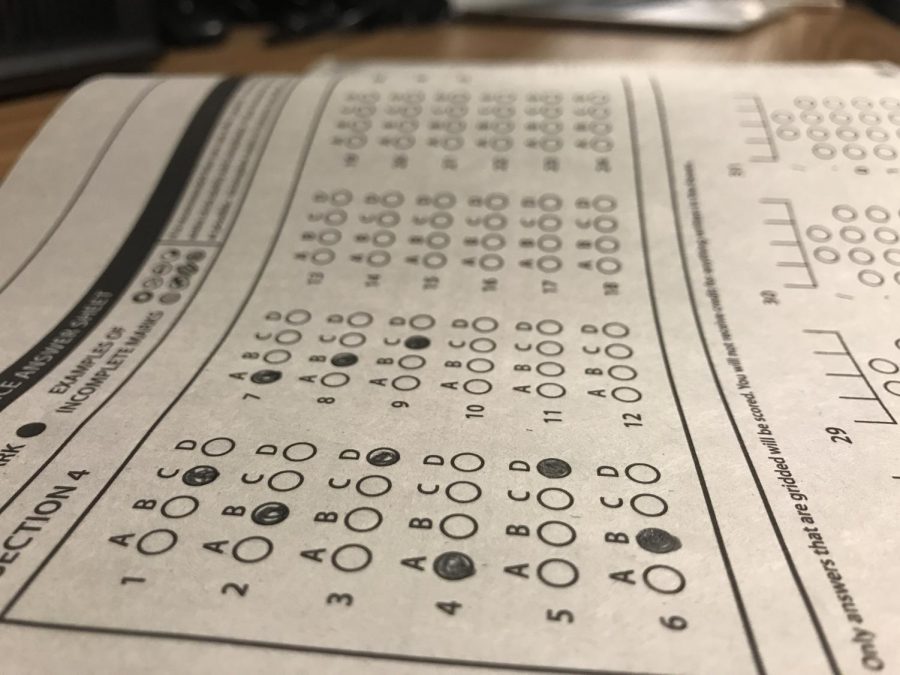 The Pros and Cons of Testing
March 9, 2020
When testing season comes around, it is not always welcome. Just like any other school, exams make Coral Gables Senior High a hectic environment. Some may wonder, why do students even take exams? It is important to be aware of both the advantages and disadvantages of high school assessments so that Cavaliers can get ahead of the game and excel. Here are the perspectives of two Gables students on standardized testing and whether or not these exams should be administered.
Testing Takes a Toll on Teens
Only a few months ago, the school year began. Now, testing season is fast approaching and yet another April and May are on track to be ruined by standardized testing. While we all have our own opinions on testing, it is clear to say that standardized testing's cons outweigh its pros because it is an inefficient way of measuring one's knowledge, it takes a massive toll on students' confidence and it causes additional unnecessary stress.
Generally, a test is administered on a span of about one or two days when a personal problem can occur, and since the results are based on one's performance on just those two days, it is highly unlikely that the results are an accurate representation of the entirety of a student's knowledge.  During those days, so many things can go wrong, including things that they cannot control which still affect their ability to test. They could be dealing with domestic problems, problems with friends, or even an illness. So many outside factors can infringe on a stable testing environment that even if the student was taught well and was able to understand the content of the subject, their test scores might not reflect that ability because of personal problems or weak test taking skills.
"I do not believe it is accurate to base the entire year on the results of something that occurred in a span of three or four tests," freshman Grace Urbita said.
In relation to the inaccurate results as discussed before, these tests can have a belittling effect on a student's confidence. The school system has developed the testing system to create an arbitrary importance for these tests, making it seem like the results will have a huge impact on their futures. If the student has underdeveloped test taking skills leading to poor results, this will take a toll on their confidence level making them believe that they deserved those results and now underestimate their own abilities. Additionally, the pressure put on these students to excel stresses them out more than the school environment itself does. The school system sends them this message by creating a stressful environment during testing season to push them to score better on the test. This stress is also perpetrated by the schools themselves because higher scores on these tests increase the school's ranking in the school system.
"
Society assumes that these tests are all that can measure intelligence and, if you do not do well, then you are incapable of anything, which makes the students feel insecure about their capacities or abilities"
— junior Daniela Parra del Riego
One might say that testing is not actually about the students but, rather, that they are given to see how well the teachers were able to transfer their knowledge on their subject down to their students. Nevertheless, students are still under intense pressure, especially if they are the ones taking the test. It is a chain reaction: schools want to grow and develop, and to do so, they need to have high test scores, so they pressure their teachers to push the subject material harder on the students, which eventually lead to the increased amount of stress that are put on the students. Even if it is unintentional, the pressure is still put upon students to thrive on standardized tests.
While testing in a classroom setting can be a good way to see if a student has been able to grow in a short amount of time, standardized testing is an inefficient system that continues to grow and be forced on the students causing increased stress and decreased confidence levels. These tests began as simple assessments that track how much improvement was made in a year and have gained the power to form what the student's next course rigor will look like or what college they will attend. The amount of impact these tests have on student's lives should be reduced because just a paper and a pencil can not accurately show what a student is capable of.
About the Contributor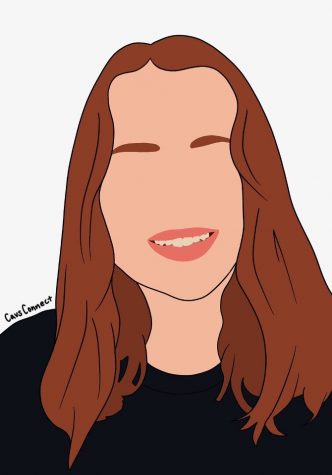 Ariana Alvarez, CavsConnect Staff Writer
Ariana Alvarez is a rising sophomore in the International Baccalaureate program. This is her second year in CavsConnect and she desires to meet new people,...
Leave a Comment
The Advantages of Assessments
When the testing season starts, Coral Gables Senior High becomes busy. Students prepare themselves by studying and teachers get ready to administer tests. For many, the complications and preparations of these few weeks generate negative feelings. However, standardized exams should be seen in a positive light as they can provide benefits, such as new opportunities for higher-level education and career decisions for students.
Standardized tests require those taking them to choose an answer to the same set of questions given to all of those testing, meaning that they are designed to be accurate across the board. The SAT, or Scholastic Aptitude Test, is one of the most widely- known assessments in America. This exam is generally taken by juniors and seniors so that colleges can evaluate and compare students easily. Administered by the College Board, those who do well on it generally get accepted into the university of their choice. This type of testing lets students who get high scores earn scholarships or grant money and reduce their levels of debt once they become financially independent adults.
In addition, taking standardized tests allows areas to compare students throughout the state in a fair and even way. For example, the Florida Standards Assessments (FSA) measure student performance in reading, writing and math. These tests help kids by showing how well they do compared to their peers, so they can focus on the skills they have to work on based off of the curriculum. They also allow the state's educational system to see which programs work better, along with what areas of the state are successful and why. The FSAs also help teachers emphasize the subjects that lacked clarity to the students tested so that their future classes can do even better. This analysis leads to a better understanding of schools' needs and therefore more efficient distribution of educational funding.
Other tests are helpful to high schoolers because they can provide college credits. Advanced Placement (AP) exams for classes such as Biology, Human Geography, Calculus and many more are graded on a scale of one to five points. If students score a three or higher, they pass the assessment and may receive college credits while still in high school. These tests are completely optional, so students can gauge their own preparation for the courses and exams prior to signing up for them. Students taking these exams in high school also get to save money for their college years. AP exams only cost 98 dollars or are offered for free at some public schools. This is a stark contrast to the average $594 credit hour cost and median $14,267 yearly for tuition in America. The credits these tests offer can also lead to early graduation if students meet requirements or more free time for students to pick classes that they have an interest in, so taking these exams can be well worth the payoff.
"End of the year exams, such as APs, can be beneficial because they provide college credits. However one test should not determine your intelligence," senior Dayanna Ortega said.
"
"ServSafe testing got me job offers for a manager position, prepared me for inspectors and helped me use my knowledge to correct others, "
— senior Grace Subiadur
To continue, standardized exams can benefit a student's education because some of these tests enable students to attain career promoting certifications. For example, students with jobs in the service industry can pass the ServSafe test and get certified. This assessment proves students are qualified to handle food safely so that they can work in culinary professions. Many restaurants make this a necessity for their employees, so in this way, testing allows high-schoolers to also advance their professional lives. Other classes such as Computer Programming also have tests that give those enrolled certifications in HTML -Hypertext Markup Language- which gives them an advantage over others when applying for jobs or programs. These are just a few of many classes that use testing in school to give them an edge when it comes to pursuing their vocation.
"I think testing is good because it got me the job that I am in as a chef at the Cheesecake Factory. My ServSafe certification will only lead me to greater opportunities than the ones I have already had," senior Robert Willis said.
Some may argue that standardized testing is stressful, annoying and unfair. However, if students are unhappy with their scores or think that they were unfairly measured for some reason, they can always retake the test and do better. Students should take advantage of the opportunity to overcome their weaknesses and get a better score in the future. Studies have even shown that 57 percent of students see improvement in their results when they retake the test. It is important for Gables upperclassmen to be aware of these facts and seize these chances to enjoy the bonuses of test-taking.
As students realize the importance of testing during their high school years, it becomes apparent that exams can do a lot of good. From saving time and money to supplying new career and educational opportunities, assessments have been used to aid students on their path to adulthood. If all goes well, this 2020 testing season will only bring more success and high scores to Cavaliers. In the meantime, students should center their attention around studying and preparing for upcoming examinations in order to reap the benefits that they provide.
About the Contributor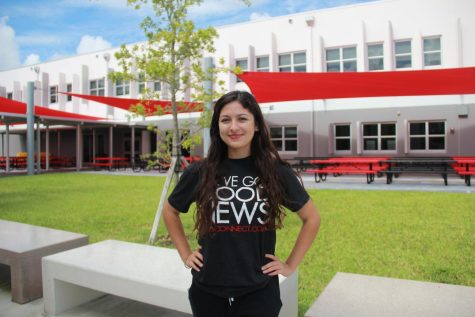 Sofia Cruz, Co-Editor-in-Chief
A rising junior in the International Baccalaureate program, Sofia Cruz is eager to start her third year as a member of CavsConnect. With her new position...
Leave a Comment