A Culture of Complicity
January 11, 2018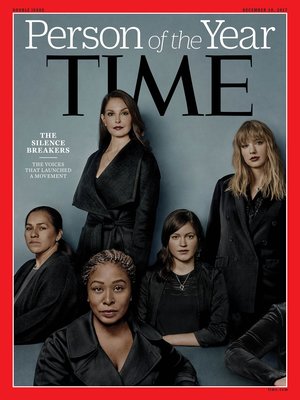 Billy and Hell for TIME
Following allegations of sexual assault against Hollywood producer Harvey Weinstein, the revolution of the Silence Breakers emerged. From the floodgates that Weinstein's victims opened streamed hundreds of allegations against some of the most renowned names in the entertainment industry. 2017 proved to be the year of the Silence Breakers, and TIME Magazine recognized the women who have said #MeToo and continue to say it as the People of the Year. That such vile abuses of power have always taken place is something that cannot be debated, but society has had the tendency to silence those brave enough to speak out, whether it be through victim shaming, threats or even violence. What has made these #MeToo moments into a movement is society's apparent willingness to finally speak about these issues that were kept hidden behind a culture of complicity and distrust for so long.
Throughout the course of the year, over 70 high-profile men were accused of behavior similar to that of Weinstein's. Unfortunately, that such exploitative relationships existed so prevalently between powerful men and those who work for them came as no surprise. Even the most beloved and respected of individuals have taken part in this vulgar and rampant misogyny.  Kevin Spacey, Louis C.K., Matt Lauer, Mario Batali, Ed Westwick and the list goes on. Despite advances made in gender equality, we continue to live in a patriarchal society that allows for such instances to take place and silences those who attempt to come forward.
"It is disappointing to that see a lot of these people who we love and trust turn out to have done awful things. These high-profile cases of abuse, and the #MeToo movement, which has grown as a result of them, ultimately will show abuse victims that they do not have to remain silent," sophomore Alexander Sutton said.
Five journalists from the New York Times investigated what they called "Weinstein's Complicity Machine."   Throughout the article, they delve deep into the hundreds of people who enabled the producer's cruel and possibly criminal behavior. Agencies suggested to women that they should "just forget about it" and that "Harvey was just being Harvey" while quickly casting complaints aside. Employing this "boys will be boys" mentality in an effort to keep one of the biggest producers in Hollywood on their side enabled and confirmed to Weinstein that he, as a powerful and intimidating individual with connections that reached as far as the White House, could do whatever he wanted and not face repercussions. Such complacency, not unique to Weinstein, fed the ego of abusers, and allowed predatory behavior to continue and created a culture of silence, too ashamed to speak of sexual harassment and too power-hungry to stop it.
While the revelations of this cycle of abuse are regrettably not unexpected, the response the silence breakers have received is. #MeToo became a movement not just because women came forward, something some have done for years, but because it appears society has undergone an alteration of consciousness that allows for such stories to be heard.  This is said without diminishing the courage women have shown in coming forward and the stirring revolution that doing so has caused, but to speak of why this revolution has emerged now and why it had to in the first place.
The answer to the second question lies above. The culture of complicity made it so that these reports remained bottled up until they exploded following the first allegations made against Weinstein. Why it occurred in 2017 seems to be indicative of the strides being made towards equality. Research has shown that attitudes towards women and their role in society have shifted heavily over the past 30 years, with a "renewed progress towards gender equality starting around 2006." This slight shift away from a patriarchal society and towards an egalitarian one has allowed for conversations and real action against perpetrators to take place.
"The reason many people are coming forward now, from what I have seen, is because in a way it is not as easy to silence people now, especially when social media has given people the platform to share their experiences and find others who can relate, thus introducing the hashtag #MeToo. When people fail to acknowledge those who share their experiences, especially in cultures already dominated by toxic masculinity, it can contribute to rape culture by promoting this idea of 'boys will be boys'," junior Natalie Brenes said.
Of the more than 70 men accused of some sort of sexual misconduct, approximately one-third have been fired. The rest resigned, retired, stepped down, had projects put on hold or were dropped by agents or networks. What is important to note is that there have been real consequences to the actions of these individuals, something traditionally unheard of in cases of harassment involving powerful men. Weinstein's harassment, for example, had been known by many in the industry for as long as 30 years.  Lauri Githens, a young woman who worked as a disc jockey at the time that the Weinstein brothers had just founded Miramax, said that the unwritten rules regarding the profession included "If you're a young woman, don't be alone with Harvey Weinstein". In the past, complacency and indifference seemed to be the attitudes those with knowledge of complaints adopted.  Whether the repercussions occurring now are a result of an altered consciousness or simply because companies wanted to protect themselves against possible backlash is not clear. Regardless of the intent, it must be recognized that much more is being done now than when agencies simply told women to "forget about it" and people were unwilling to accept the harsh realities of rape culture.
That is not to say that we may now sit back and admire the changes that have taken place and think that our work is done. While the stories of the Silence Breakers have spurred a revolution that may hopefully usher in an era in which men and women will no longer have to be afraid to come forward and conversations may be blatantly had about sexual harassment and assault, there is still much that needs to be done. We must wonder, as Thomas Chatterton Williams of the New York Times put it, "if ambitious, highly educated, well-compensated women are being harassed and assaulted with impunity, what is happening to poor and working-class black, brown and white women outside the media's glare?" We must work to end harassment and seek to tell the stories of all victims.  Following allegations made against Weinstein, a board member of his company told him that "this will go away sooner than you think and it will be forgotten." One thing is for sure, the floodgates have been opened and it will certainly not be forgotten.
[powr-social-feed id=f50d42ab_1515357060290]