And The 2017 Grammy Goes To…
Our Rating: A
The 59th Grammy Awards took place Sunday Feb. 12, at the Staples Center in Los Angeles, California. There were many shocking wins, surprising twists, and stunning outfits. Here are some highlights from the show: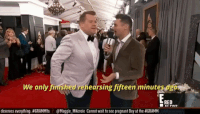 Adele Steals the Show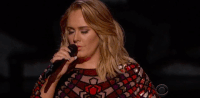 Opening up the show with her powerful ballad, "Hello", Adele had everyone's eyes on her as she took the stage and hit every note perfectly.  Along with her breathtaking performance, Adele was also nominated for five different categories including "Best Pop Solo Performance" and "Record of the Year".
Beyoncé Takes a Seat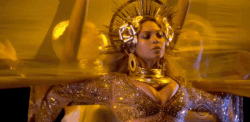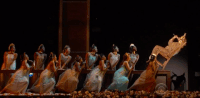 During her performance, Beyoncé showed the world that not even pregnancy can stop her from giving a jaw dropping performance. As she performed "Sandcastles" and "Love Drought" from her latest album "Lemonade", the crowd stayed silent as she filled the auditorium with her voice. Beyoncé was also nominated for six awards that night and won "Best Music Video" and "Best Urban Contemporary Album". For four of Beyoncé nominations, she and Adele went head-to-head for the award. Many took to social media to express who would win the face-off, but at the end of the night, Adele took home all four nominations including "Album of the Year" and "Song of the Year".
"Although her performance was phenomenal, one thing I didn't like about Beyoncé's performance was that she portrayed herself as this god/saint-like figure. She had the stage set up as if it were the "Last Supper" and she was Jesus, and that's just something I don't think she should've done," senior Bryan Cruz said.
Chance the Rapper Gets a Chance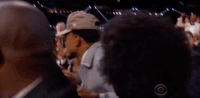 After being nominated for seven categories including "Best New Artist", Chance the Rapper won three of those nominations. Chance the Rapper made Grammy history by being the first artist to give away his music for free. He is known to not be signed to any record label and drops his music online for anyone to stream. The rapper was in the same category as Drake's "Views" album and Kanye West's "The Life of Pablo", which makes this a major win for the Chicago native.
Gaga Blazes up Into Flames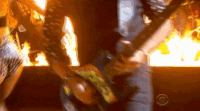 After her performance at the super bowl a couple weeks ago, many expected Lady Gaga to blow everyone away at the Grammys as she shared the stage with Metallica. As Gaga grabbed the microphone, the stage burst into flames and guitar solos filled the air. Although there was a malfunction with Metallica's lead singer's microphone, the show went on as the two shared the mic and rocked out on stage. Many did not expect the performance to go the way it did, but Lady Gaga managed to save the performance with her powerful vocals.
Katy Perry Roars Back Onto the Stage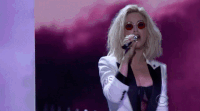 As she debuted her new platinum hair, Katy Perry took the stage singing her new song "Chained to the Rhythm". Her performance did get a little political as she ended her set, with the a projection of the preamble to the United States Constitution. Perry is an avid Clinton supporter and has spoken out about many of President Trump's newest rulings. This is the second single Perry has released in recent months, her last one being "Rise", which she wrote for the Olympics. Perry also announced that she will be releasing a new album and that fans should expect to see a new side of her.
"Although Katy Perry has been kind of AWOL, I think that's totally fine since she's been working on new music and a new album. I cannot wait to see this new side of Katy Perry that has never been exposed to us before," sophomore Tatiana Campos said
Although there were many upsets throughout the night, this year's Grammys held many surprises that will have people talking for months on end.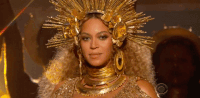 The CavsConnect staff encourages comments and conversation on all of our content. We reserve the right to remove comments that are vulgar, rude, hurtful, or unrelated to the topic.