Split
Jan 30, 2017
Release Date: Jan. 20, 2017
MPAA Rating: PG-13
Director: M. Night Shyamalan
Writing Credits: M. Night Shyamalan
Stars: James McAvoy, Anya Taylor-Joy, Haley Lu Richardson, Jessica Sula and more
Our Rating: A-
Split is M. Night Shyamalan's latest release and what many consider his return after having released rather unsuccessful films like "The Village" and "The Happening". It features 3 teenagers played by Anya Taylor-Joy, Haley Lu Richardson, and Jessica Sula, that are kidnapped after a birthday party. The kidnapper is a shapeshifting person with 23 different alternate personalities called Dennis, played by James McAvoy. The movie has received a large amount of praise and has a 74% rating on Rotten Tomatoes.
"I've never seen anything like it, I found it weird but I [liked] the way that [Shyamalan] uses the different personalities to make the movie terrifying," senior Rommel Ricalde said.
Mr. Shyamalan has come up with a new kind of film formula. Though fans were previously disappointed by his work, they now look forward to his future films. Split revolves primarily around the plot, with an awesome, yet sort of ridiculous concept being used ingeniously to formulate suspense throughout the movie. All the alternate personalities have different genders, ages, and sexual orientations. While most of these aren't shown, the ones that appear are used brilliantly to provide comic relief (when needed), and change the tone of different scenes.
"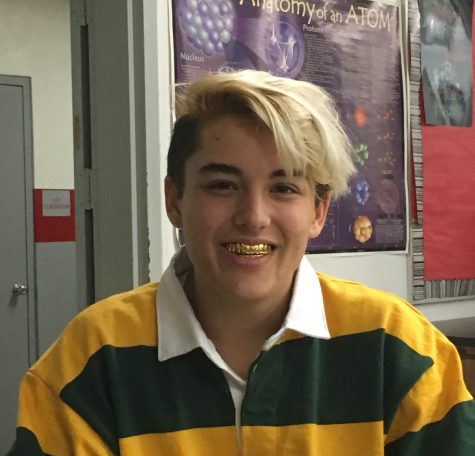 Totally not what I expected, while it was terrifying at times there were funny moments, like when the kid [(Hedwig)] comes out
— Alex Yelamos
One of the teenagers, Casey (Anya Taylor-Joy) is singled out in order to cleverly show her patience. This is in contrast to the other teenagers that are panicking and defying the abductor. This is yet another example of how Shyamalan's ingenious manipulation of the plot creates suspense. Also, throughout the movie a flashback of Casey on a hunting trip serves to explain her attitude but also to symbolize a deeper and darker thing. Shyamalan uses this to create suspense in an innovative way. All the while, McAvoy portrays his character(s) perfectly and takes on the difficulty of performing as multiple people in stride.
Split is M. Night Shyamalan's latest horror film. It implements a new idea for future horror films that is resourceful, though may be ridiculous. This new style has seen a lot of success, earning Split great ratings and bringing M. Night Shyamalan's name back.