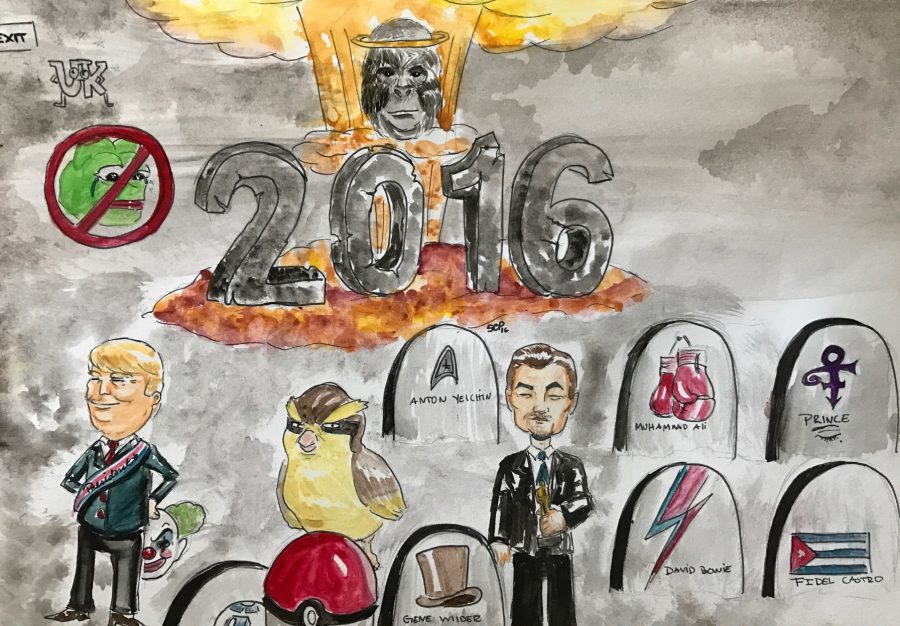 Was 2016 a Bad Year?
Dec 8, 2016
The year 2016 was a year full of tragic events, but it also had happy endings. As the year comes to a close, some may reflect on this consequential year with different feelings. It has definitely been a year to remember.
This year was a year of reflection, remembrance and recognition. The Summer Olympics in Rio de Janeiro made headlines. The location choice sparked controversy because the city is known to be dangerous. Many criminal incidents occurred during the Olympics, but the event came together in the end.
On a lesser note, the anniversary of a tragic attack was recognized. The year 2016 marked 75 years since the attack on Pearl Harbor. The day was commemorated with a mass band of American and Japanese musicians in front of The USS Battleship Missouri Memorial in Pearl Harbor. This event was to inspire peace and honor the tragic event. The year 2016 has been a year to recollect the good and bad.
"I believe that everyone has had different experiences for 2016 and although I could see based on what some of my friends have gone through this year, I don't think 2016 has to be categorized in such a negative manner. I believe that regardless of what year it is things happen and that's just how life is in general," sophomore Audrey Weigel said.
For the Cuban community in the United States, big news made many jump for joy this year. The 90-year-old dictator, Fidel Castro, passed away. Many cubans took to social media and made reaction videos upon receiving the news. Some people even started a tag, #1Down1ToGo," referring to Castro's brother, Raul Castro, who is currently in power in Cuba.  Most Cubans living in the United States sought political asylum after being oppressed in their home country. Having to leave their country because of Fidel and finally receiving the news of his death made their 2016 joyous.
The year 2016  upset many people during and after the presidential election. Many were upset with the outcome of the election and the country's decision for president-elect. After the nation found out that Donal Trump won the election, Americans protested in an uproar and took to the city streets. Citizens all over the country protested for days on end and the hashtag "#HeIsNotMyPresident" went viral. Many might see 2016 as a year of disappointment because of this single event.
"
2016 was a good year because a lot of positive things happened to me. But, I am really looking forward to 2017 for one reason: graduation."
— senior Roxana Rodriguez said.
The controversy this year has caused has caused uproar among many people. However, this year has been filled with good and the bad to balance each other out. Things are only getting better. Even if this year has been bad for some, 2017 is right around the corner.