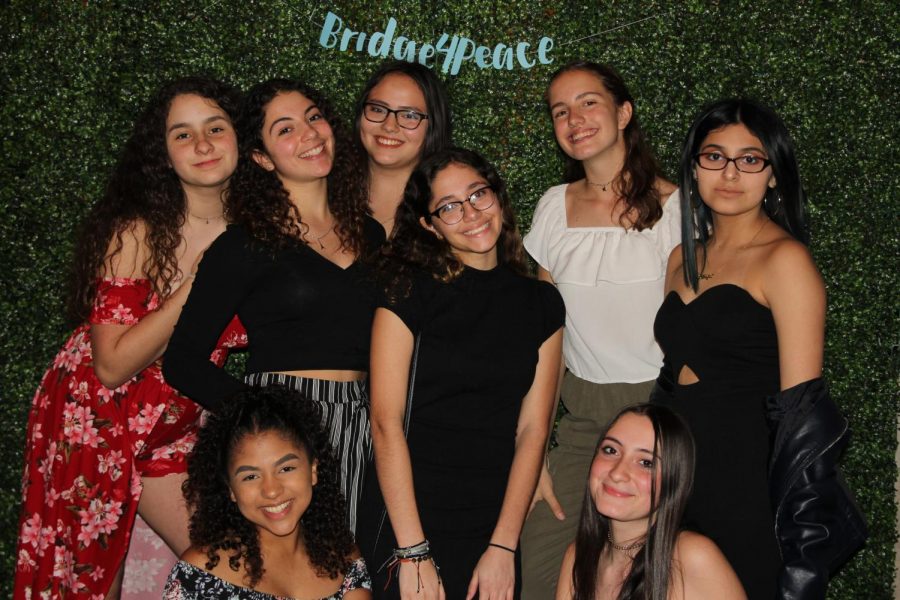 IBHS Sponsers Bridge for Peace Event 2019!
April 22, 2019
The Cavalier International Baccalaurate Honor Society (IBHS) hosted their annual Bridge for Peace charity event this year at the Coral Gables Museum. From catered food to photo booths to several performances by Gables HIgh students, the event was an enormous success that raised funds for the charity Oberts Al Mon.
Bridge for Peace Reveals Cause: Oberts al Mon
Bridge 4 Peace is an event hosted by the International Baccalaureate Honor Society (IBHS) to fundraise money for a chosen cause. In the past, the causes have differed from building schools in Haiti to creating an on-campus safe space for students with special needs to bringing latrines to less fortunate communities in the Dominican Republic. The International Baccalaureate (IB) program is an internationally renowned program that allows its students to not only be active in their community but become knowledgeable, worldly individuals.
This year's cause was proposed by senior Marina Torras. Her cause was to raise money for a Catalan organization, Oberts Al Mon. The organization's main goal is to bring education to areas of Guatemala deprived of schools and education centers. Torras' grandparents are actively involved in the organization, and she served as the proxy between IBHS and the administrators of Oberts Al Mon.
"
The cause is very dear to my heart because Oberts al Món is my grandparents' non-profit. They started it when I was young so I've seen the whole process and how much their work has impacted the children in the communities. I thought what better way to collaborate than to propose the cause for Bridge for Peace and get others involved as well."
— Senior Marina Torras
The main goal was to raise approximately $12,000 while using as little of the donation money as possible, meaning a lot of cooperation from students was needed; from buying the tickets to donating items for the event anything that students were able to do was greatly beneficial to the cause. The donation money will be used for the building of a school fully equipped for the children in the community to receive a quality education.
"When I heard the cause was to help build a school for the Guatemalan community, a very big part of me felt compelled to help in any way I could. Bridge 4 Peace is a great way to help others in the international community if you do not have the opportunity to go these place that need help, yet still help in a way," junior Isabella Pinera said.
Guatemala's education suffers from one of the lowest literacy rates in Central America and Oberts Al Mon is making a difference by bringing these children the opportunity to learn. The creation of the Bridge 4 Peace event was meant to help organizations with the motivation to make a difference in underprivileged communities, and Oberts Al mon is doing just that.
"This year our goal was to raise $12,000 to construct a school in the village of "San Cristóbal La Laguna," in the Quiché Department of Guatemala, allowing 50/60 children to receive an education in adequate facilities and to expand their opportunities in order to improve their lives. I'm very happy that the event was successful and that we were able to meet our goal," senior Marina Torras said.
IBHS reviews several applications when looking for a cause, so keep this in mind if there is an organization you would like to contribute to next time!
Leave a Comment
Bridge 4 Peace 2019: An International Cause
On Thursday, Mar. 7, Bridge 4 Peace 2019 took place, continuing the International Baccalaureate Honor Society (IBHS) tradition. Every year, the Coral Gables Museum opens its doors for the event as they represent a cultural hub for the community. The event was held from 6:30-8:00 PM and managed to offer a variety of attractions from an international fashion show to a food buffet aimed to make sure that everyone could find something they would enjoy.
The event was sponsored by the on-campus chapter of the International Baccalaureate Honor Society (IBHS). Working with the Coral Gables Museum, they organized the event with much time in advance. In true international fashion, every Bridge 4 Peace is intended to fundraise for a different cause around the globe, and this year's funds will be donated to Oberts Al Mon.
Oberts Al Mon is a non-profit that aims to build schools in rural Guatemala, where the low education rates have been a cause of concern for those aiming to help the nation develop. This philanthropic group appealed to those in charge of selecting a cause because of its education-oriented goals.
Before the event, various committees were created by the IBHS board in order to ensure that every detail was accounted for. From the Money Committee to the Utensils Committee, each team has a specific purpose and is led by a different member of the IBHS board. Each member is tasked with specific responsibilities to ensure the proper execution of the event. In return for their help in setting up the event, the committee volunteers are then given community service hours, which in turn count towards the IBHS induction requirements.
On Mar. 7, IBHS board members went bright and early to the Coral Gables Museum to set up in advance for the event. From setting up tables and decorations to ensuring all supplies were delivered on time, the board members meticulously checked off their to-do list filled with many important jobs.
Once guests began arriving at the museum, the party began! Music filled the patio as students and staff members alike began to socialize and adjust to the elegantly decorated location. Not long after, the evening's entertainment began.
To kick off the event, performing groups like Gables Improv and Bhangra were invited to contribute to the entertainment scene at the event. Gables Bhangra performed a routine that merged traditional Indian dance moves with modern American music, which enticed the audience and energized everybody. Improv Troupe was also invited to perform, and the laughs they gave the audience left everyone feeling good.
"With this being my first Bridge 4 Peace, I did not know what exactly to expect, but I was glad to be helping out a good cause. Overall, the event was wonderful, the food was great and being surrounded by so many people who wanted to help others was uplifting," freshman Victoria Benedetti said.
The heads of the Entertainment Committee were tasked with marrying the international aspect of the event and glamour, which produced the elegant international runway show. Students were allowed to wear clothes from their home country or a country of their choosing as they strutted down the runway and modeled for the cheering fans. While stressful to plan and time correctly, the international fashion show was a success that guests enjoyed and that garnered many cheers for the student participants.
"Being able to participate in the International Fashion Show was an amazing opportunity to represent Guatemala, my home country. I also loved that the cause was directed towards Guatemala, which made me even more enthusiastic to participate," senior Quetzalie Pizarro said.
The evening continued with music, food and fun, yet the energy remained high as students were able to have fun while knowing they were helping out the international community. IBHS's annual B4P was a success yet again, as thousands of dollars were collected to improve children's lives.
About the Writer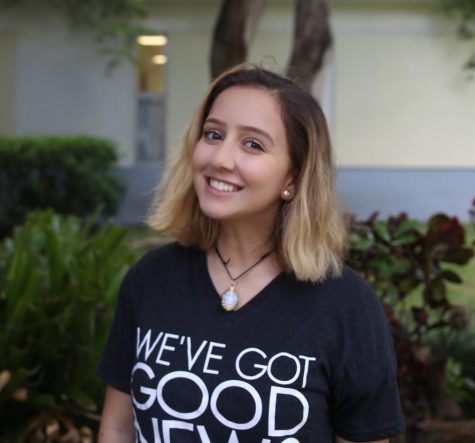 Daniela Parra Del Riego, Staff Writer
Daniela "Dani" Parra Del Riego is a half-Colombian, half-Peruvian sophomore in the International Baccalaureate (IB) Academy. This is her first year in...
Leave a Comment