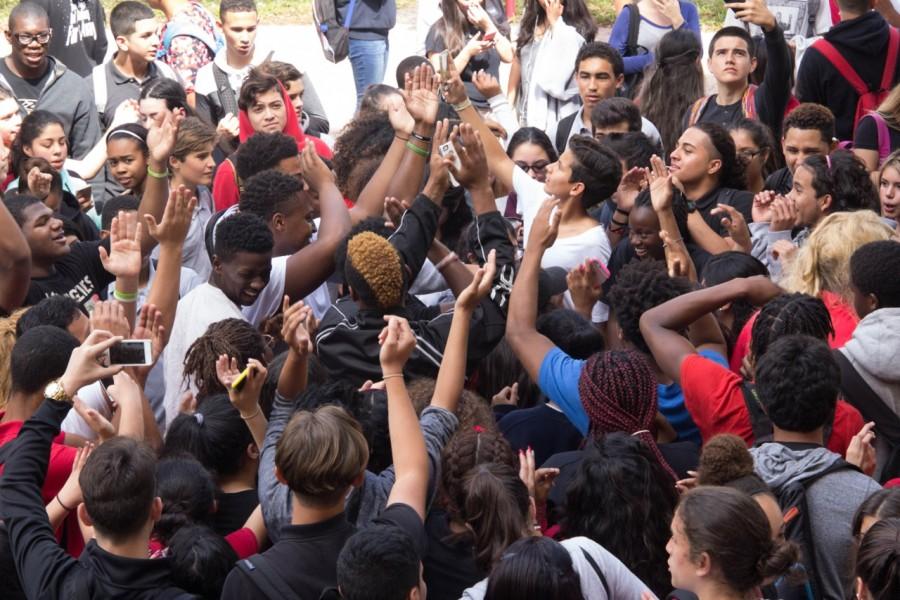 Gables Gets Schooled
Feb 29, 2016
Congrats to Gables for winning second place in the Get Schooled contest! On Feb. 23, students were able to enjoy a surprise dance party during both lunches. Get Schooled is an organization that helps inspire young adults to go to college and give them the tools they need to succeed. Get Schooled does this by having a website where students can explore and play challenges – they can earn points to cash in at the reward store, earn badges and qualify for scholarships.
"You really don't see a DJ playing during lunch and everyone dancing at any other schools. That's what I love about Gables – it always has spirit," freshman Indira Mera said.
The competition's rules include students having to go on the Get Schooled website, create an account and play challenges to gain points. The school that gains the most points places first place and a has a celebrity come to their school.
"It was a really cool experience to watch everybody dancing and joking around because it felt like a scene that belonged in High School Musical," freshman Nelsa Tejada said.
The dance party without a doubt added to Gables' energetic atmosphere and gave students a nice break from the books. Hopefully, we'll be able to get first place next year.