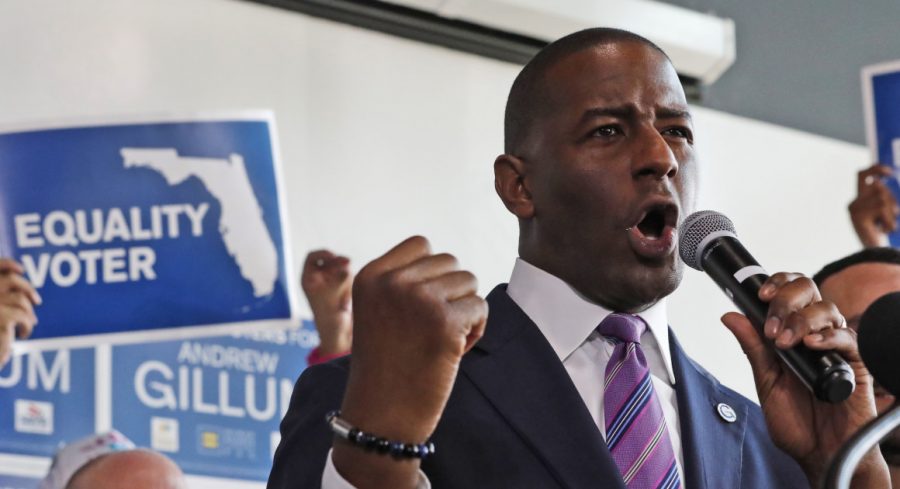 Gillum announces new voter registration organization
As the 2020 presidential election approaches, former gubernatorial candidate Andrew Gillum announces a new organization called PAC Forward Florida to register democratic voters.
Throughout the last few years, there has been a clear democratic rise in Florida. Perhaps the peak of such an initiative was when Real Clear Politics polls predicted Andrew Gillum to beat the Republican candidate Ron DeSantis in the race for governor. However, the Democrat rally was not enough, as the Republican candidate Ron DeSantis still won the governorship.
With such an important presidential election approaching in 2020, Democrat leaders in Florida have already begun to formulate plans to make sure that Florida is a blue state. These Democratic leaders realize that Florida is a powerful swing state that could sway a presidential race. For this reason, Andrew Gillum has initiated a Florida voter registration group with the sole purpose of defeating President Trump's re-election in 2020. In support of such a policy, the Florida Democratic Party promises to spend $2 million in the next year to register 200,000 voters ahead of next year's presidential primary, according to Politico. The reasoning behind this implementation is that there are nearly 3.6 million voters with no party affiliation. Democrats view this as an opportunity to establish a new block of voters who are discontent with the current aim of Republican leadership.  
On Wednesday, March 20th, Gillum spoke in Miami to reveal a special announcement. Many speculated that Gillum would announce a presidential bid for the 2020 election, but this possibility was put to bed through the announcement. Instead, Gillum is launching a voter registration group to help Democrats win Florida in the next presidential election.
        During this announcement, Gillum reiterated the importance of Florida by saying that the "the road to the White House runs through Florida. We can deny Donald Trump a second term right here in the state of Florida."
       Gillum's organization called PAC Forward Florida has raised money since November and has been able to accumulate almost $4 million. Gillum plans to use this money to increase the demand for voter registration and increase the number of Democrat votes in Florida. Ultimately, Gillum and other Democrat leaders in Florida hope to gather enough support to make Florida a blue state and bring a Democrat president to the White House.