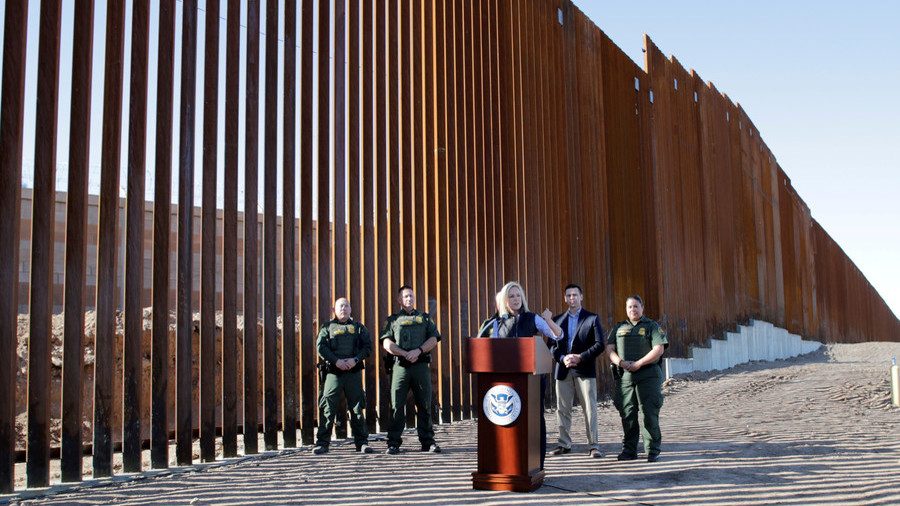 RT
Trump's national emergency is not such an emergency
As Trump's presidency nears its end, he proves once again that he will do whatever it takes to get what he wants.
Since announcing his candidacy in 2015, President Donald Trump promised a stronger America. With his ideas and thoughts relying on the slogan "Make America Great Again," he vowed to decrease taxes, exit from the Paris Climate Accord, eradicate ISIS and, most importantly, build a 1,827 mile-long wall on the southern border. However, this wall is a disastrous plan for the country as it would overall weaken the nation, spread racist policies across the country and discriminate against immigrants and their families.
Trump's long-lasting promise of building a border wall stands as one of the most controversial promises any president has ever made. It has recently been the cause of numerous extremist and racist actions nationwide. Seeing the United States, an international powerhouse, reject such diversity on which the nation is based on in the 21st century is baffling. With a plethora of ethnicities nationwide, separating the U.S. from the country we share a border with simply because of preconceived opinions on the ethnicity of their citizens would be a new low for the nation. Needless to say, the United States is a melting pot of cultures from all horizons that should accept all individuals and creeds. Although President Trump has tried to accomplish his campaign promise, the $5.7 billion request has been denied multiple times by Congress, blocking him from acquiring such a colossal sum of money.
Thus, because Congress was unable to reach a consensus, Trump took matters into his own hands. A government shutdown was declared in December of  2018, lasting until Jan. 25 breaking the record for the longest government shutdown in U.S. history — 35 days. Not only did Trump stir the political pot, making it more difficult for Democrats and Republicans to reach a deal, he also affected the lives of citizens all over the country — a total of 420,000 federal employees working without pay for more than a month — and broke his promise to "make America great again."
"I think the government shutdown not only affected American citizens, but the economy itself. The shutdown left many stranded and financially distraught. We should definitely adopt a more lenient view for the wall, to help immigrants come to the country," freshman Patrick Morris said.
The government resumed operations when President Trump signed a limited deal opening the government for three weeks in exchange for the hope that both sides would renegotiate and find a solution. However, yet again, Congress could not agree on the money needed for the wall, meaning Trump received much less than he had initially wanted. This drove the president to extreme measures, demanding that Americans  "call Congress and tell them to finally, after all of these decades, secure our border," and later adding that "this is a choice between right and wrong, justice and injustice."
President Trump simultaneously declared a National Emergency in hope of funding his impractical 30-foot-high wall along the U.S.-Mexico border.
"I didn't need to do this, but I'd rather do it much faster," Trump said, trying to justify his capricious demand in a speech in February. "We have an invasion of drugs and criminals into our country." According to the Atlantic, when a president announces a national emergency, he is fully entitled to anything, regardless of legal limitations. Laying in front of the president are more than 100 excessive — but legal — powers granted to him the moment he declares a national emergency. For instance, he can imprison people without proper evidence and judicial review, freeze bank accounts and companies, control the internet's web addresses and take away the rights and freedoms of American citizens.
"I believe Trump's wall is the wrong kind of approach, but a right step in the direction towards more border control. Building the wall to keep people out is not only wrong, but is wasting a lot of money, because it is going to come out of taxpayer's wallets," sophomore David Espinosa said. "I understand what he is trying to do, but he has to change his approach to the issue. The diversity we see today might change soon, and will definitely influence the culture of America."
Subsequently, a coalition of 16 states led by New York and California rightly believe Trump is abusing his powers as a president through his immoral and petty national emergency and are planning on suing him. This is clearly comprehensible taking into account that there is no emergency at stake, making it evidently morally wrong and inconsiderate.
Nevertheless, President Trump's declaration of a national emergency to fund his border wall has proven to be ineffective and overly expensive for the security of the American people. By spreading racist values and perpetuating discrimination against immigrants, Trump's plan fails to better the lives of the American people — especially non-white citizens — and contradicts one of his promises of improving the United States economy as the building of the wall would only push the country further into debt.