Sunset Place Set to Close
After many years of planning, the current owners of Sunset Place are determined to reinvent the whole area into a mature and modern residency.
January 7, 2019
The cool and hip hang out spot for Miami's youth is coming to an end. Previously known as a casual meeting place, The Shops at Sunset Place will be remade into an upscale residential and hotel area with shops and restaurants. The project seeks to improve South Miami's streetscape with new storefronts, sidewalks, room for cyclists, shade trees and an easily accessible metro rail for all its residents and visitors.
In an interview with Community Newspapers, project partner Michael Comras said, "There is mounting interest in Sunset Place given the demographics in place, the neighborhood's urban vibe, and the track record of our team. This excitement will only grow as retailers learn about our plans and development gets underway."
Federal Realty Investment Trust, Grass River Property and Comras Company purchased Sunset Place for $110 million in 2015. The new project is being planned by the Zyscovich Architects, who are responsible for creating many other popular Florida locations, such as the New World Symphony, SoundScape Park and Bal Harbour Shops. The residential building will be made up of 414 units, with the remaining 182 rooms reserved for a hotel.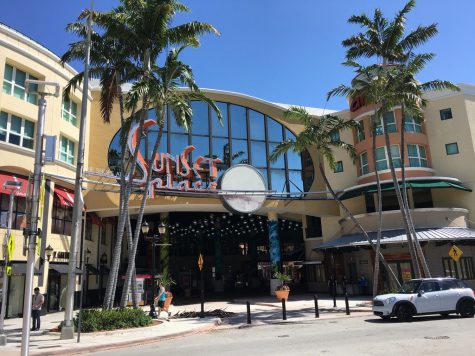 "Our leasing team is in contact with some of the most desirable retail and restaurant brands around the world and across South Florida," Comras said, according to Community Newspapers.
Due to Sunset Place's past with failing businesses, it is essential to the development coming to have a steady residential client base. However, the addition of the costly shops and restaurants will require a complete shift in clientele, from young students to adults.
"If they change Sunset Place to something like a residential complex, there won't be any teenagers who are the loyal customers anymore, and those kids are the ones who go to Sunset the most," Senior Alani Pierre said. "It is not a very smart decision especially if they change all the stores to be more expensive because not everyone who goes now would be able to afford it."
Another issue arises for locals about the new plan. With almost 600 rooms to fill, the area will be buzzing with people at all times. Miami is already a hub for traffic, but this addition is predicted to make the problem worse.
"I think that it would definitely affect how people view South Miami. People would see it as more of a destination like North Miami or Miami Beach. Adding a hotel and residencies in this area would attract way more tourism and that can either be viewed negatively or positively depending on the person and if they like a city vibe," Tea & Poets employee Hellian Badillo said.
This reinvention of Sunset Place could change the dynamic of South Miami. Progress will be made within the next few months regarding the finishing of plans. This will also bring a new sense of community to the area.