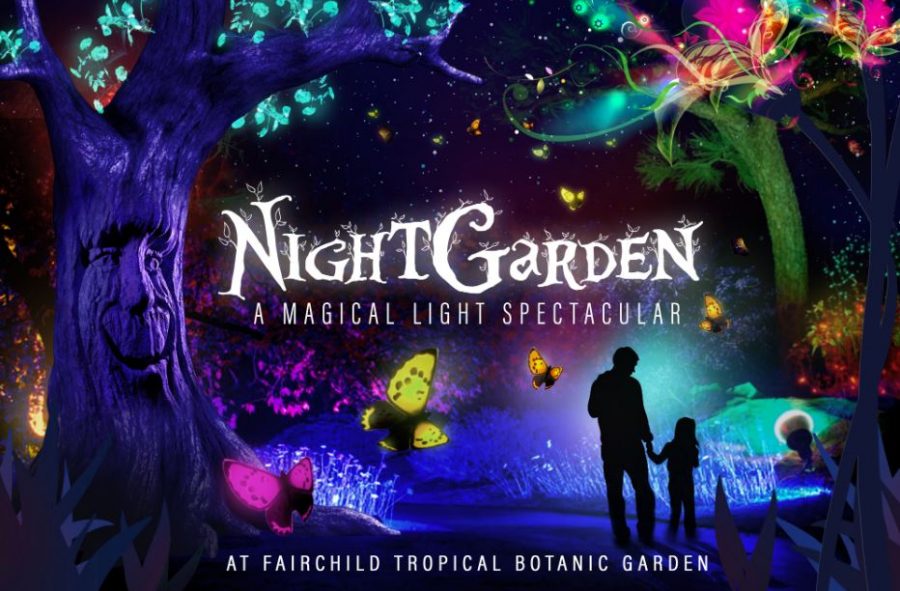 Fairchild's Night Gardens Light Up the Holidays
With holograms, enchanting music and a talking tree, the Fairchild Night Gardens have been a hit for people of all ages this holiday season.
As the fall season comes to a close and the winter festivities are taking shape, Fairchild Tropical Gardens in Coral Gables is propelling a fresh initiative, one that will run through the Holiday seasons— its very own Night Gardens. This compilation of hazy fog, mystical music and surreal holograms provide a spectacular light show for the Miami population. Opened on November 26, 2018, this vast exhibit, running until January 11, 2019, brings in waves of customers to enjoy the breathtaking lights, sounds and other characteristics exhibited. Flowing on a whopping 23 acres of land, the purpose of this one-of-a-kind garden is to highlight the beauty of nature.
"The Night Garden has been a big success. So much that they had to extend it by a week. It is a wonderful way to show off the trees, the trees and the lighting," volunteer Maria Freid said.
In addition to the unbelievable aspects of the Night Gardens that transport you to another universe, a talking tree has been implemented to soothe the customers and relieve their everyday stress. Located at the center of the garden near the butterfly enclosure lies Archimedes, also known as Archie, who can openly have a conversation with the visitors. For example, when he was asked a question about the gardens, Archie joyfully sang a song.            
The Night Gardens also include an exclusive, temporary exhibit called Growing Beyond Earth, where the park helps NASA astronauts grow food in space. Using various space-resistant and zero-gravity plants, the Fairchild researchers discovered a variety of crops that could successfully adapt to new environments. For example, lettuce, peas and radishes tend to adapt with ease in new locations compared to others.  
"This feature is to show the visitors how wonderful this is, and it's a way to show the people how beautiful the garden actually is," volunteer Jeanne Hawa said.
          The Night Gardens are most notable for their unbelievable holograms. Feeling like you are in another world, with neon rays of fluorescent light illuminating the lush nature, hide multiple fairy holograms. Fairchild Tropical Gardens and their first ever Night Gardens in Miami has been a spectacular hit. With neon lights flashing through the air, mystical fairies and opaque fog the exhibition is a one of a kind event, that brings thousands of people together to enjoy the true beauty of nature.