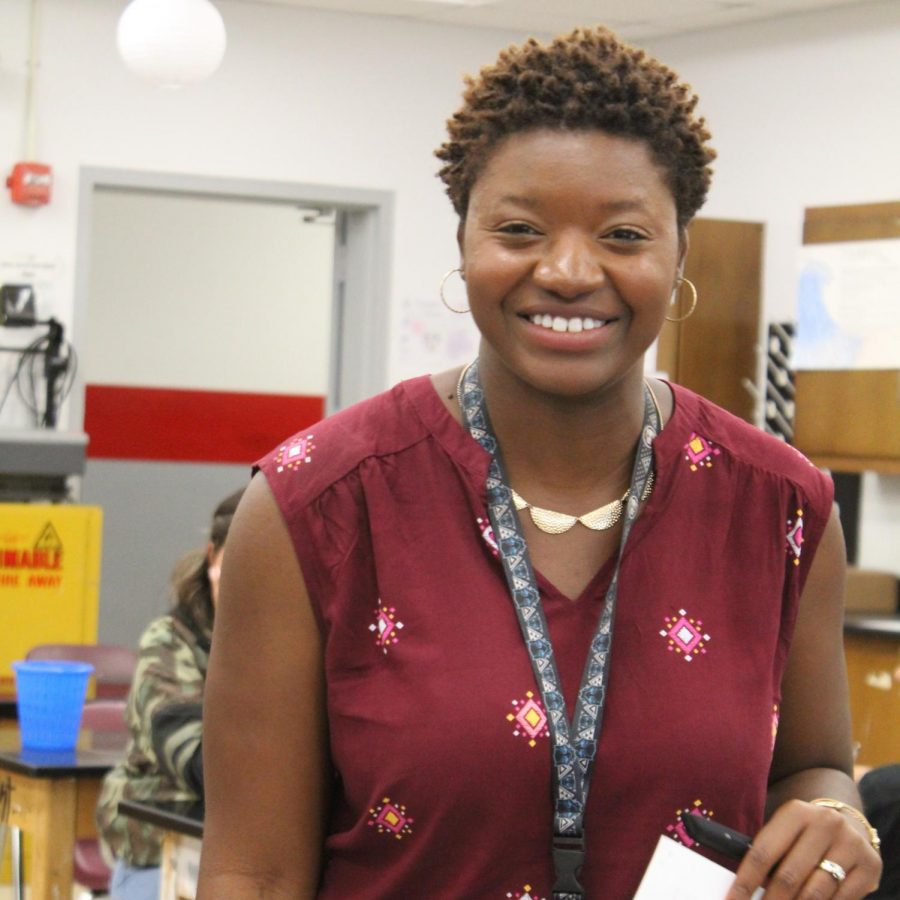 Sophia Heilman / highlights contributor
Science teacher working for a greater good
Shannon Singleton shares her experience working at a camp for less fortunate children.
QUESTIONS:  WHEN DID SHE WORK WITH THEM? IS SHE STILL WORKING WITH THEM? HOW DID SHE FIND OUT ABOUT THE PROGRAM? WHAT DO THE KIDS DO THERE OTHER THAN HAVE A READER COME IN? IS SHE GOING TO CONTINUE THIS?
Inspired by children in need, science teacher Shannon Singleton worked at a camp for kids who come from less fortunate homes in a program at Freedom Schools in Florida City, started by the Children's Defense Fund (CDF) this summer. The CDF is a program established to help the lives of children who have gone through mental, physical or sexual abuse, and kids with disabilities. CDF has helped over 11,000 children in over 80 cities in the U.S. learn reading skills and brighten their childhoods.
Singleton is the former athletic trainer at the school and just started her first year as a biology and anatomy and physiology teacher.
Singleton was contacted by members of CDF earlier this year and was asked for an interview to gauge her eligibility for the position. From there, she was sent to training in Tennessee and then began her work with the children for three months. Each class had a maximum capacity of 10 kids ranging from ages five to 13. Most of the campers came from broken homes or those with one parent. Every morning, the staff would greet the kids at their cars and sing them a good morning song to start off their day with positivity and encouragement.
"From the moment they got out of the car, we were cheering them on to have a good day, singing good morning. They were smiling. We did everything we could to make it a welcoming environment," Singleton said.
In the class Singleton was in charge of, the staff always made sure the kids had eaten breakfast. Then, she would have the kids sit down to sing and learn inspirational songs. Every day, a new reader would come in to read stories to the kids. Freedom Schools' camps provide a safe place for the campers to go during the day.
One story which impacted Singleton about the hardships these kids had gone through was about a little girl who had an additional stoma. A stoma is any kind of opening in the body, and the girl needed one to help her drain excess fluids in her lungs. None of these kids could control what was happening to them or what they were born with. Singleton saw her position as an opportunity to be someone supportive for them.
"Hearing about some of the kids' backgrounds that I didn't know about was hard in the way that you would never want any child to go through any type of abuse. It was sad, but it really gave me purpose to want to be a positive influence in their lives. It showed them that there were other options," Singleton said. "Many of them had already developed their personality, so what had happened would stay with them forever but it was good for me to be that positive light and make them feel good about coming into Freedom Schools."
With her role in the kids' lives,  Singleton was taught how to not only help kids with physical injuries but with emotional injuries. She hopes her work with the children will impact them positively for the rest of their lives and that they will continue working through their hardships.